AliExpress is constantly looking to innovate in ways that'll save you money. That's why they offer you a wide variety of shipping methods.
For the lightest and cheapest shipments, you can use AliExpress Saver Shipping or Standard Shipping, depending on what the item requires.
But what if you need to move a larger item quickly, and you're on the other side of the world? In the old days, that was very difficult and extremely expensive.
Today, AliExpress has developed an alternative that aims to simplify your life.
AliExpress Premium Shipping: What does this new shipping system consist of?
For some time now, the Chinese platform has been in charge of managing agreements and procedures with various international companies to improve the shipping and delivery experience of its users; in addition to offering less expensive prices. In this article, we'll be talking more specifically about AliExpress Premium Shipping.
This system consists of prioritizing the shipment to be made, so when it's classified as important or "premium", the estimated delivery time won't exceed 15 days.
Hoping to offer better transportation services and arrival times at less expensive prices, this company has created corporate ties with various transportation and private courier companies worldwide, such as DHL, DPD, FedEx, and UPS. In the case of the last two services, their fee costs are quite high.
This service isn't available worldwide. However, you can see if the AliExpress Premium Shipping delivery method is available in your country directly on the AliExpress website by clicking on this link.
Advantages
One of the advantages of this method is that, by having a tracking number, you'll always know exactly where your package is. You'll be able to check its status through the AliExpress website.
To go directly to the AliExpress order tracking site, you can click on this link.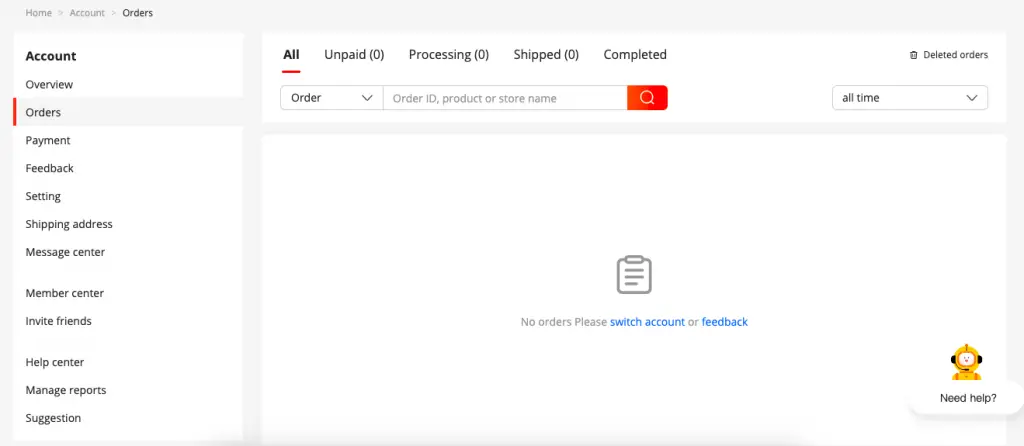 Now, you can choose the shipping method before you process the shipment. With "Premium shipping" you can move all kinds of items and receive them within days and reasonably fast (maximum 15 days of waiting), compared to other shipping systems.
Although the shipping fee won't be free, you'll save more money and unnecessary issues, since the shipment is handled by AliExpress, instead of choosing a private courier company directly.
Also, because AliExpress acts as an intermediary in the shipping, if there's a customs surcharge, it'll be much less than if you handled the shipping on your own.
Disadvantages
Although this system has the particularity of being able to send almost any item that exceeds 5 dollars (or euros) if you want to get the most out of it, use it when it's really necessary. Especially if you have to buy items that weigh more than two kilos. You're likely to receive customs surcharges, which means that you may end up spending much more than you have stipulated.
For simple shipments, you can use Standard Shipping and redeem coupons to receive a discount. Or Saver Shipping with which, sometimes, the freight can be totally free, as the seller will assume all shipping costs.
What products are eligible for this method?
Almost any product on the platform, and as mentioned above, those that are heavier and bulky.
Even though it's not possible to filter products with this kind of delivery, by displaying the shipping options window, you'll be able to verify if the item you choose applies or not.
The following is an example. As you can see, at first glance the supplier offers the possibility to ship it through a different method. However, when we scroll down the list of shipping options, we see that we can choose among several methods the "Premium Shipping" option.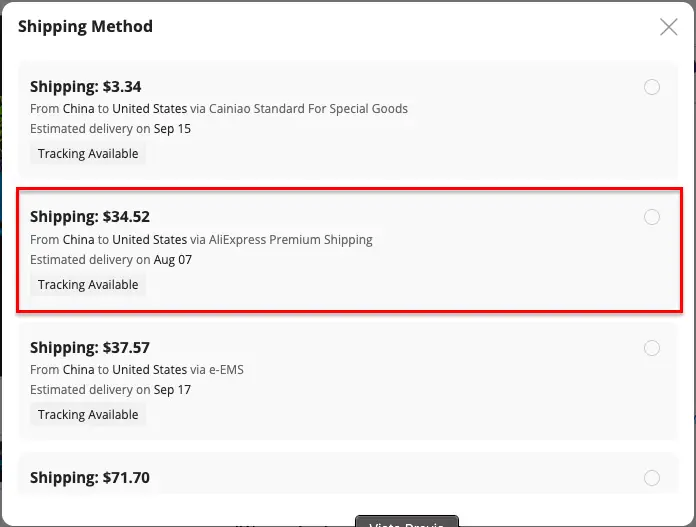 In some cases, the delivery time is similar if you use AliExpress Standard Shipping; besides, it's usually "free". So if you're not in a hurry to get your shipment, this could be a good option.
You'll also be able to see that getting your package by AliExpress Premium Shipping is usually cheaper than EMS or DHL.
Do you need your order as fast as possible?
Then, we'll show you other alternatives to AliExpress Premium Shipping.
You're probably asking yourself the question: Which option should I choose? The answer is simple: it all depends on the type of product you want to buy and the time you're willing to wait to receive it:
AliExpress Standard Shipping: This system handles the shipment of simple products with private companies. This shipping method provides the package with a tracking number, and you won't have to suffer through customs charges and retentions. Depending on the country, the business in charge of this is the post office (or any similar company).
Fast delivery: Another of the recent adjustments made by the platform is that now you'll be able to receive all your packages quickly, even if they are sent from China.
How is this done? This fast delivery option exists thanks to AliExpress' alliance with stores and delivery companies near you.
If you wish, you can go through our local shipping and return policy article to better understand how it works.
Local shipping – 72 hours delivery: As time goes by, more sellers have local warehouses outside of China. This brings the delivery time down to as little as 72 hours.
You already know that there are many ways to purchase your orders quickly. Choose the best one, depending on the product you need to buy.
Is it worth choosing this shipping method?
If you consider the number of days reduced delivery time, this would be an excellent choice. However, when other aspects are considered, such as the fact that you'll most likely have to pay a little more for a customs surcharge when you receive the package or the remote but existent possibility that it'll be confiscated and never reach you, its positive aspects may be overshadowed.
Keep in mind that several of the aforementioned options cancel the possibility of being held. So, when compared to AliExpress Premium Shipping, they present more advantages when you want to move simple products and aren't in such a hurry to receive them.
Normally, there are many concerns that can arise when shopping online. Luckily, we're here to help you. We invite you, if you like, to visit our other informative articles, where you'll clear all your doubts, so you can learn how to navigate AliExpress like an expert.