Are you trying to top up your Alipay Wallet balance and don't know how to do it? In one of our previous articles, we told you about what Alipay is, and we hope it was helpful. But, do you know the real advantages of using Alipay Wallet and how to top up your balance?
Alipay is the platform used by AliExpress to manage your payments and offers total security to avoid fraud. Your money will be sent to the seller only and only when you receive and confirm the satisfaction of your order, otherwise, it'll come back to you in the form of a refund.
Advantages of using Alipay
Alipay Wallet is also known to be the AliExpress wallet, where you're allowed to store your money to make the purchases you want. Its main advantage is to pay with the balance you have in your wallet, which will save you from registering credit or debit cards.
Another great advantage of using Alipay Wallet is that you can avoid bank fees charged for using your card on AliExpress. You will also be able to get coupons and even free reloads on certain AliExpress promotions.
How to recharge your balance in Alipay Wallet
Before you can top up your balance in the wallet, you need to set up your Alipay account to activate your balance. To top up, you will need to access your wallet from this link and click on "Top-up". The minimum recharge amount is €10. After selecting the amount to recharge, select the payment method used, which can be credit card, debit card, Apple Pay, or bank transfers.
Although you can recharge using bank transfers, these are the only non-instantaneous recharge method, which means that you will have to wait a few days to be able to enjoy your balance.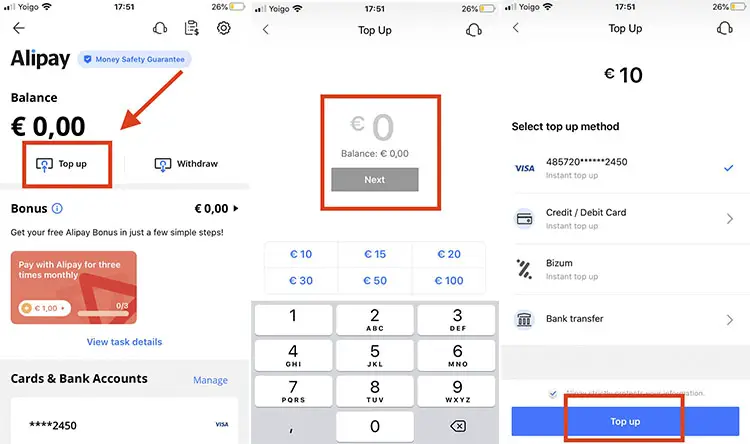 Alipay Wallet Withdrawals
Withdrawals can be made in the same way you added the money: quickly and without complications. There are no fees or minimum amounts. You'll need to add your bank account number and the name of the account holder. Please note that both must belong to the Alipay account holder, otherwise you won't be able to make the withdrawal.
Alipay Bonus: Do you know what it is?
Bonuses are rewards that AliExpress gives away, i.e. Money in the form of a balance that can be used to purchase products without restrictions. You should know that these bonuses can't be withdrawn as cash.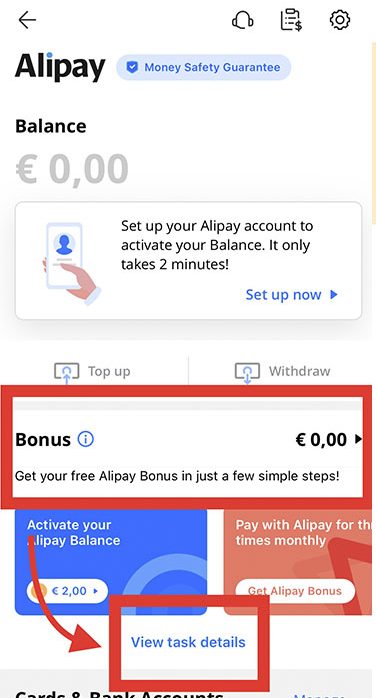 How to get Alipay bonuses
To get these bonuses you must enter the task center that's available in Alipay Wallet (or by clicking here). You'll be able to get:
€2 for setting up your Alipay account and activating your balance.
€1 for paying with Alipay 3 times a month.
€1 for adding a bank card.
Occasionally, bonuses are offered in promotions using the Bonus Buddies challenge application. It works by sending invitations to your friends through links. You can check it out here.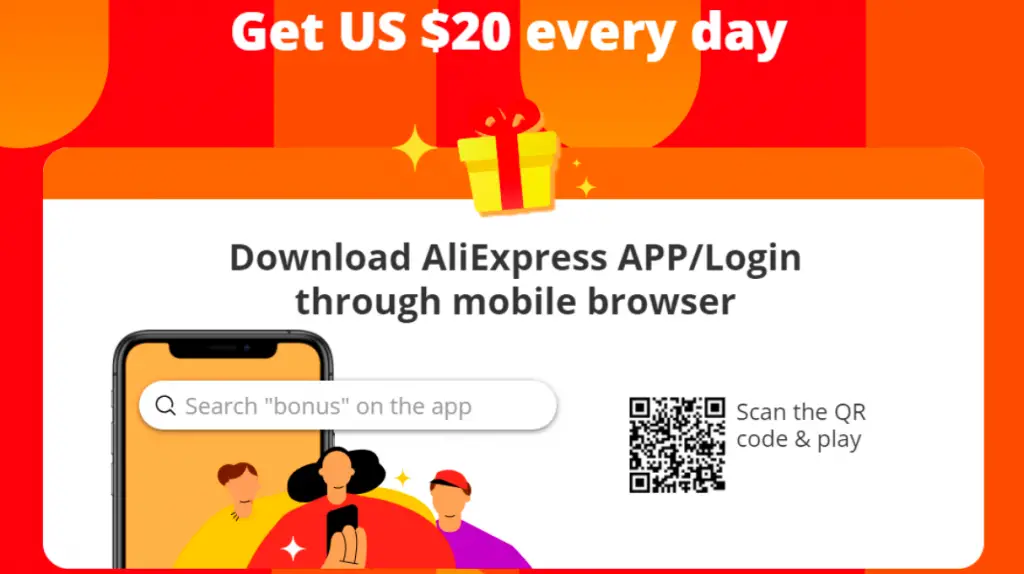 How to use a bonus?
To use it, all you have to do is put the items you want in your cart and click on "Checkout". Then select the payment method, which in this case will be the Alipay balance. AliExpress will automatically deduct your accumulated bonus from the total amount of your purchase. Then, all that remains is to confirm the transaction.
Frequently Asked Questions
Here's a compilation of the most frequently asked questions among users.
Do the bonuses apply to any purchase?
No. Your bonus can only be used on items and products that aren't gift cards or mobile recharges.
What happens if I have a bonus balance left over?
If this happens, you can rest assured: this bonus is cumulative for your next purchases.
Do bonuses expire?
The answer to this question is yes. To find out when it expires, we invite you to review the details of the bonus itself. Our suggestion is that you make use of your bonus on your next purchase to avoid losing them.
Do I get my used bonuses back if I open a dispute?
No, unfortunately, this won't happen. You'll only be refunded the money you have invested in the purchase.
Where does the money I won in a Bonus Buddies challenges appear?
In order to see your money, remember to activate your Alipay Wallet. Otherwise, you won't be able to check your Bonus balance.