Beruby is one of the best cashback platforms available today.
In addition to being able to get a part of our money back through it, the platform offers us other ways to save. We can answer surveys or watch videos, for this type of activity they will also give us money.
In this article we will tell you if Beruby is really worth it and everything you need to know about this platform.
Cashback: what is it?
If you don't know what the cashback system is, you should know that you are missing out on a great way to save.
The operation is simple: cashback platforms are associated with some stores. These platforms will give you a link with which you can buy on them.
Part of the money that the stores give to Beruby will end up in your hands.
Make money with Beruby
In addition to saving money with the cashback that is returned to you for your purchases (here) and for trips (here), Beruby allows you to earn money by visiting web pages (through this link ), watching videos or answering surveys, or inviting your friends (here).
Cashback for your purchases and trips
With Beruby you can get money by shopping at more than 1,000 technology, clothing, food and much more stores.
In addition, the platform has a travel section, so you can make your purchases on Booking or Expedia and get part of your money back.
Invite your friends
Beruby will give you 50% of the cashback earned by each of the friends who register after your invitation.
It is a referral system that works on two levels, so you will also earn 50% of the cashback earned by users who invite your friends.
You will find here the link to the system of friends invited by you, which will allow you to earn a lot of money if you get many users to register.
Earn money by browsing other pages
Unlike other cashback platforms, Beruby adds the option to earn money without having to make a purchase first. Go to this link and earn money by watching videos, browsing pages, answering surveys or just registering.
You can get more money by answering surveys than visiting pages, so we recommend the first option if you do not have much time to dedicate to it.

Learn to use Beruby step by step
Using the cashback platform is simple and you only have to follow a couple of very simple steps:
Register on the platform: Enter here to register. For doing this you will get €1 as a gift, once you have verified your mobile and email and €5 more when you make your first purchase.
Search and buy through Beruby: Search for the store where you want to make your purchase. We recommend that you make the purchase from Beruby quickly, since you could lose your cashback if you get busy doing something else. Therefore, it is better if you go shopping when you already know what to buy and where.
The percentage that will be returned to you for the purchase will appear in the description of the store. Beruby will take 48 hours. to refund your money.
Does your money appear in "balance to be confirmed"?
Your balance will appear as "to be confirmed" until the store where you purchased confirms that the transaction was successful. Once the balance is confirmed, you can have it available in your bank account or in your PayPal account. You can check your available balance here.
The confirmation of the balance usually takes around 30 days, except in the case of answering surveys or browsing other pages, where the time is usually less.
As each store has its own cashback rules, we recommend that you read them and pay attention to receive your money back smoothly.
Beruby extension
Beruby has extensions for Chrome and Firefox, thanks to which you will receive a notice if you enter a store associated with the platform. Thus, you can activate your cashback and save money.
You can download these extensions here.

Collect your money
Once your balance is verified, you must have a minimum balance of €10 for your first charge and €1 for Paypal or €5 for bank transfer in subsequent charges. Once the balance is verified and you meet those requirements, you will be able to receive your money.
It's not that difficult to reach €10 for your first charge, since for registering and buying just once they will give you €6 in cashback.
You can request your payment at this link.
You haven't received your refund?
If you have not received your cashback money, you may have experienced one of these problems:
You have not complied with the rules of the brand: As we have mentioned, just as each cashback platform has its rules, each store also has different rules that you must read and comply with in order for your cashback to be verified.
You have been using a browser with an ad blocker: you will need to uninstall it to use Beruby. You should know that it is useless to disable it, since the stores will not be able to check the redirection from Beruby.
You have taken a long time to make your purchase: as we have mentioned before, you can lose your cashback if you do not make the purchase quickly.
You have used the applications of stores associated with Beruby: You must use the Beruby application so that the cashback is reimbursed correctly.
You do not have cookies activated: this is what allows stores to verify that you are redirected from Beruby.
The use of coupons or discount codes may not be supported : again, you should read the store's purchase guidelines to be aware of this.
Claim a purchase for which the cashback has not been credited
If you believe that you have not made any of these mistakes and that you should have received your money back. Consider making a claim.
If after 2 or 3 days of waiting you have not received your refund, you can claim through a form here, so that Beruby assess the situation. You have the possibility to make a claim by filling out this form so that Beruby can review your case.
Exclusive Beruby discount codes
In addition to the discount codes that you can find in stores associated with Beruby, you will also find some that are exclusive to this platform.
Remember: some stores will not refund your money if you used a coupon or discount code on your purchase.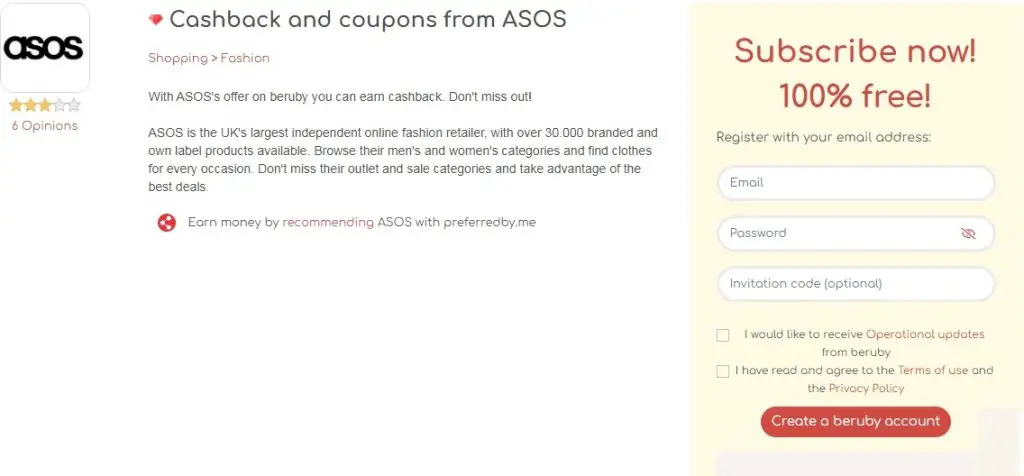 So, is it worth using Beruby?
Beruby is one of the safest and most complete cashback platforms in the world.
You must bear in mind that using these pages does not represent a cost for you, so if you want to buy in one of the associated stores, it is a good option to save money.
Although there are other cashback platforms, Beruby is the one we recommend the most, since the fixed percentage of cashback in well-known stores, such as Shein or Sephora, is higher than that of other platforms.
Also, you can earn money by watching videos, filling out surveys and inviting friends.
The only point against that we can mention is the time it takes to confirm the balance, although you should know that the wait has its reason for being, since it is the period necessary to confirm that you have met all the requirements to obtain the return of your money.