Sometimes, after having carried out some type of transaction or action on AliExpress, we come across glitches or errors.
The most frequent, and without a doubt, one that generates concern, is the one that appears on the screen with the message "OOPS! Looks like your account isn't authorized to view this page", which means that your account is not authorized. Don't despair! It's nothing to write home about: this type of notification sometimes appears when you try to cancel your purchase or view the details of your order. You must keep in mind that AliExpress is an online site, and like the others, it is likely that there are times when there are outdated links or new functions and appearance are being added to the web, that is, it is under maintenance or being modified.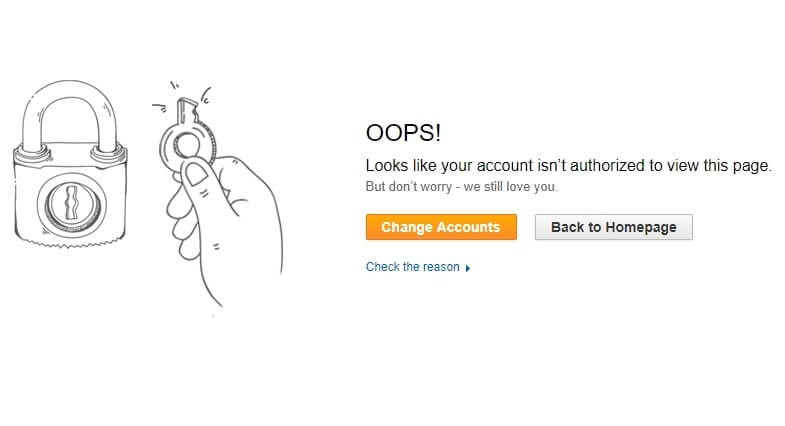 When can this message appear on AliExpress?
If you have come this far, it is very likely that at various times, when you try to navigate through the platform, it has appeared and that is why you are curious to know what it means.
Usually, it is displayed while we use the computer to browse the AliExpress site. So far, no failure of this type has been reported in the Chinese giant's app.
One of the scenarios where this warning can appear is when trying to access one of the "My account" sections from the history or favorites, without having logged in. Also when you want to enter an AliExpress section that is not yet available. Also, when paying or canceling, sometimes there may be many users trying to access at the same time and this causes the error.
However, this or any other error may occur at some other time while browsing the platform. The above episodes are just the most common approximations.
What does it mean that my account is not authorized?
As we have said before, there is no need to despair when this message appears. The reason is usually that you are trying to access a section that you want and it is not yet available or requires registration within the platform. Sometimes you may be logged in and the page has not detected this action, therefore it will throw this error.
Possible solutions
There are several ways to fix this problem. Below we will mention the most common ways to solve this problem.
Go back to the page
Many operation problems on different websites or social networks are fixed by simply refreshing the tab and reloading the page, maybe that's your solution!
Clean your browser
Configure it: if there is overload of information saved in the browser, it is very likely that the platform throws this error, so try clearing the cookies and the cache. With this, maybe the problem will be solved.
Check in in a few hours or the next day
If you have tried our first two recommendations and the problem persists, try to wait, stay calm and see if everything is resolved in a few hours or the next day. Another option may be to enter the portal at dawn when there is not so much influx of users, since the page can sometimes be seen collapsed, mainly during festive sales seasons.
Have you tried everything? Enter through the app
Log in to your account and access the section you want directly, that is, without using links obtained from the history or the list of favorites. No previous links or reloading the previously used page, since the same set of codes that caused the error would be reloaded.
If you wish, you can go directly to the AliExpress User Help & Support Center , by clicking on the link that we leave you.
Before concluding, we remind you that this is not the only error or problem that may appear on the page, but the most important thing is to know how to solve it and not go crazy.
If specifically this is not your problem but you have any other questions, we invite you to visit the AliExpress help center. Here you will get a compendium of all the possible difficulties and their solutions, so that you will avoid setbacks.
It is worth mentioning that, usually, the AliExpress platform works normally. However, today in our blog we wanted to refer to one of the many concerns that users have. If it hasn't been yours so far, that's great! But perhaps this situation may present itself to you at some point.
And you? Did you get this error message while browsing AliExpress?
Normally, there are many concerns that may arise when making purchases online. Luckily, we are here to help you! We invite you, if you like, to visit our other informative articles, where you will clear all your doubts so that you learn to navigate on AliExpress like an expert.