Do you have a clothing business and want to see it grow? Today we are going to tell you how to become a seller of Asos, the huge fashion clothing marketplace. This site offers numerous benefits for your brand if you join their sales program. Continue reading that we will give you all the details about it.
What is Asos?
Asos is a popular online clothing store that was born in Germany and France in 2000, and only arrived in Spain in 2011. In this huge marketplace you will find Asos' own products and other brands in a catalog very diverse with fashion garments for men, women, boys, girls, plus size and much more.
This platform has more than 800 clothing brands and more than 130,000 products for sale. Among the variety of stores, you can find both vintage and independent clothing.
Advantages of selling clothes at Asos
If you own a clothing brand, by entering the Asos sales program you will have many advantages:
Larger audience: by being part of Asos you will have a wide audience, especially young people, and this will give you a greater possibility of obtaining sales.
No limits of products for sale: it means that in your store you can put on sale all the products you want. The minimum number is five garments.
International sales: with Asos you can sell your products to different countries.
No permanence: You are not required to sell on Asos for a certain period of time. You can leave whenever you want.
Customizable store: at Asos you can have your personalized store so that your brand looks different from the others.
Less investment in marketing: by being part of a platform with years in the market, your investment in marketing will decrease.
Help and support in sales: at Asos you get help from the support team to sell on the platform.

Disadvantages of selling in Asos
We have already told you about the advantages of selling on this platform. However, it is important that you know what the disadvantages of a site like this are:
PayPal account required: to sell on Asos you must have a PayPal account open to collect your sales.
Requirements for photographs: each photograph you upload of your garments must meet certain requirements. You cannot upload any image to the site.
Customer service on your own: doubts and queries from customers about your store are your responsibility and you must respond quickly so as not to receive complaints.
Shipping on your own account: you will also have to take care of the shipments of your products. You will have to find a transport company and send the garments to the buyers yourself.
Commission per sale: when selling on Asos you must pay a 20% commission for each sale you make.
No ownership of your store: keep in mind that the store you open in Asos belongs to Asos and you must comply with their rules.
Monthly fee: When you open a store in the Asos marketplace, you must pay a monthly fee of €20.

How do I sell on Asos?
If you made the decision to open your store in Asos, you will have to do the following:
1. Apply to open your store
You must first register on the web (you can enter from here) and then, within three days, Asos will inform you if it approved or not your request. Keep in mind that to sell your products here they must be original: your own brand or others, but never imitations.
2. Choose a shipping company
As we already said, you are going to have to find a company that manages the shipments of each sale you make. It is essential that you look for it as soon as possible so that, based on its costs, you can put the final price on your products.
3. Prepare your store
Once you have access to your Asos store, you can start organizing your profile. Add a 310x169px logo image, a short description and other information you think your buyers need. You must also upload an image to the showcase of 490x355px.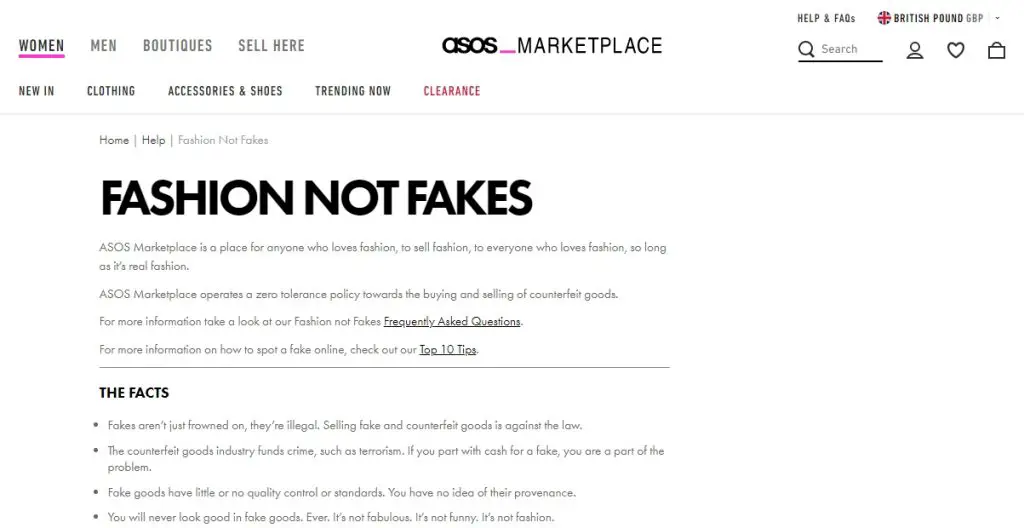 4. Upload photos of your products
To take photos of your products, you must respect the Asos requirements:
Lighting should be as natural as possible.
The background cannot be white, but greyish.
Don't go overboard with touch-ups or add filters, watermarks, or borders.
Each product should stand out from the rest of the elements of the site. Therefore, there can be no black and white images or runway photography.
Each photograph must be at least 870x1262px.
For each product, you can upload a maximum of 5 photos.
Take pictures of product brands and labels.
Each product must also have a complete description and a size guide with the corresponding measurements.
5. Answer your customers' queries
At Asos, as we were saying, you are going to have to take charge of answering buyers' questions quickly and effectively.
6. Manage shipments and returns
Keep in mind that shipments are made in a maximum of 48 hours and the customer has 14 days to return the order. Both shipments and returns are at your expense and that of your transport company. That's why when you ship the order, you must provide the buyer with your tracking number.
If this article has been useful to you, do not forget to visit our blog frequently, where you will find more tutorials and reviews of online stores.