If you have a motorcycle, you know that even a slight fall can cause serious injuries if you are not properly protected. That is why airbag vests are becoming more and more popular: they have a protection system for vital parts, in order to avoid serious injuries when hit or falling.
However, these vests have a problem: their price is extremely high and inaccessible to many users.
For this reason, today we are going to talk to you about a very good alternative: AliExpress airbag vests, which cost 75% less than similar products from any local or internet store.
Are AliExpress airbag vests safe?
Contrary to what many believe, most of the models offered by AliExpress have the CE marking, European ECE approval and other regulations, both American and Asian countries. This means that they have been subjected to very exhaustive quality controls in order to be marketed.
Find via this link the best airbag vests
How do they work?
The airbag vests are physically connected to your motorcycle through a cable that is used to activate it. In the event of being thrown, the vest will activate by inflating an air bag at high speed using a CO2 cartridge. This protects the back, hips, holsters and the area around the neck to prevent serious spinal injuries.
If you forgot to disconnect the cable when getting off the bike, don't worry because the airbag will not activate: it only jumps with a force greater than 30kg.
Best approved brands
1. Angels Knight
Official Store: Go to the store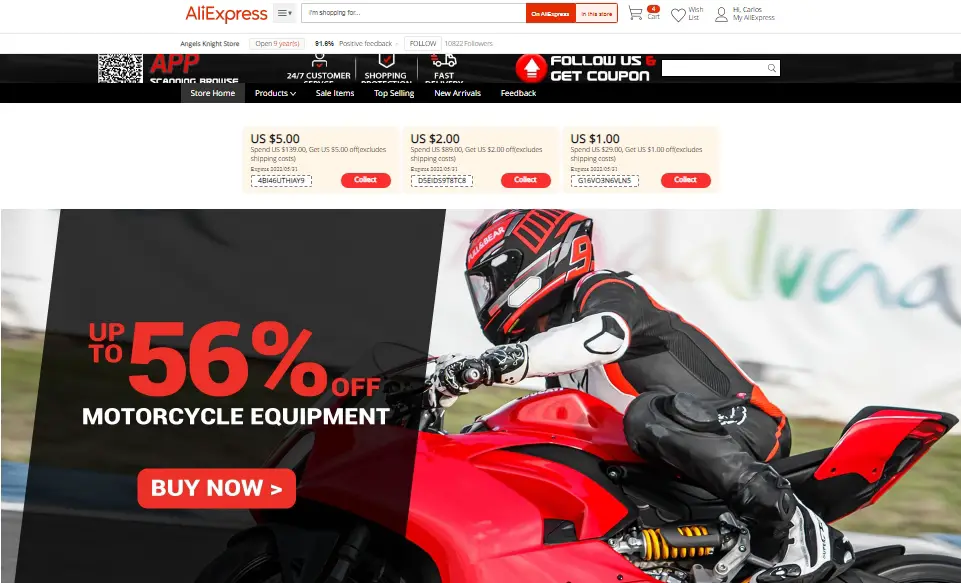 The airbag vests in this store have European ECE approval and the price of their cheapest models is around €90, although you have several to choose from.
Shipments are made from Spain, so that in a few days you will receive the order at home.
Keep in mind that the CO2 cartridges are not included in the vest, so you will have to buy them separately. But don't worry: below we tell you how to get them for little money.
2. Top-touch
Official Store: Go to the store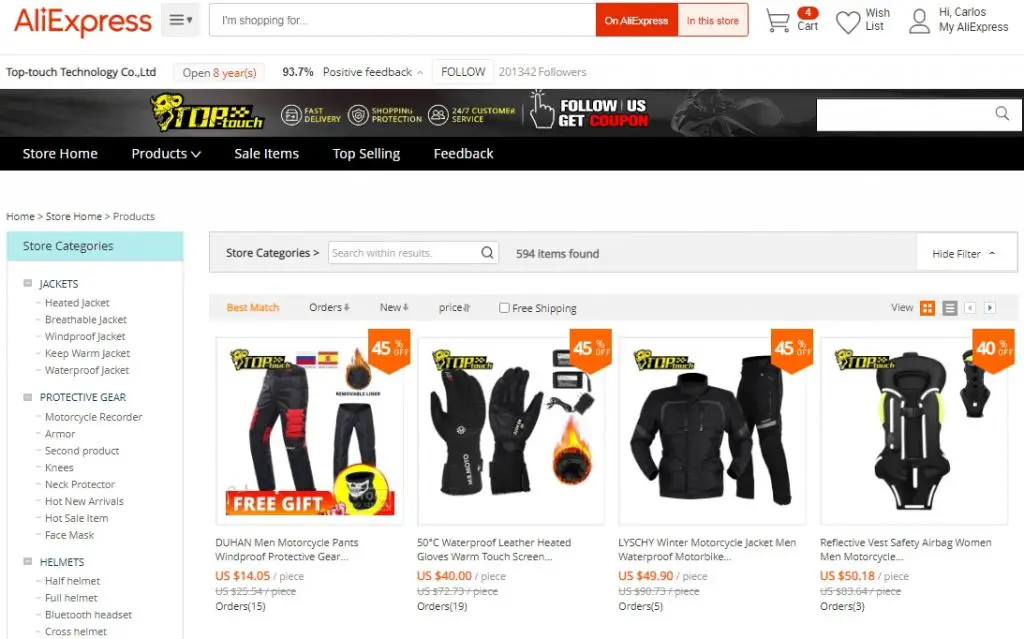 At Top-touch you will also find airbag vests from €90, with CE marking. In addition, for €30 more you can take the CO2 cartridges.
Although it may not seem like it, these vests protect the coccyx area. This part is folded and attached to the jacket by means of buttons so that it does not cause you discomfort when you sit on the motorcycle.
If the cord for attaching the vest to the motorcycle falls short, Top-touch has 1-meter extension cords, so the size will not be an impediment to using this item correctly.
3. IRONAIDE
Official Distributor: Go to the store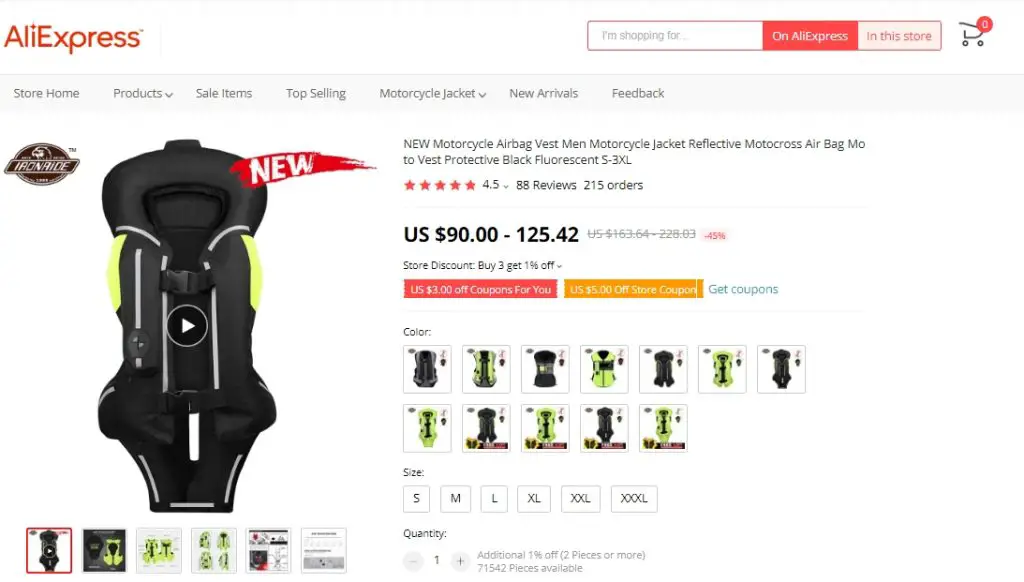 The airbag vests in this online store are very similar to those of Angels Knight and Top-touch in terms of prices and designs.
This brand has numerous sales with positive reviews from users who have tried the vest. So, if you were in doubt, here is proof that this product works perfectly.
4. Route 11's
Official Store: Go to the store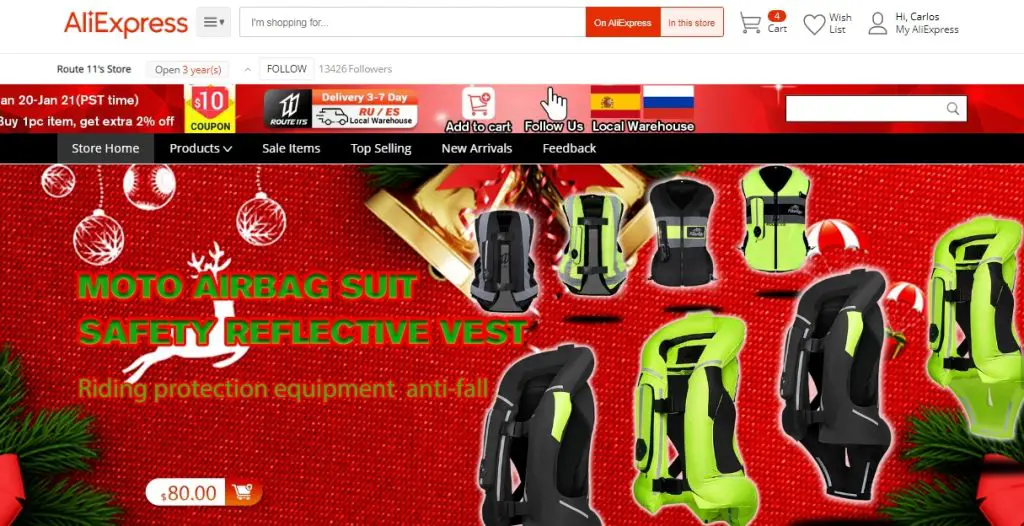 Route 11's ships from Spain for its products, which also comply with ECE approval and CE marking.
One aspect to highlight about this store is that it specializes in motorcycling accessories such as gloves, helmets and jackets. Here you will find many interesting and useful products so you can equip yourself without spending a fortune.
5. DUHAN
Official Store: Go to the store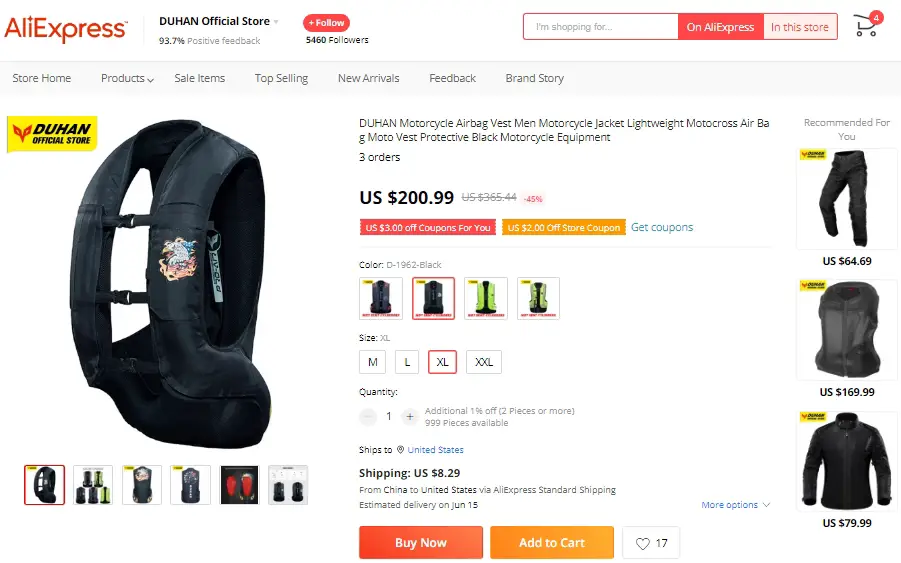 DUHAN is another of the most established brands that you will find on AliExpress, specializing in accessories for your motorcycle.
Regarding airbag vests, specifically, DUHAN does not have a wide variety like the previous brands. Although their prices are a little higher (from €180), these vests are of very good quality, original designs and positive reviews from buyers.
6. HEROBIKER
Official Store: Go to the store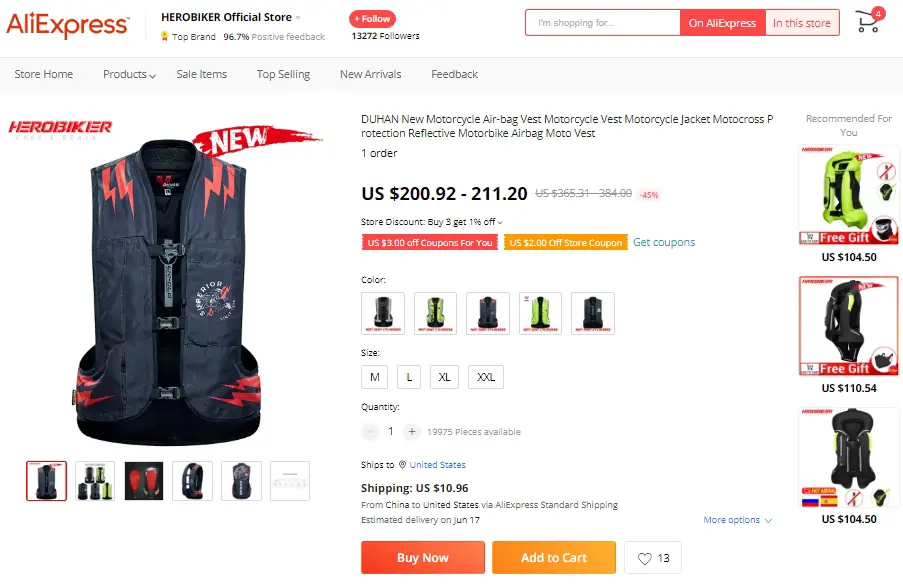 In our rankings of the best brands, we seek to highlight those that give us the certainty that they will not disappoint you when you make a purchase, and HEROBIKER is another safe bet: here you will find good quality airbag vests at low prices that will protect you from falls and bumps in motorcycle.
7. UCHOOSE
Official Store: Go to the store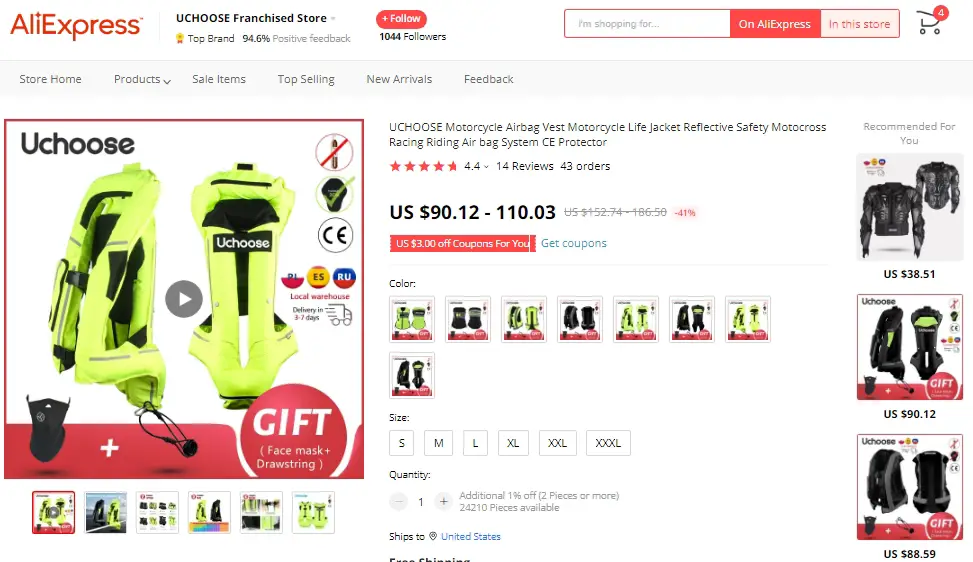 At UCHOOSE, you will surely find the cheapest prices on AliExpress for airbag vests (from €80) with CE marking and a more than acceptable quality.
However, they do not have many options when it comes to models. On the other hand, not all of their vests are shipped from Spain, so they will take longer to arrive.
8. KEMIMOTO
Official Store: Go to the store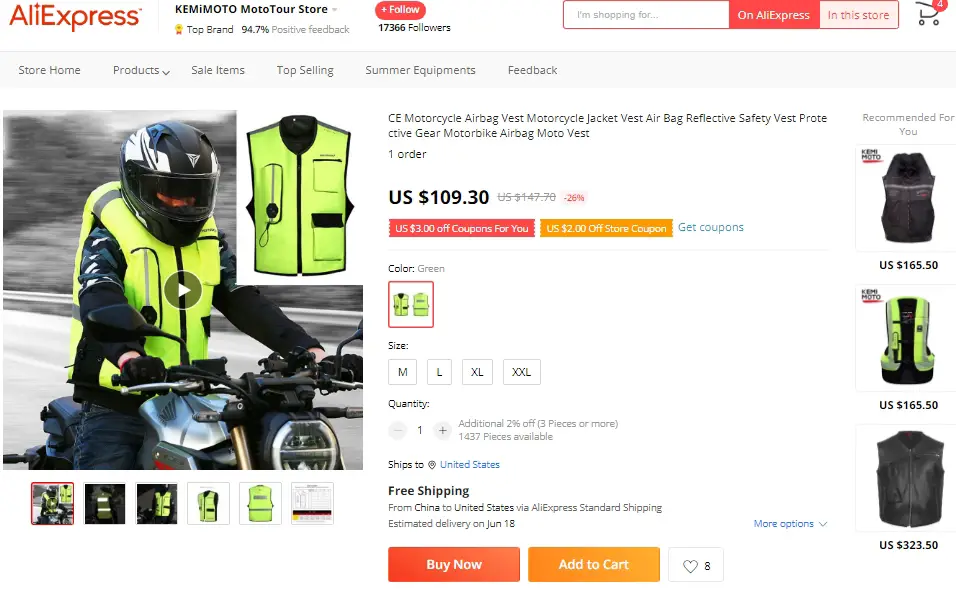 KEMIMOTO is a store that has vests with more careful premium designs and slightly higher prices. However, compared to products with the same characteristics in other stores, it has very competitive prices.
The airbag went off: do I have to buy another vest?
If due to a fall, the vest's airbag has popped out, you don't need to buy another one. You will only have to replace the CO2 cartridge with a new one.
You should keep in mind that this is possible as long as the vest is not torn, burned or damaged beyond use.
Find the CO2 cylinders for the vest
As we have already said, the vast majority of vests do not include compressed air cartridges. Some sellers offer them in their stores, but if you prefer you can buy them through this link or at any specialized store.
To correctly choose CO2 cartridges, you must take into account the capacity of the cylinder of your vest. Usually, this information is indicated in grams.
Add extra protection
If you want to have greater safety on your motorcycle trips, you can purchase additional protectors for your vest and thus achieve a perfect combination.
Tips to get the size right
It is essential that, when choosing your size, you review the seller's measurement charts.
You should never buy these types of products just by intuition or by choosing the same size that you use for other garments: each seller uses a different measurement table and it is possible that the size varies from one brand to another.
Choose the size that best fits your body
If you are between two sizes, it is recommended that you stay with the larger one. However, try to choose the most accurate model you can find: remember that the vest must fit the body and not be too loose so that the airbag works correctly in the event of a fall or blow.
If the vest of your size is a bit wide, you can use a chest, back or side protector so that it fills in the areas you consider necessary.