In recent times, the semi-permanent manicure has been a boom because it is very long-lasting, almost instant drying, adds shine to the nails and allows you to always be impeccable before the world. However, for many it is very expensive to pay for this service.
If you are one of those who always wants perfect nails, but your money is not much, do not worry. AliExpress can help you get the best products and tools to set up a cheap and easy nail salon at home.
Where should I start? What materials do I need?
Next, we will share with you a complete guide on everything you need to know to get all the necessary materials to achieve a unique and long-lasting semi-permanent enamel from the comfort of your home.
Before you begin, you will need to purchase certain irreplaceable materials which we will describe below:
Cuticle pusher or orange stick: This tool will help you to detach the cuticle from the nails and remove it easily. Click on this link and explore the store offer.
Nail drill: With this element you can lift and file the skin and dead cells that usually appear around the nails. In addition, it will help you completely remove the semi-permanent enamel or the first layer of enamel (top coat). Find it here.
Cuticle cutter: With these scissors you will be able to cut and completely remove the dead skin that you have not been able to remove with the previous tools. Look at this link what types of cuticle cutters does AliExpress offer.
Cardboard file: They are large flat files that will help you shape your nails. Always try to choose those files with two sides, one coarse grain and the other fine grain, so that you can file the nail faster and, at the same time, refine and delicately seal the edge. You can see what we are talking about in this link.
Polishing or block file: this is a cube-shaped tool with different thicknesses and functions. That is, with one of its sides you can file, with the other smooth, polish, shine, etc. Access this product by clicking here.
Cleanser – Synergy Swipe: This element cleans nails perfectly, removing skin and dust residue. Buy it at this link.
Lint-free cotton wipes: are very useful for sanitizing your work tools, but they are not essential. If you can't buy them, use sterile gauze and you'll get a similar result. Never try to clean your elements with cotton wool because it leaves traces of lint and will spoil your enamel. To review this product on AliExpress, access this link.
Primer: This product will help your manicure last longer, but it is not required to achieve semi-permanent nail polish. It is only recommended for greasy nails or if your service will be professional and you want to offer greater durability to the client. See here how much does it cost and what brands work with it.
Base Coat: If you decide not to use primer, this will be the first layer of your nail polish and will help protect the nail from the colored nail polish. Enter this link and explore which one is available for purchase.
Semi-permanent colored enamel: this is what will give color and design to your nail. Typically, you'll need to apply two coats, or sometimes three. You can see here the colors that AliExpress sells.
Top Coat: is a transparent enamel, which can be shiny or matte, with which you will finish your manicure. This product will help protect the color and seal the work so it lasts longer. Click on this link and learn more about it.
Oil to moisturize cuticles: this product is the last one you will apply to your nails and you will do it daily. It will allow you to keep the skin around the nail hydrated and will prevent dead skin from appearing or the cuticle from drying out. Buy it here.
LED/UV lamp: This device is very necessary for you to buy, since it will be the only thing that will help your nail polishes to dry. You should know that there are two types of curing lamps, LED and UV. If you have to choose, we recommend that you buy the first one, since it offers a faster finish.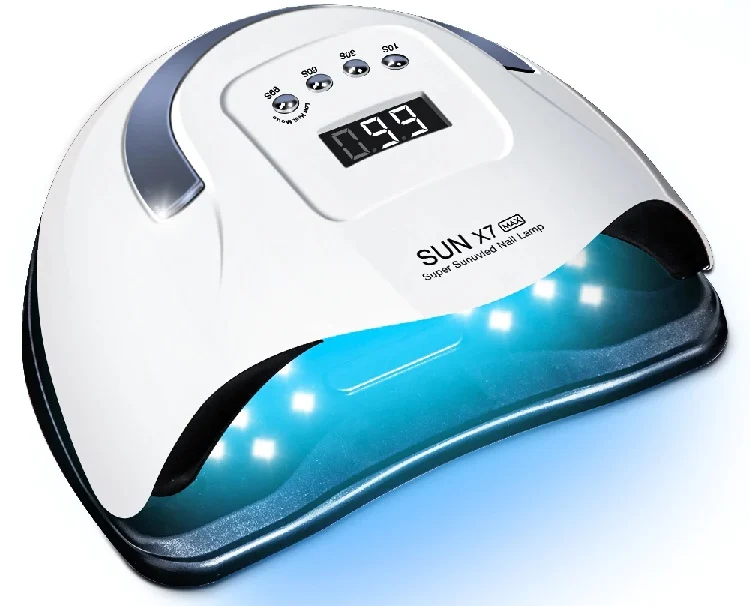 Recommendation: do not buy mini LED lamps
If you don't want to waste your money, keep this advice in mind: don't buy mini LED lamps. This is a cheap little tool that looks tempting, but it only dries one nail at a time and makes the job very messy.
Even if you think this is an option for you, you can find this product by following this link.
What nail polishes does AliExpress sell? What brands do you work?
As with any product, on AliExpress you will find a large number of semi-permanent nail polish brands and at a very good price. However, not all of them will give you the same results.
Therefore, below, we will present you one by one the best nail polish brands that AliExpress sells so that you can achieve a professional and long-lasting manicure.
Elite99
The enamels of this brand are definitely the best if you plan to offer a professional manicure service. In the products of Elite99 you will find quality, good size and durability.
Despite being one of the most expensive brands that AliExpress offers, it is one of the most chosen and accumulates thousands of sales that guarantee its power and quality.
Rosalind
This brand has the cheapest and most durable semi-permanent nail polishes in the entire AliExpress market. Therefore, if what you are looking for is to have a variety of colors for domestic use, the products of Rosalind are ideal for you.
Born Pretty
On AliExpress, the brand Born Pretty is considered one of the best stores of the Chinese giant. Since, in it you can find enamels and work tools at good prices and of excellent quality.
Venalisa
Together with Elite99, the brand Venalisa stands out for its excellence on AliExpress. It offers highly durable, professional enamels with very careful packaging.
LILYCUTE
Regarding the size and prices of the products, the brand LILYCUTE is very similar to Rosalind. Normally, this option stands out on AliExpress because the nail polishes perfectly cover the nail, have a density that makes it easier to work with, and are more durable than usual.
UR Sugar
This brand is one of the best that AliExpress has if you are looking for playful and extroverted designs for your nails. Since, in UR Sugar you will find different enamels with glitter, thermal ones that change color depending on the temperature, fluorescent, etc.
In itself, at UR Sugar you will always find the most interesting products to achieve daring designs.
LEMOOC
The products of this brand are also a very good option on AliExpress. Specifically, LEMOOC offers you a wide range of colors of neutral, warm tones, fluorine, glitter and more.
Clou Beaute
This store is ideal to buy an assortment of colors for little money, since, Clou Beaute has semi-permanent nail polishes for 80 cents.
Arte Clavo
You may not be familiar with this brand, but it is slowly gaining popularity on AliExpress. Arte Clavo is one of the best options to buy semi-permanent enamels because they offer a very remarkable quality, an average durability of 30 days and a very good covering power .
KADS
This brand is one of the most complete for the category that you will find in AliExpress. KADS has enamels of all kinds and colors and different accessories on the market, such as lathes, lamps, brushes, stamp plates, etc.
AliExpress offers you the best accessories to make your manicure stand out
In addition to enamels, in AliExpress you can buy all the necessary tools to decorate your nails to your liking and achieve a unique and sophisticated manicure.
For example, you can find brushes to precisely paint drawings and touch up the edges of your nails without staining the skin. Or, in the store you will find mixing-paddles to combine colors and achieve different shades.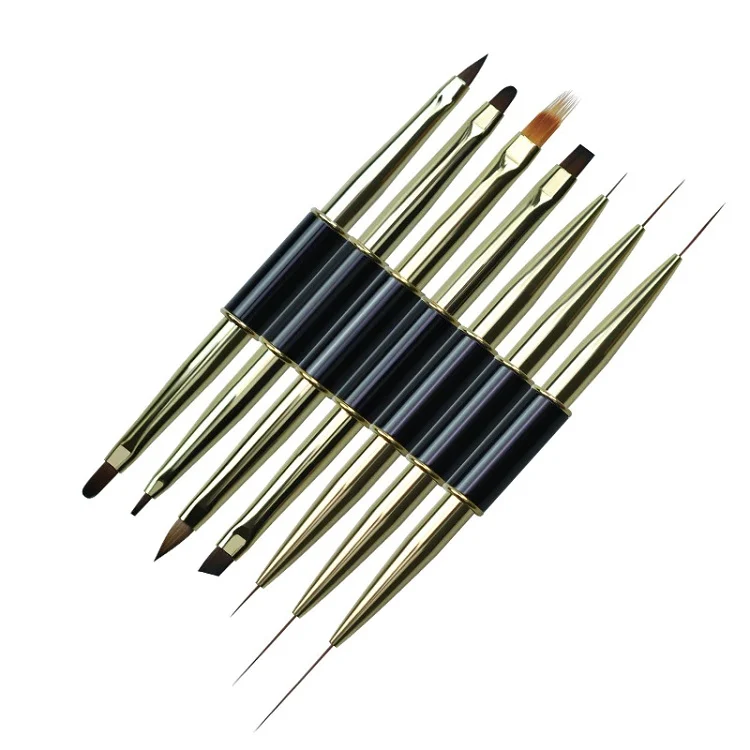 Also, AliExpress sells stickers, sparkles, confetti, ribbons and chains so you can decorate your drawings in a few minutes and without much effort.
If you want to go further, you can buy pattern plates, better known as stamping nail art, or stamp stamps, very useful for transferring drawings to your nails. Along the same lines, you will have the option to purchase painting gel to make 3D designs.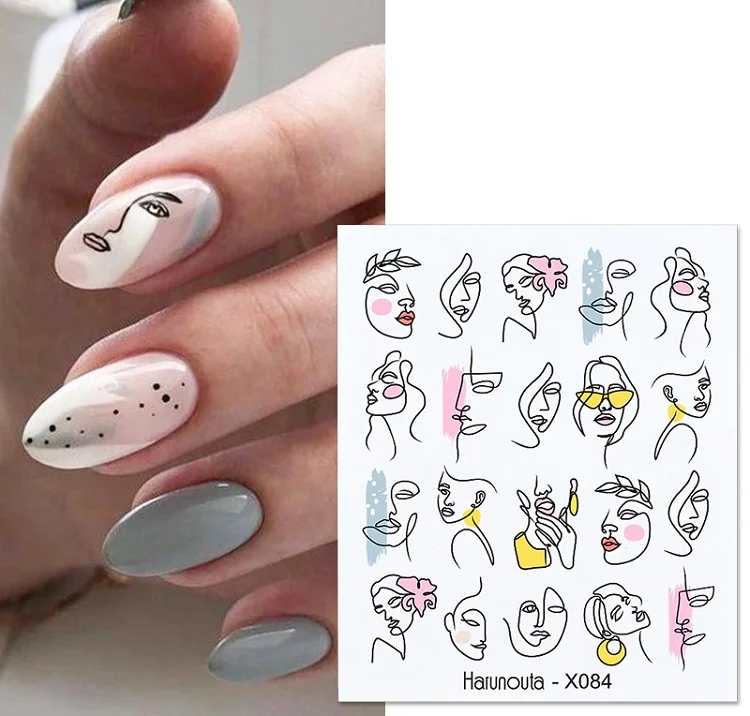 Remove semi-permanent nail polish also with the help of AliExpress
Normally, removing semi-permanent nail polish is hands down the most boring part of the entire manicure process. However, do not despair because AliExpress sells products that will help you speed up this procedure.
In the Chinese giant you will find semi-permanent nail polish removers for just over 3 euros. Enter here and find out right away. If you want another option, click on this link.
Answers to frequently asked questions
As in any field, there are doubts that are repeated and today we will try to solve them so that your AliExpress experience is a success.
One of the most frequently asked questions is whether you can mix nail polish from different brands. In principle, you should know that there is no problem in doing it, but see if the durability is the same or suffers. Since, they may have components that are incompatible with each other and make your work difficult.
Also, a question that comes up strongly is how to achieve a good manicure without spending crazy money. Easy, you can apply low cost products, but invest in a high-end base and top coat to protect your nails.
On the other hand, the great inconvenience of many users in the field is how to locate the desired color quickly and easily. In this regard, you should know that this in AliExpress is very simple because the store puts at your disposal samples in which to try the product and in which it gives you the number of the bottle to which it corresponds. Enter here and discover them.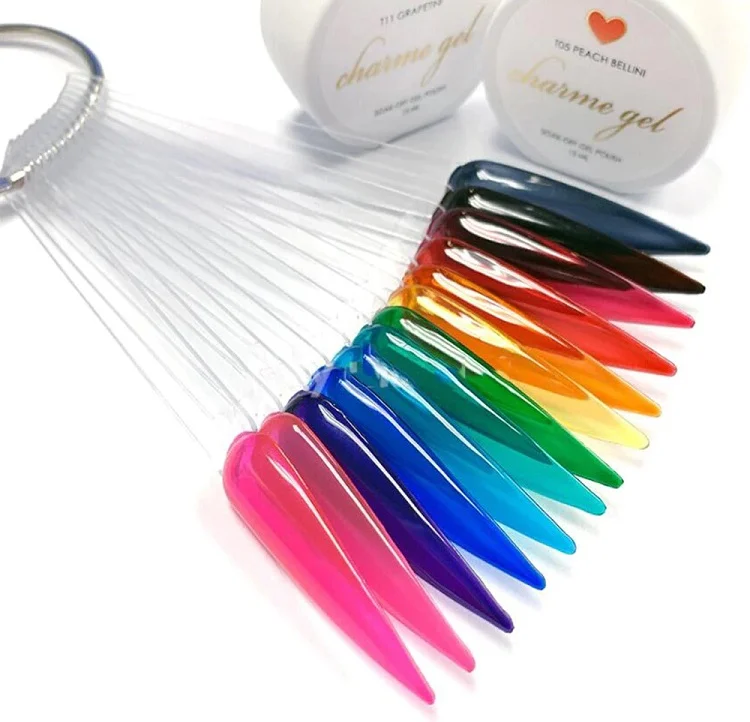 Another big problem that many users suffer from is that their nails weaken. But don't be scared, AliExpress also has a solution to this problem: the German Chemistry hardener.
It is one of the best products on the market that will help strengthen your nails. Click on this link and go directly to this article.