Are you looking for online fashion stores to renew your wardrobe without spending a fortune? Surely Shein has crossed your mind, but what other options are there? In this article we are going to show you some alternatives so that you can buy clothes at reasonable prices, simply and quickly.
As you already know, Shein is a store specializing in clothing for women, men and children of Chinese origin, with very low prices. However, when we go to buy here, it happens that we do not find exactly the clothes we want or we are not convinced by the store for whatever reason and we need products at similar prices.
The features of Shein that we look for in other stores are the following:
Clothes for men, women and children.
Modern clothing designs.
Cheap clothing prices.
International shipping.
Low shipping costs.
Relatively fast shipping.
Other stores similar to Shein
It is not easy to find stores that have the same advantages as Shein when making your purchases. However, we have found some that will surely be very useful to you. We present them below: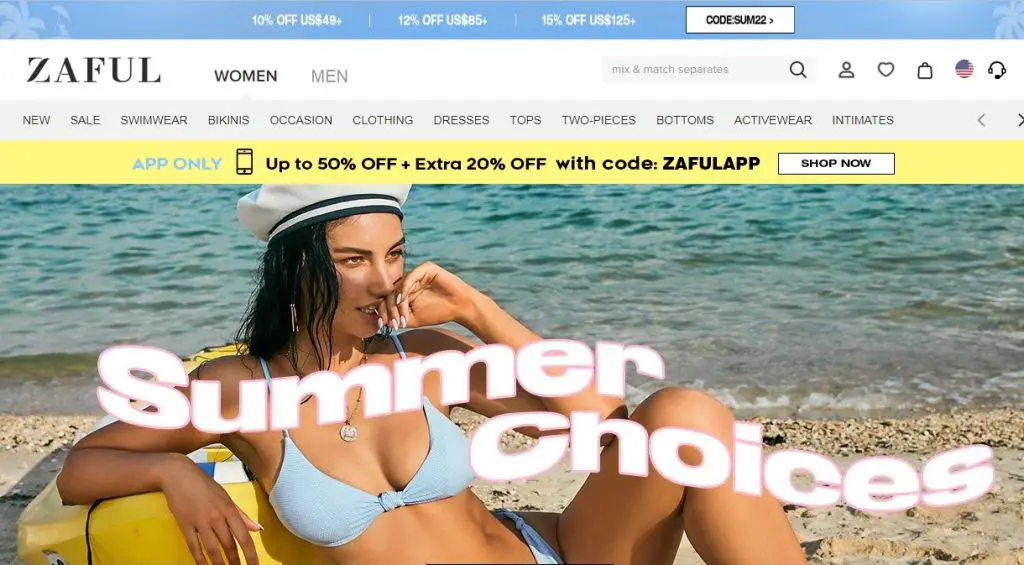 Zaful is an online store of Chinese origin based in Hong Kong, specializing in women's and men's clothing. It has very low prices but does not provide as many discount coupons as Shein does. However, you will find here discounts of 6% for students once a month, and an 8% discount if you are a premium student plus free shipping per month. When you make your first purchase, you will have a 15% discount on the product you choose.
One of the differences between Zaful and Shein is that at Zaful, the shipping costs will depend on the price of the order: the more expensive it is, the higher the shipping cost. Here you will also find two types of shipping as in Shein: the standard, which takes from 7 to 20 business days, and the express, which will reach you between 3 and 7 days.
In the same way as Shein, Zaful has an affiliate program that allows you to earn money while promoting their clothes.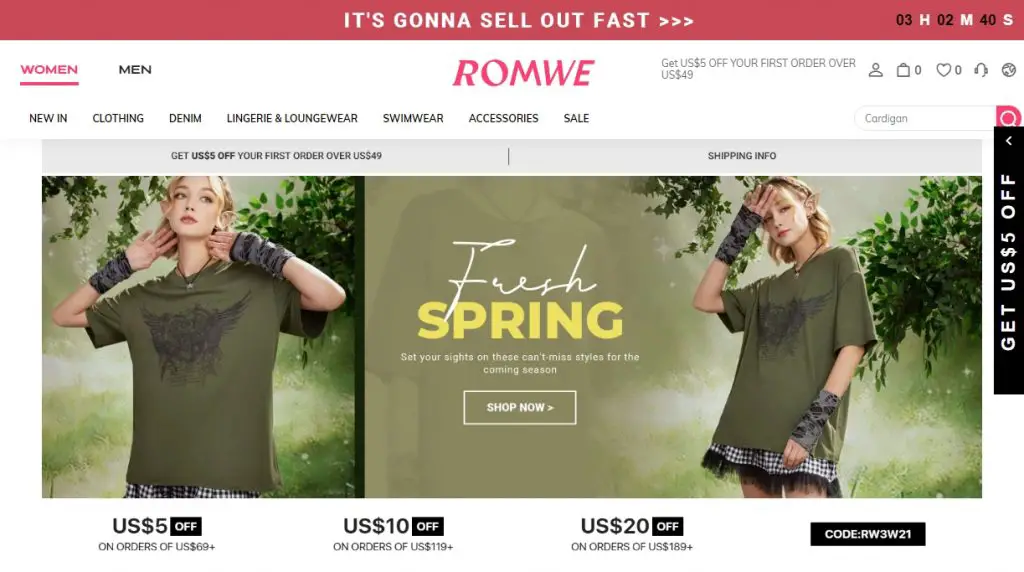 Romwe is one of the most similar clothing stores to Shein, since here you can access very similar discount coupons and it will also allow you to get points to win huge discounts.
It is also a Chinese store that makes international shipments where you can buy women's and men's clothing at very low prices. Keep in mind that you will not get children's or baby clothes here, but you will be able to choose from a wide variety of trendy garments.
At Romwe, shipping costs vary according to the price of the order you have purchased. The larger your order, the less you will pay for shipping, which usually costs around 10 euros. If your order costs more than 49 euros, shipping will be free. Regarding the delay of shipments, they can take up to 15 days.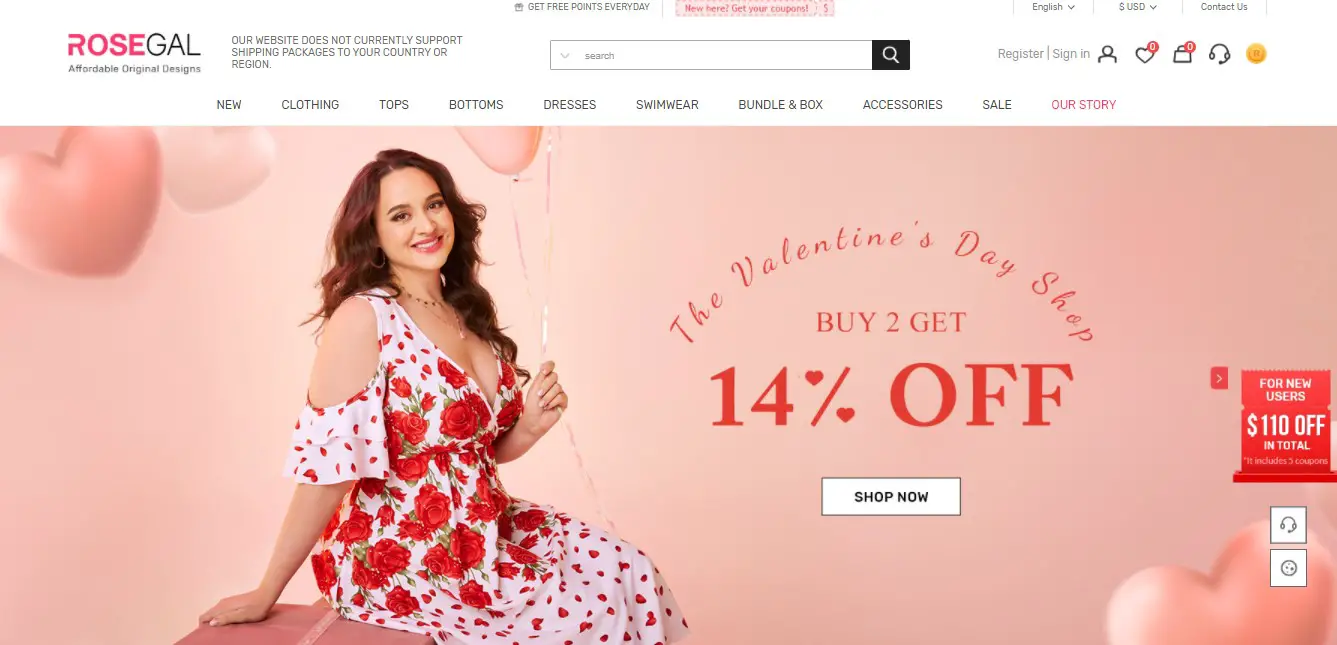 Another e-commerce store similar to Shein is Rosegal. It is a Chinese platform that ships internationally and specializes in vintage fashion clothing, plus size, menswear and homewear.
When you buy for the first time in Rosegal, you will get a discount of 10 dollars. It is similar to Shein in that you can earn points daily and earn more discounts on products. At Rosegal, all shipments over 59 euros are free and usually take between 7 and 20 days, depending on the country. Returns are accepted within 30 days, but customers will be responsible for shipping costs.
This store also has an affiliate program so you can earn money, either as an individual, influencer or agency. Go to this link for more information about it.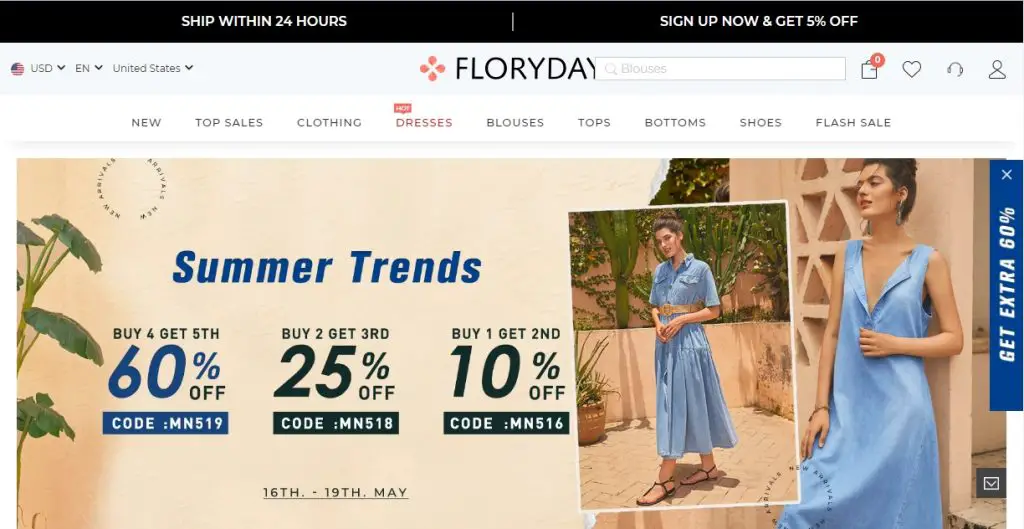 Floryday is a clothing store from Hong Kong, based in the UK, selling to many parts of the world. Keep in mind that here you will only find women's clothing, footwear and accessories at good prices.
Like Shein, Floryday has a program that allows you to earn points: every 100 points you have, you get 1USD off your purchase. Also, every time you place an order you can get more redeemable points and a 10% discount coupon for your next purchase.
Both the shipping costs and the time of receipt of your purchase vary depending on the country from which you make the order. If you are in Spain, the shipment will take about 17 days to arrive and the price is at least 4.26 euros.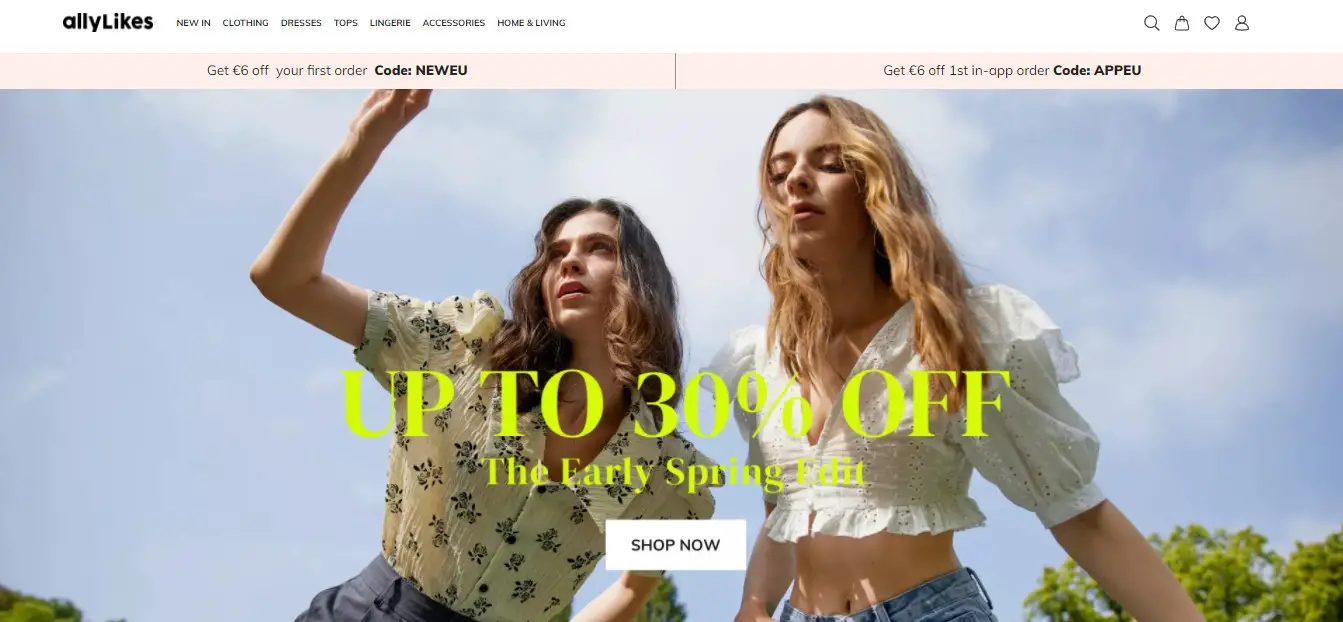 AliExpress has created a new online fashion clothing store, coming from China and its style is almost identical to Shein's. AllyLikes' goal is precisely to be Shein's competition.
At AllyLikes you will find fashion for women with very innovative designs. The sections of this online store are expanding more and more, and their prices are very similar to those of Shein.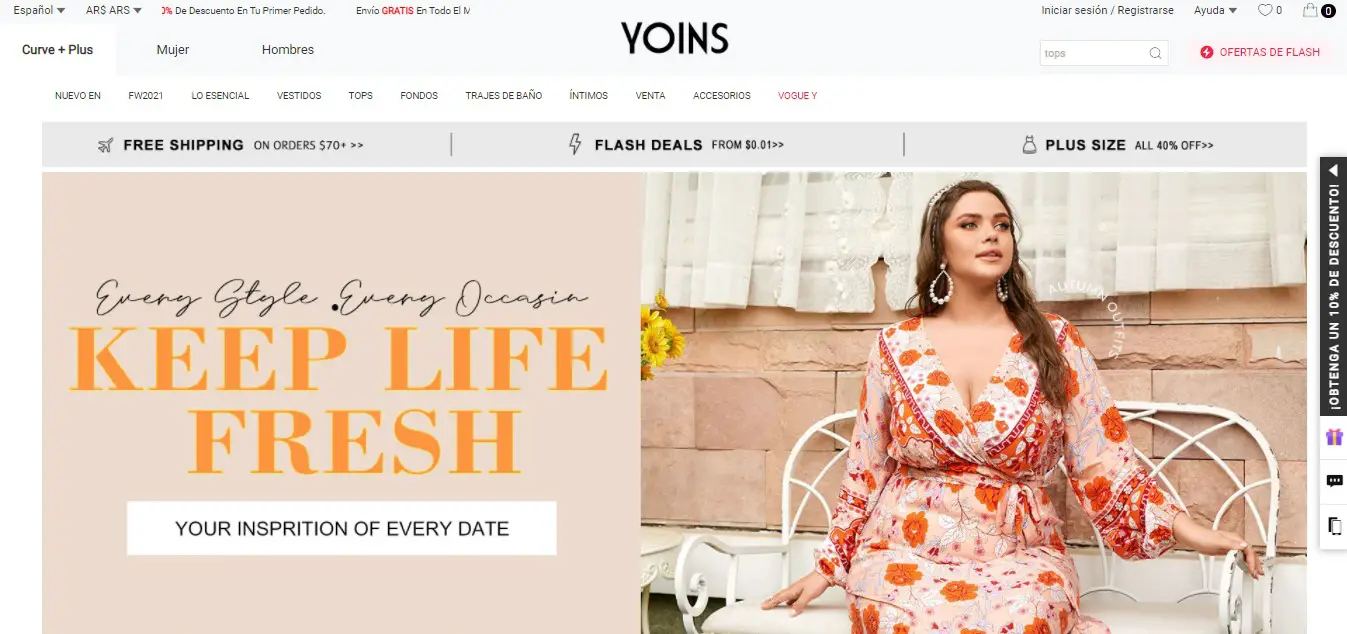 Yoins has three main categories of clothing: women, curves and men. It is an online store with very affordable prices, born in Hong Kong in 2014 and currently based in Cyprus. In the same way as Shein, Yoins has an affiliate program that will allow you to earn 10% of the price of the clothes you promote. It also has a points program with which you can get discounts, in exchange for performing some actions on its website. It also has the Blogger program and one of discounts for students.
One aspect to highlight about this store is that it has free returns. If you are in Spain, your order will take 10 business days to arrive with standard shipping and 8 days with express shipping, although this all depends on the country where the customer is located. Shipping costs above 48 euros are free and 6 euros below this figure, something that will also depend on the country of reception.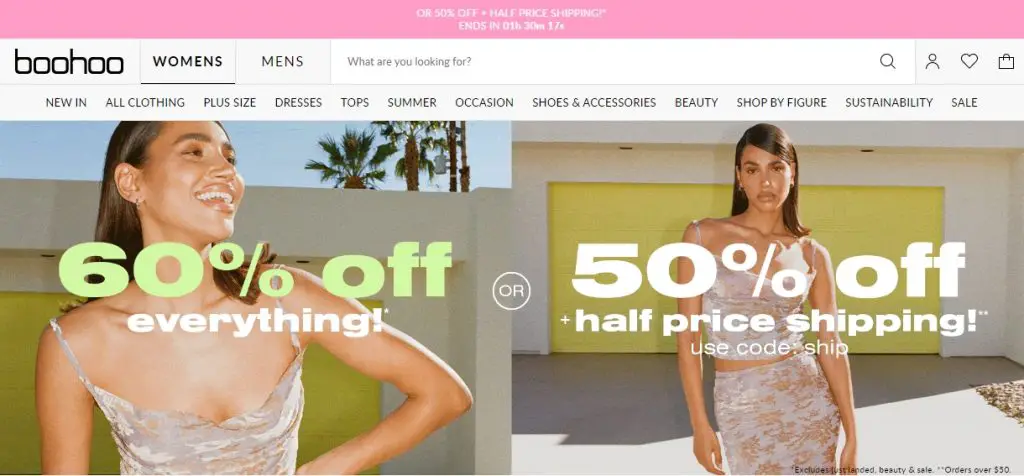 Boohoo is a store that offers clothing for women and men, including plus sizes. This brand was born in 2006 and currently has a good number of stores around the world. This company has been so successful that in 2017 it was able to buy the clothing brand Nasty Gal.
In Boohoo you will find prices equal to or higher than those of Shein. It has international shipping and its minimum cost is 5 euros per order, although it also has a UPS collection point available.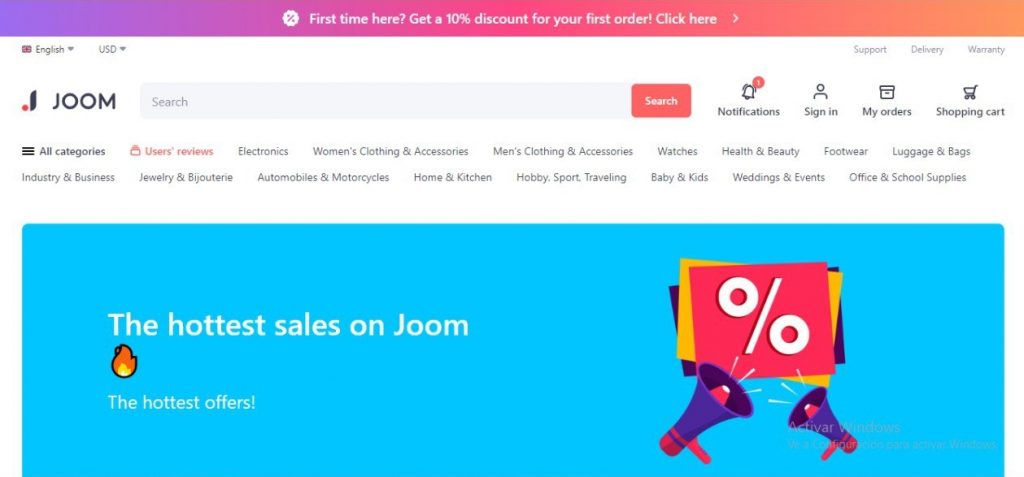 On Joom you will find both men's and women's clothing for sale, among many other products, since it is a large marketplace for Chinese items. Your shipments take about three weeks to arrive and payment is available via PayPal, Visa and MasterCard.
As for their fashion products, they have modern designs at very attractive prices.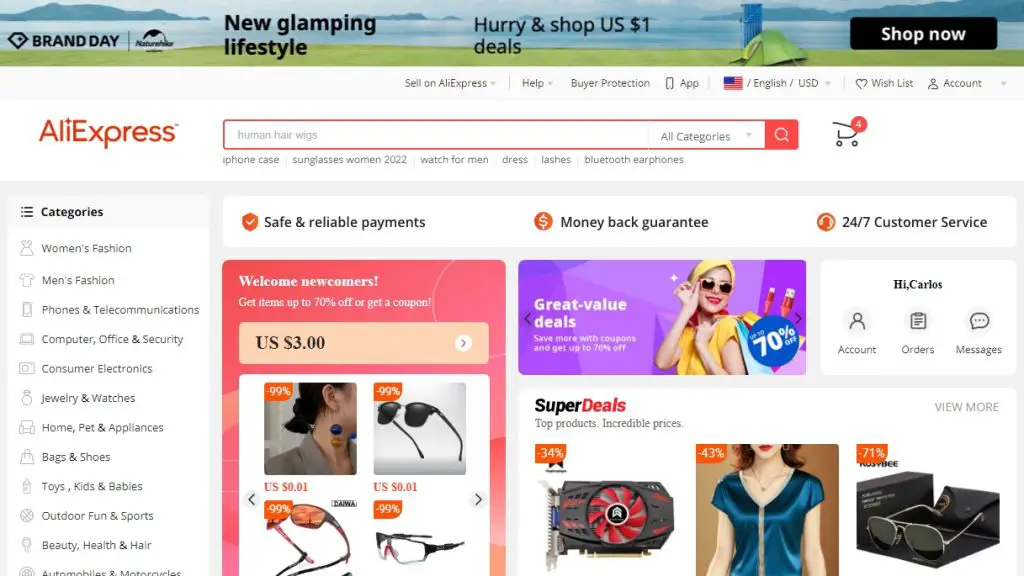 AliExpress is the most important Chinese goods store that exists today. It belongs to the Alibaba group and sells all kinds of products, so you will find clothes for men, women, boys, girls, babies, even for pets, of all types and sizes. Regarding prices, you will find a wide spectrum: from the cheapest to the most expensive.
However, its prices are still lower than those of Shein and it has discount coupons for new users or special occasions such as Black Friday, Cyber Monday, 11.11. and many more.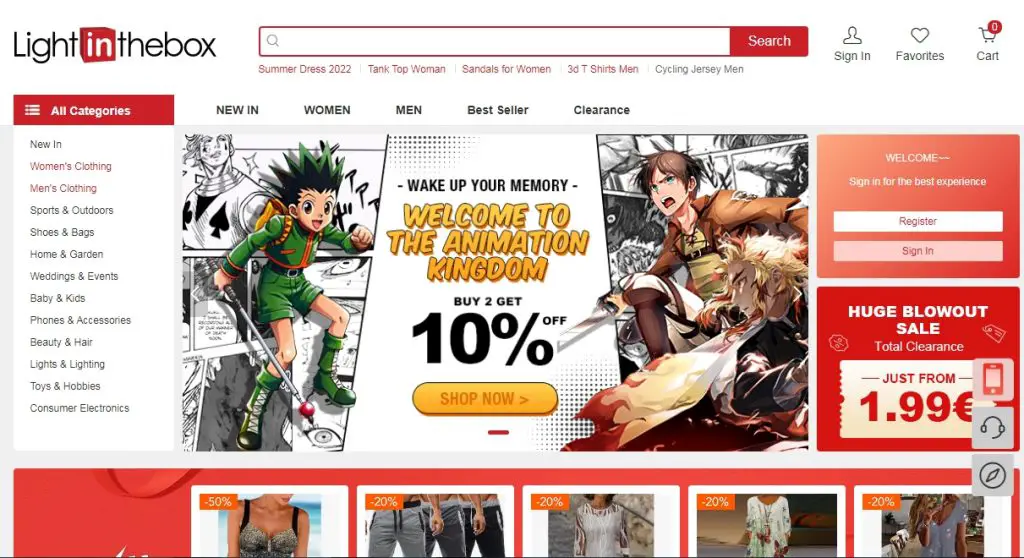 LightintheBOX is a marketplace born in 2006 of Chinese origin, where you can find a wide variety of items, including clothing for women and men, children and babies, at very affordable prices.
It has an affiliate program that you can take advantage of if you want to promote their clothes and earn money.
This store makes international shipments whose cost is shown in each product that is for sale. Each seller manages their shipment and orders can take a maximum of 15 days to arrive, although this will depend on the type of product you have purchased.
If you had already thought about buying clothes online, today you have discovered new websites that you can explore until you find the perfect garment for you at a very low cost. We invite you to continue reading our blog for more content like this.