Did you know that there is a Chrome extension that allows you to find the coupon that suits you best when making a purchase on Shein?
This is Shein Coupon Finder, the extension that you can install you can find here, this it will help you save money.
In this article we show you how to use this option.
What are the benefits of using Shein Coupon Finder?
Like all Chrome extensions, Shein Coupon Finder is an application that you can install on your your computer's browser.
You can install the app with confidence, as it has passed the validation of the Chrome Store and it is also free!
Unlike other extensions that search for coupons for hundreds of stores, by focusing only on Shein, this extension is up to date with the most comprehensive coupon list as it is regularly updated and coupons are added manually.
This represents a great advantage over other extensions that do not check the number of coupons they dump in their database before uploading them.
How to use Shein Coupon Finder?
Once the extension is added to Chrome, you should shop normally from the Shein store.
When you reach the end of the purchase process, you will see a message like the following: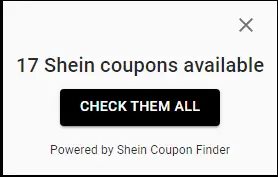 After clicking "check them all", the extension will take a few seconds to analyze the coupon codes.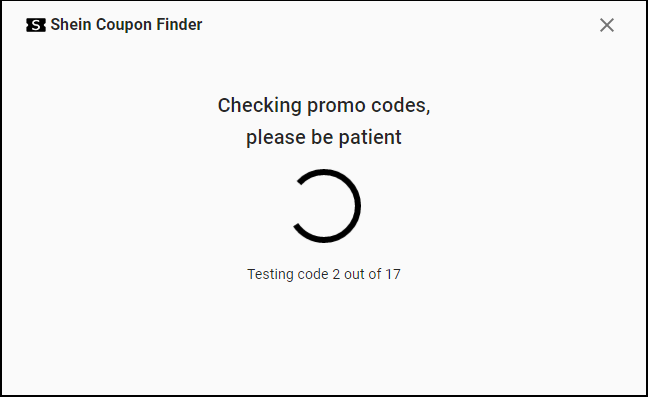 Once it is finished, it will notify you of the coupon applied, which will be the one with the greatest discount: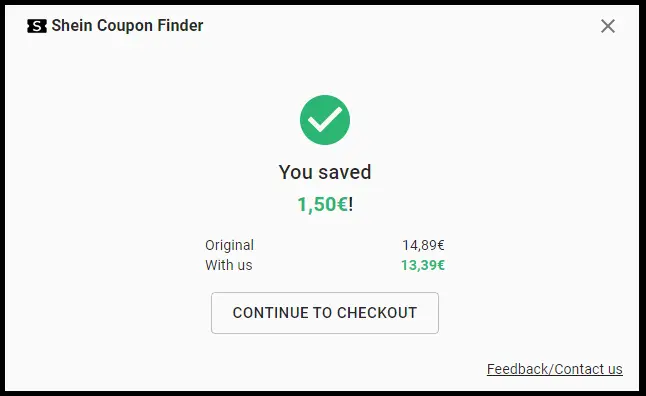 Ready! You already have the discount thanks to Shein Coupon Finder.
Can you save a lot?
Generally, Shein always has coupons available for you, although there will be times when you don't find any active coupons. You have to keep in mind that the coupons offered by third parties that claim to give you a discount greater than 50% are a farce.
Shein coupons usually give you a discount of between 10 to 20% of the total purchase.