AllyLikes is an online store that is having a lot of success and wants to position itself above other platforms in the market that are dedicated to the sale of low-cost clothing.
Chances are that you already know this store, so let's talk directly about how shipping works, so you can keep in mind how long it will take for your order to arrive and not be worried about your package.
As it's a Chinese store, you should keep in mind that the wait will be at least 15 days. Knowing this information, it's up to you to decide whether it is convenient for you to place an order on this platform or not.
How do AllyLikes deliveries work?
To give you a general idea, you should know that AllyLikes shipping works in the same way as AliExpress. So, if you've already shopped on this huge marketplace before, chances are that on AllyLikes you'll have a very similar experience.
However, there are some differences between the two platforms. On AliExpress, you're going to find different Chinese manufacturers offering their products through the website.
On the other hand, on AllyLikes there's only one seller and this is an advantage since you won't need to check each item for information about its seller.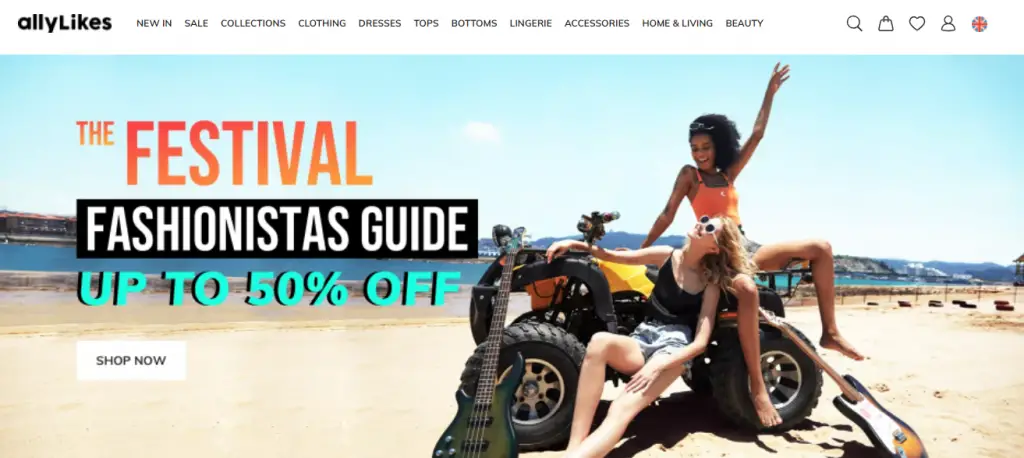 What countries does AllyLikes ship to?
For now, this platform only sells to European Union countries: Spain, France, Italy, Portugal, Germany, Belgium, United Kingdom, Netherlands, Czech Republic, Luxembourg, Hungary, Austria, Greece, Poland, and Ireland. In addition, AllyLikes ships to the United States and Canada. It's likely to add more countries to this list before too long.
Keep in mind that AllyLikes was born in October 2021, that is, very recently and that's why in the coming months it is expected to reach countries in Latin America and Asia.
How much does shipping cost at AllyLikes?
If your purchase is greater than the minimum amount established for each country, shipping will be free. On the other hand, if your order does not reach this amount, you will have to pay for shipping the amount corresponding to your country:
Europe and the United Kingdom: Orders, whose value exceeds €19, will have free shipping. In case the purchase is less than this amount, the shipping cost will be €4.99.
United States: Orders above $49 will have free shipping, while purchases below that value will pay $3.99 for shipping.
Canada: If your order has a value of more than $59, you will have free shipping, while if it does not reach this amount, you will pay $5.99 in shipping costs.
What about customs?
Like any online store user, you're probably worried about what will happen to your orders when they reach customs.
In the case of AllyLikes, you should keep in mind that customs in each country usually randomly stop your packages from time to time to open and check them.
In case your package doesn't meet some label requirements according to the amount, it's going to be held, and you will have to pay a surcharge to get it back.
However, the Chinese giant Alibaba already has experience with AliExpress in customs management, so it tries to reduce as much as possible the possibility of order stoppage.
This means that it's very unlikely that customs will hold your AllyLikes package.
How long does it take for an AllyLikes package to arrive?
To find out how long it will take for an AllyLikes order to arrive, you must consider the country where you made the purchase, the processing time of the package, and the handling at customs. In other words:
AllyLikes shipping time = shipping + processing + customs.
In order for you to calculate how long your package will take, you should know that the processing time is 5 to 7 business days.
The minimum shipping time is 10 days, but you should add this margin of processing time so that you can be more certain of how long it will actually take for the package to reach you.
Adding up the timeframes, you'll see that the shipment will arrive in 15 days minimum.

Here is the estimated shipping time for each country, from the time the package leaves the warehouse until it arrives at your home:
Europe: For Spain, France, Italy, Portugal, Belgium, Germany, Holland, and Poland the estimated delivery time is between 10 and 15 working days. However, for the Czech Republic, Austria, Hungary, Greece, and Luxembourg, the delivery time is 15 to 20 working days, while for Ireland, the delivery time is 20 to 25 working days.
United Kingdom: Between 10 and 15 working days.
USA and Canada: 15 to 20 working days.
We hope this article has been useful for your next purchases. If you want to know more about online stores, keep reading our blog and find out everything you need to know to buy at the best price online.