Buying on the Internet is very simple, but you have to pay special attention to one thing: the size of the garments. Every time you choose an item of this type on the web, you should pay close attention to the size and avoid mistakes.
But don't worry, in your next purchase at AllyLikes you'll get it right because here's a complete guide on how to pick the right size in this store.
Sizing: What should I look out for at AllyLikes?
Like any store of Chinese origin, AllyLikes has a particular size guide. Specifically, this store does not have a unique sizing system, therefore, all the clothes it sells will be measured differently.
Tricky, isn't it? Still, there is a solution.
What you have to look at every time you decide on a garment are its measurements in centimeters and its equivalence with the sizes. That is, once you decide what to buy, click on the sizes, for example, M, L, XL, and the measurements of the bust, the sleeve length, and the measurement of the garment in general.
This will be the only way not to fail in your purchase. Each garment you choose will have its own measurement, and you may be a size "M" for some models and "S" for others.
Besides, AllyLikes gives you another option to decide your size correctly. We're talking about the "Size Guide". It's a unique chart of the garment you are about to buy.
So, how should I pick my size on AllyLikes?
First, you need to take your measurements. This means you will need to measure with tape the width of your chest, waist, hips, and thigh and the length of your shoulders, arms, legs, and crotch. Also, measure the width of your neck and head.
With all these measurements in centimeters, you can enter the size chart of the garment you want to buy in AllyLikes and find the size that corresponds to you.
Simple, isn't it?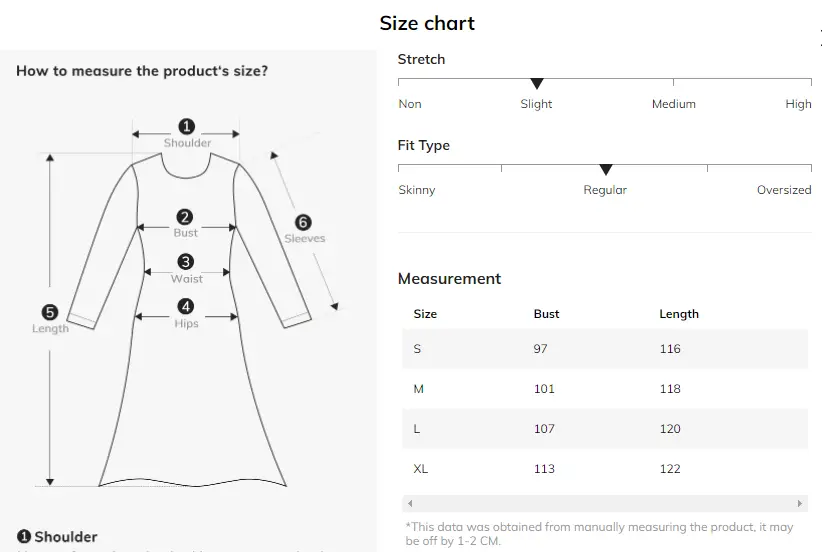 Remember: if you're looking for a loose-fitting garment, always choose a size that is 2 or 3 centimeters larger than the measurements you took of your body. On the contrary, if you want tighter clothes, buy a size equivalent to your measurement.
Important considerations when choosing the right size at AllyLikes
As mentioned above, it will be essential that you take your body measurements to pick your size without mistakes in AllyLikes. Now, you have to take into account other details to have zero risks.
Below, we list them one by one:
Check the amount of spandex
To select the size of a garment, it'll be important that you check the amount of spandex in it. This means that you should check the percentage of this component in the garment, since it's the one that will give it elasticity.
Thus, if the spandex is between 1 and 2%, it will be a sufficiently elastic garment. However, if it has 3% or more, we're talking about a piece that will stretch after two or more wearings.
So, what should you do? If you buy a very elastic garment, pick a size smaller than you need. Now, if it's elastic, but not an exaggeration, select your usual size, and you will have no problems.
Look at the amount of polyester in the garment
In addition to checking the elasticity, it'll be significant to observe the amount of polyester in the garment. If there's too much polyester in the garment, it's very likely that it won't breathe well.
In particular, if this happens, you'll be buying clothes that you should avoid in warm seasons. In view of this, we recommend that you always choose garments that have polyester, but also cotton. Even if you buy linen items, it will be even better for you.
Pay attention to oversized garments
Why do we suggest this? Simply because these are garments that have special characteristics and are usually much larger than the usual sizes.
In other words, they are wide clothes. Besides, the sleeves are typically dropped shoulder so consequently, they are shorter.

Pay attention to the texture of the garments
Chinese clothes are often very thin and may be a bit transparent for your usual style. For this reason, if the garment has comments from previous buyers, check them to see what it looks like.
If this information isn't available, we recommend you look closely at the photographs of the garment and check if there's any transparency in it.
Also, you can see the composition of the garment in the "Details" section of each AllyLikes item.