As you may already know, AliExpress offers a large number of products at a very good price. However, there is a tantalizing opportunity to save even more at this store: Black Friday.
Typically, AliExpress is eagerly preparing for this day and giving its users many offers, promotional coupons and discount codes so that no one run out of your dream product.
Today we will talk about Black Friday and we will give you the best tips to make the most of it. Therefore, if you plan to give a gift, you are on time, arrive without stress and buy with super prices on AliExpress.
Everything you need to know about Black Friday 2021 on AliExpress
AliExpress Black Friday usually lasts, on average, six days. Although it is quite a long time, you should not get lost because the store will launch limited discounts and promotional codes.
For this reason, we recommend that you add everything that interests you to your shopping cart immediately. Thus, when Black Friday begins, you will have your purchase guaranteed and at the best price.
In other words, leave everything ready and, when it's time to pay, you only have to load the discount codes that suit you best so that your savings on AliExpress are enormous.
So keep this tip in mind. Since, AliExpress Black Friday is usually crazy with sales that reach up to 80% off.
Also, we suggest you check the AliExpress homepage daily and discover the best offers in the store.
Pay attention to these promotional codes
As said, the most tempting discounts on AliExpress Black Friday will be limited. Therefore, we show you some of them so you know how to identify them:
AEBF4: This is a reduction of 4 euros for a minimum purchase of 30 euros.
AdmitadBF7: With this code, AliExpress gives you a discount of 6.20 euros for each minimum purchase of 44.28 euros.
BFALIXBLOG9: This is an exclusive coupon that gives you a discount of 9 euros for a minimum purchase of 60 60 euros.
AdmitadBF12: This code offers a discount of 10.63 euros for a minimum purchase of 88.57 euros.
AEBF15: if you buy a product of 100 euros or more, AlIExpress gives you a 15 euro discount.
AdmitadBF18: here, on a minimum purchase of 132.85 euros, you receive a discount of 15.94 euros.
BFALIXBLOG18: This is an exclusive coupon that provides a discount of 18 euros on a minimum purchase of 120 euros.
AdmitadBF23: you receive a discount of 20.37 euros for a minimum purchase of 168.28 euros.
AdmitadBF30: if you make a minimum purchase of 221.42, you will receive a discount of 26.57 euros.
BFALIXBLOG29: This is another exclusive discount. For every minimum purchase of 190 euros, AliExpress gives you a discount of 29 euros.
AEBF43: in this case, for each purchase of 290 euros or more, you will receive a discount of 43 euros.
Remember, all the discounts that we show you above are promotional codes, therefore, you must copy and paste them at the time of purchase and payment.
Instead, AliExpress coupons should only be requested. Once you do this, the discount is saved to your account and automatically applied when you shop in the store.
What discount coupons does AliExpress offer?
On AliExpress Black Friday you can use different discount coupons on all products. Read on and find out what they are.
One of the most common options on AliExpress are coupons of the type "get a discount of 40 euros on a minimum purchase of 80 euros". These are very powerful discounts coveted by all users. Therefore, getting them is not an easy task.
However, we will explain a trick to you: from the first second of Black Friday start pressing non-stop on "get it". Do it over and over again and, most likely, you will manage to catch it for your next purchase.
Discount coupons and promotional codes, are they compatible with each other?
Unfortunately, no. You will not be able to combine discount coupons with promotional codes on AliExpress, for this reason, you will have to choose which of the two is more convenient for your next purchase.
Also, you should know that discount coupons are not limited. On the other hand, promotional codes do. In this way, our advice is: have your purchases ready before Black Friday begins and, the minute the event starts, use all the codes and leave the coupons for later.
What about seller coupons? Can I combine them?
In your favor, yes, you can. Since, seller or store coupons are compatible with AliExpress promotional codes and discount coupons.
These are the discounts offered by each AliExpress seller and that can be used exclusively in the store of the person who offers them. Despite this limitation, they are of great help and will allow you to obtain better prices.
Spend less with the "Shop and Save" promotion
It is an option offered by AliExpress and it is of the type "for every 25 euros spent, you will save 2 euros in your shopping cart".
In this case, it does not matter that the products you buy are from different stores, you just have to make sure that each one of them is included in this promotion.
Save by playing on AliExpress
Another way to get AliExpress Black Friday discount coupons is by playing Jump and Win.
It is a game that is only available in the AliExpress application and consists of jumping from one box to another without falling into it.
If you don't have the app yet, enter here and download it.

How do I redeem jumps for discount coupons?
Easy. The jumps you achieve will automatically accumulate in your account and, later, you can exchange them for coupons valid for all items.
Specifically, in exchange for a number of jumps, you will receive the proportional amount in coupons. As an example, the equation looks like this:
50 jumps: on a minimum purchase of €0.46, you receive €0.45
100 jumps: with a minimum purchase of €0.91, you receive €0.90
200 jumps: with a minimum purchase of €3.61, you receive €1.80
300 jumps: it is a minimum purchase of €5.41, you receive €2.70
500 jumps: with a minimum purchase of €9.01, you receive €4.51
1000 jumps: with a minimum purchase of €90.14, you receive €9.41
1500 jumps: with a minimum purchase of €135.21, you receive €13.52
How do I play?
In "Jump and Win" you just have to jump from box to box without falling into the void. In itself, the only difficulty is exerting the correct pressure with your finger so as not to go overboard and stay out of the boxes.
Keep in mind that the distances between box and box will vary. Also, it will change the size of the boxes where you must make a foot. Therefore, play carefully.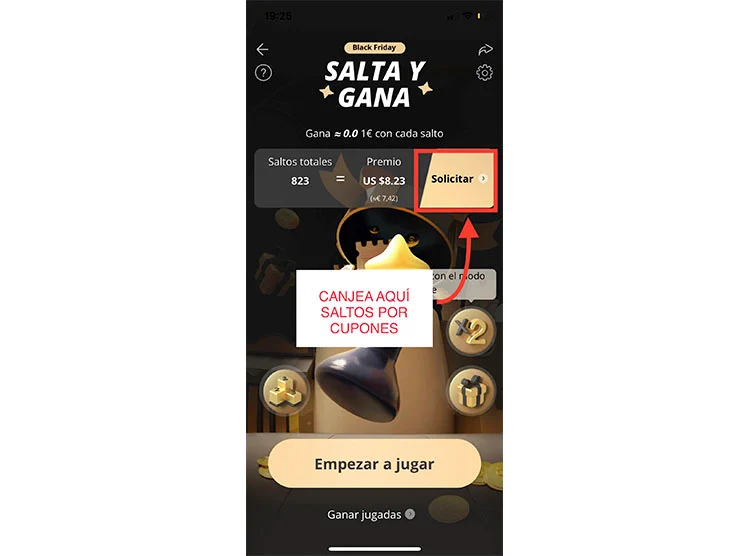 Tip: get the gift boxes from the official stores
In the game, some of the boxes that you will have to jump will have a logo of the official AliExpress stores. If you manage to accumulate all of them, you will be rewarded with a surprise and unique gift for you.
Remember that the AliExpress application will give you two free games and up to 18 extras every day for completing daily missions, such as visiting stores, reviewing items, etc.
Get more discounts when paying
Depending on the payment method you choose, you can get even more discounts on AliExpress.
For example, if you decide to pay with AliPay, you will accumulate 20% of your total purchase in your wallet. Keep in mind that this balance will initially appear as "pending balance" once the seller sends your package, the money will be real and can be used in any order.
Something similar happens with PayPal. If you choose this payment method, you will receive a 3 euro discount at the end of your purchase of more than 30 euros. While if you use your Mastercard card in an order of more than 20 euros you will receive a direct discount of 2 euros.
Another option to get discounts: the Megaruleton
On AliExpress Black Friday you can get discounts and prizes very easily with the Megaruleton.
That is, every day you enter the store you will have the possibility of a free shot in the Megaruleton. Now if you want to get more shots then complete AliExpress missions and get more chances.
Our recommendation is that you never miss a shot in the Megaruleton, since it is very easy to get coupons with discounts of up to 4 euros and doing so is free. In addition, you can win coins, prizes or top up your virtual money reserve.
Remember that you will only find this game from the AliExpress mobile application.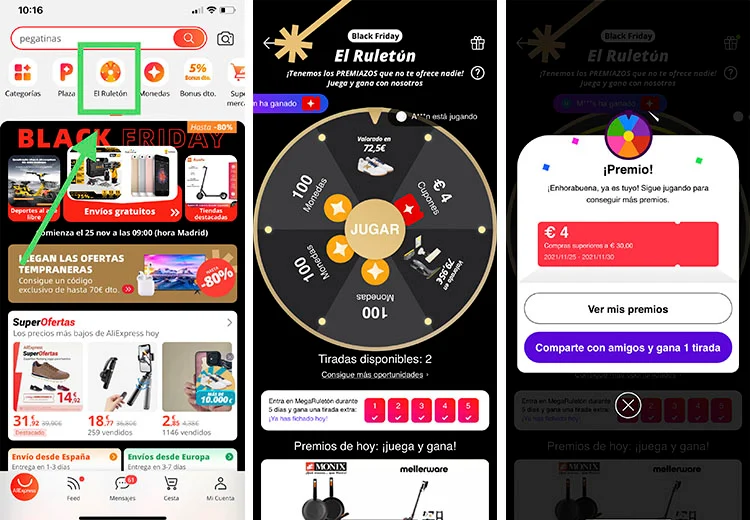 Complete selection of the best early Black Friday deals
Between so much promotion and discount code, you may have already gotten dizzy. For this reason, we have prepared a selection of the best early Black Friday deals.
First of all, the product that is first on the list is a robot vacuum cleaner. An excellent option is the Roborock s5 Max that has great suction power and vacuums all kinds of carpets without problems.
In the electronics category, another interesting product is the Xiaomi scooter or the Chefbot Touch kitchen robot from Create. Also, you have Apple Airpods at a very good price.
On the other hand, on AliExpress Black Friday it is usually a bargain to buy laser epilators to do hair removal treatments yourself and from the comfort your house. Or you can buy one semi-automatic coffee maker and consume creamy and cheap coffee prepared by you.
Also, if you want to get started in the world of smartwatches, you can buy Xiaomi Mi Band 6. Also, in advance of AliExpress Black Friday you can renew your mobile at OnePlus or Samsung or buy a new TV also at Samsung or at Xiaomi.
More offers
Normally, in AliExpress you find smartphones at a very good price, however, on Black Friday in the store you can buy them at a much lower price than usual. In particular, we recommend that you review the Xiaomi Mi 11 Lite o the Xiaomi Redmi Note 10.
Also, among the mobiles you can safely opt for those from OPPO, such as the Reno 2 or the A54 and the GT 2 PRO by Huawei.
With regard to the rest of the products that AliExpress sells, on this Black Friday, we suggest you check out the Kelme Flamenco sneakers, the steam cleaner by Karcher Sc 2 Deluxe Easy Fix, the Braun Silk Expert 3 epilator or the Braun Silk Épil 9, the Nintendo Switch 2021 and the Oral B 3D PRO 600 Cross Action electric toothbrush.