If you know how to design your own handmade or handmade objects, you can take the opportunity to earn money with this activity. That is why in this article we are going to refer to Etsy, a platform that will give you some possibilities to successfully sell your own creations.
You may have already heard about this app and are wondering how it works or how to generate higher sales here. For this reason we have included some recommendations to take into account to reach more buyers.
What is Etsy?
First, let's see what Etsy is all about. Basically, it is an online shopping and sales site in which users can buy or sell products belonging to the art, fashion, decoration and similar categories, as long as they are handmade.
Etsy also has a mobile application available for you to download, which will allow you to manage both your purchases and your sales from anywhere. Here you do not need to give any vulnerable or private data.
It is a reliable marketplace and, in fact, it is the one with the largest number of users for the purchase and sale of handmade products. If you need to make a special gift, this platform will put at your disposal unique, original and beautiful objects that you will hardly find anywhere else.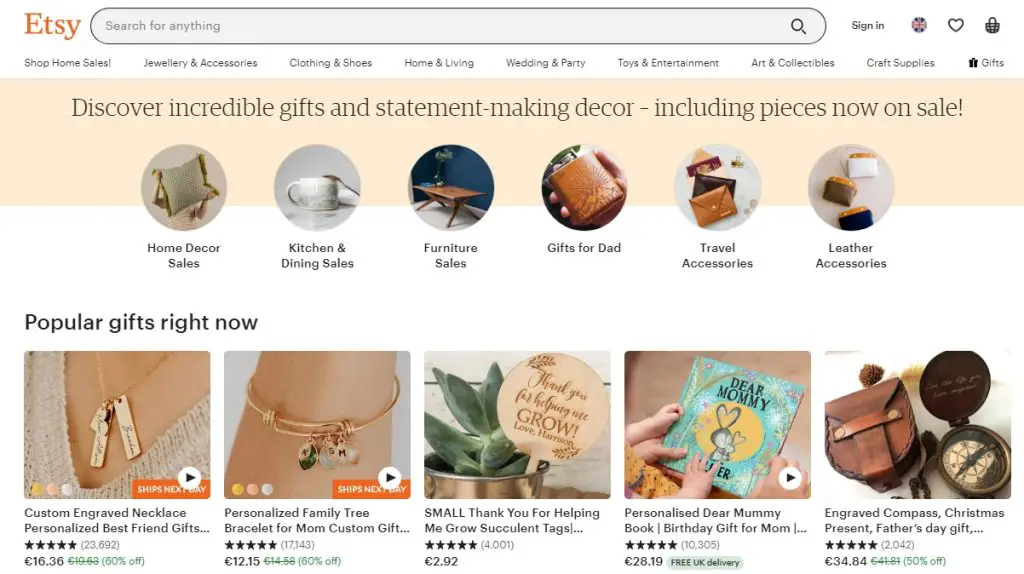 Advantages and disadvantages of using Etsy
So far we have seen some positive aspects of this platform, but is it worth selling here? Naturally, doing so has its advantages and disadvantages. Continue reading and we will tell you what they are.
Advantages
Why sell on Etsy instead of creating your own online store? These are the advantages that stand out when using this platform:
Here you can open a shop for free.
You will have a wide audience that can become customers and will allow you to test if the product is sold or not in a very simple way.
It is profitable to sell here, considering the low cost of advertising.
It does not involve domain, server, web design or other expenses, which you should have to create your own store.
Payments are processed securely and securely within Etsy.
You can quickly start selling on Etsy, as setting up a shop is so easy.
You will have access to international buyers.
Allows you to interact with other brands as if it were a social network.
Their mobile app is easy to use and fast.
You won't find many marketplaces to sell handmade, so if this is your thing, take advantage.
Disadvantages
Before you make the decision to sell on Etsy, it is essential that you know its disadvantages:
Since it is not your own online store, you must adapt to its rules.
You will have to pay sales commissions.
To reach a larger number of people, you will need to promote your products.
It will not be easy to stand out among so many other stores that are part of the competition.
To get higher profits, you will need to invest a lot of time every day.
There is not much information regarding the visibility criteria of the articles used by the site.
Now that you know the disadvantages, we can think that there are more advantages to using this platform. But the final decision remains in your hands: you must evaluate whether or not it is convenient for you to sell your creations here.
To sell on Etsy, do I need to be registered as a freelancer?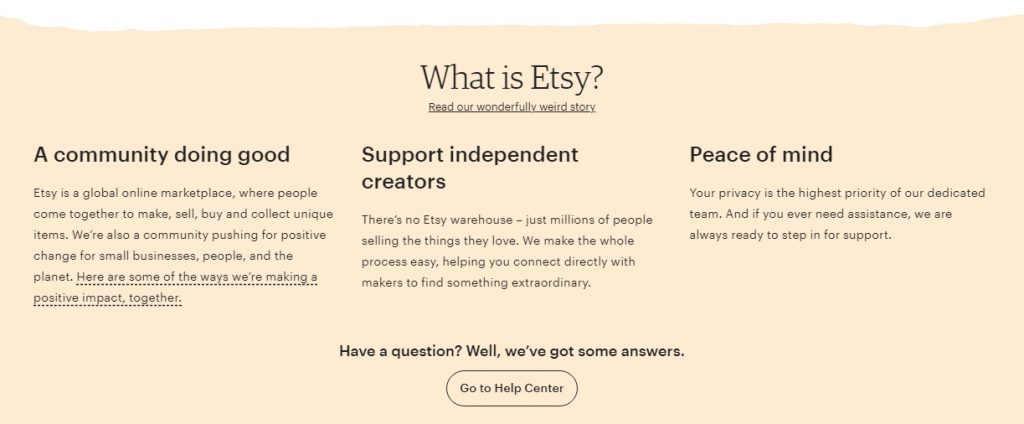 This is one of the most frequent queries among users of the platform. According to the regulations in force in Spain, you must be registered in the Special Regime for Self-Employed Workers (RETA) to sell your handmade products here.
It is that, in accordance with this regime, all people who carry out an economic activity on a regular, personal and direct basis, for profit without having an employment contract, must register in the category of self-employed.
By doing so, you have the obligation to declare your income and pay a monthly tax whose value is €350, whether or not you have sales income.
Taking this information into account, it is recommended that you first test the platform with great caution, without being autonomous and as you sell, decide whether it is convenient for you to register or not. Sometimes it happens that we convince ourselves that our products are going to love the public and it may not be so, at least at the beginning.
Some recommendations to start on Etsy are:
Start selling: even if you are not self-employed, try creating your store and see what the public's response to your creations is.
Create a marketing plan: it will guide you so that you do not throw yourself into the void trying to sell your products, especially if you are already self-employed and need to generate more sales. We will discuss this topic in more detail below.
Have savings: the convenient thing is that, when you become self-employed, you have some money saved to spend on taxes. With around €500, for example, you can buy the materials you need to produce your designs.
Decide what suits you: if in a month you have managed to sell 10 items, with a profit greater than 200 euros, it would be a good idea to consider registering as self-employed and being able to declare your income.
It is important that you take this test time before registering as a freelancer to really see how you are doing with sales and have more peace of mind before getting fully involved in this activity.
How much does Etsy charge in sales commissions?
As we have already said, this platform will charge you commissions, so it is essential that you know what their amount will be:
Commission for publishing the product ad: €0.20 every 4 months while the ad is still published.
5% charge on the price of each product you sell within the platform.
PayPal commission of 4% plus €0.30 for you to receive the money from your sales. You can also choose to charge through your bank account and save yourself the expense.
Commission of 2.5% on the sales price in countries other than yours.
As you will see, Etsy charges a good number of commissions. However, its costs are low compared to other platforms, so it is still profitable to sell your products here.
How does Etsy work?
This marketplace is very easy to use because it has been specially designed for people who are not tech savvy. The first thing you should do is create your own store on their website for free and start uploading your creations one by one.
Surely you are wondering how to create your store on this platform, so keep reading because now we will tell you step by step how to do it.
What requirements do I need to have to open an Etsy shop?
The procedure is very simple, as long as you have the following:
Email.
Name of the store (initial, later you will be able to modify it).
Language in which you want to sell.
Brand logo.
Personal photography.
Description of the store.
Photographs of the products.
Description of each item.
Product prices.
Shipping costs for orders.
Return Policy.
Money saved to spend on running ads.
How to open a shop on Etsy Spain, step by step
Now we summarize in a few steps how you should manage your store on this platform:
1. Register as a user
The first thing you need to do is go to the Etsy website from your computer, click on "Log in" and then on "Sign up". Here you can quickly log in with your Facebook, Google or Apple account or by filling out the form with your email, name and password.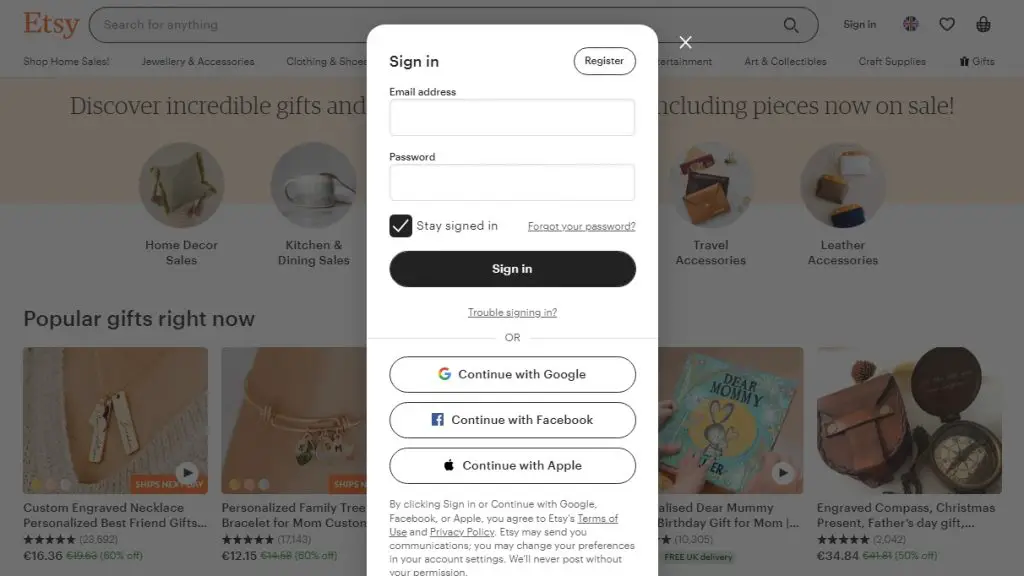 2. Create your store
Opening a shop here is easy: just go to your profile picture and select "Sell on Etsy". Then choose the "Open your shop on Etsy" button.
3. Choose a name for your business
It is important to choose a good name for your store so take some time to think about it, although you can still change it. Remember that it should not contain symbols or spaces. It is recommended that you choose a short, simple and easy to remember name for your clients. If available, you will go directly to the next screen.
4. Fill in the language and country data
Do not forget that if you choose to sell your products to countries other than your own, the money from your income must be converted to your local currency and for this procedure Etsy will charge you a commission of 2.5%. For statistical purposes, here you must also indicate how much time you will dedicate to your store: full or part time.
5. Add your first product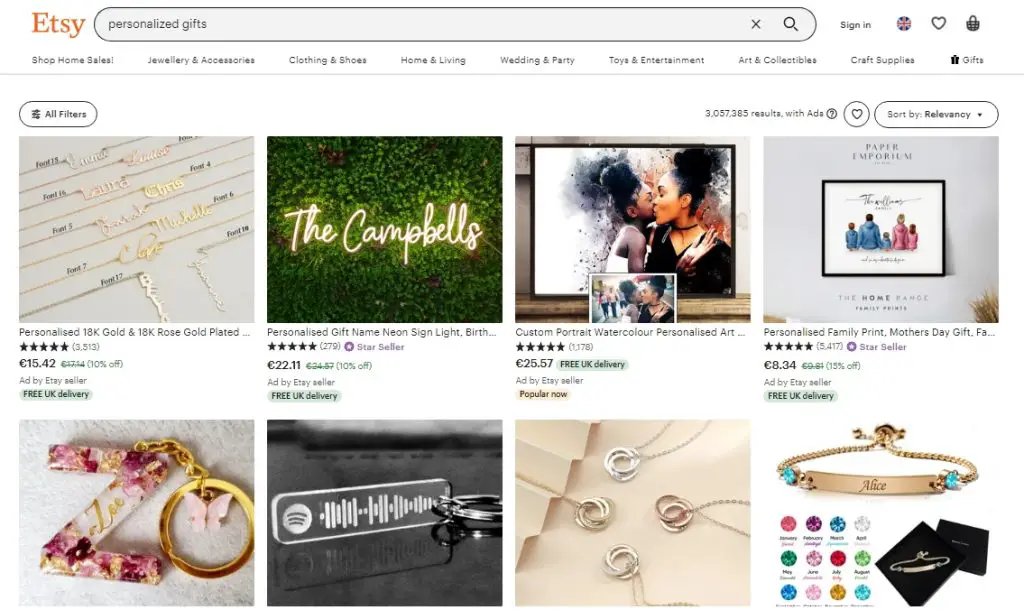 This is usually the hardest part of opening a store. Upload the photographs of each product or if you want also add a video with detailed information. Choose a suitable and specific title for each article. Then point out which category it belongs to and the amount you own. In case your product contains some type of customization, you must also indicate it.
Keep in mind that you must specify here the shipping methods and the corresponding price. The platform will allow you to add or remove new locations to which you wish or not to export your creations, in addition to Spain.
You should also indicate here if you prefer that the payment per ad every four months be manual or automatic. To create an ad, you must save it and pay for its publication.
And that's it, you already have your first item for sale. Simple, right?
6. Indicate the payment method
Finally, inform how your customers can pay you and how you want to receive that money from Etsy.
7. Create listings for your shop with Etsy Ads
It is important that you take advantage of this tool that the platform offers you because it will allow you to promote your articles and will give you a boost so that your handmade creations become more popular among users. Keep in mind that there are already plenty of sellers on Etsy, with great photos and descriptions, so don't be left behind.
One of the great advantages of this marketplace is that it has a mechanism that integrates ads both within the website and outside of it.
Advertising within Etsy: here you have the options "Create promotion or coupon" that will allow you to offer discounts to your customers. You will also be able to promote your store to appear higher on the page, depending on the category of your product.
Advertising outside of Etsy: This company informs you that it will pay to advertise your products on sites such as Google, Instagram, Facebook, Bing and Pinterest. In case you make a sale thanks to these ads, you will have to pay an advertising fee on the order. In other words, the advertising service they offer is very complete and the more you sell, the more money they will earn.
8. Submit your product
Once a customer buys your product, you must package it and take it to the shipping company that you informed in the description. Then it only remains to wait for your client to receive it in a timely manner.
Tricks to sell more on Etsy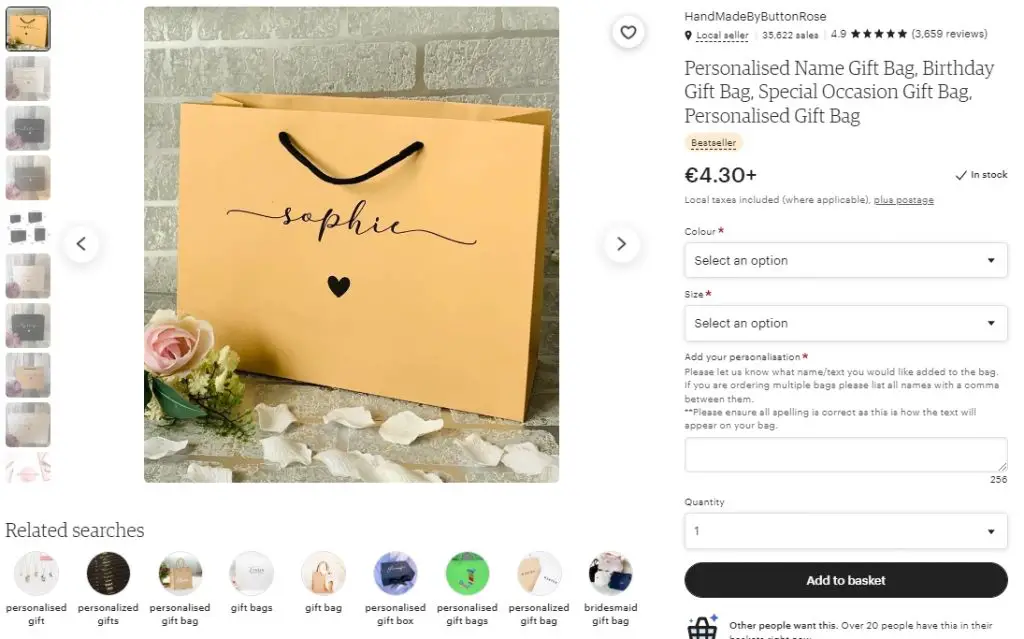 If you follow some of these tips, you will have a greater advantage with the competition within this platform. It is likely that you do not have much knowledge about marketing, computers or sales, but still try to apply some of the tricks that we are going to give you below and you will see the difference.
1. Add new items to your store
To get more visibility on Etsy, you will need to upload about 10 products. You can do it by adding different creations or the same ones but with some variation, such as color. In this way, your store will become more visible and appear more frequently in customer searches.
2. Write the descriptions following a strategy
When describing your products, try to incorporate words that the customer can use in their search. As if to give you an idea, you can use the phrase "cheap women's blue sweater" or similar, trying to match the description with the customer's search words. Paying attention to this is key if you want to appear in searches and sell more. Do not go on too long, be as precise and detailed as possible when describing the product.
3. Prices and shipping costs
If you offer your products with free shipping, it will be much easier for you to sell on Etsy. And it is not necessary for you to assume that cost: what you must do is include the value of the shipment in the total price of the item. The client will feel that he is accessing a benefit and will have the feeling that he is saving money even if he is not.
4. Adapt your articles according to demand
It is likely that customers are not looking for exactly what you sell and that is why it is recommended that you take note of what they ask for the most to readjust what you already have and sell more. For example, if you have light blue sweaters for sale but users ask you about the same model in black, then offer them what they want to buy.
Another way to find out which item is most likely to be a top seller is to check the number of sales of products offered by other sellers. This way you will know what people are buying the most.
You can find out as follows:
Go to the Etsy page (you can use this link).
Go to the section of products that interest you most on Etsy.
Sort them according to the "Best rating" option. This means that the products that have sold the most on the platform will be displayed first.
5. Serve your customers
You must be aware of all the doubts of your customers, since providing them with good service is key to having a positive image in your brand. It will also help a potential buyer decide on your store since they trust you and may even decide to buy from you repeatedly.
6. Share your store items on social networks
If your store has social networks like Facebook or Instagram, use them to give visibility to your products. You can add your Etsy shop link to your profile to encourage direct navigation to the site. Don't forget to customize it with your logo or photographs that identify your creations, so that users want to follow you on Etsy and on your social networks.
7. Add value to your products with packaging
Be careful with the wrappers and packaging you use to send your products. Being such a visual social network, a large part of the purchases are made based on what the customer sees and falls in love with, especially if it is a gift. If you skimp on ugly, flawed, or torn packaging, chances are you'll disappoint your customer and they won't want to buy from you again. They can even return the product to you and demand a refund.
Try uploading photos of how the item arrives with its packaging and give your customers the possibility to personalize it with a message or a cute card. Everything you can think of that can score points with your buyers, try it and surprise them.
8. Share videos of your products
Create videos showing your creations and tell how they are used or how they can be combined. Show your customers all the possibilities they will have if they buy your creations. Then upload them to a YouTube channel and customize their positioning so that when users search for keywords both on this platform and on Google, they find your store.
9. improve your own image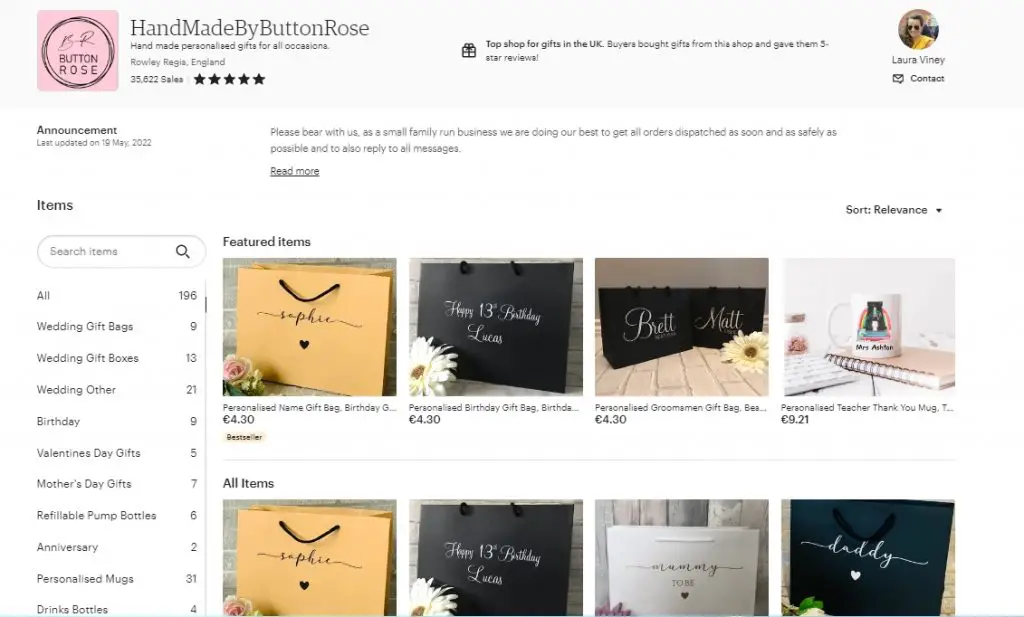 It is recommended that you personalize your profile by describing yourself as a creator. Choose a photo in which you look good, smiling and professional. Upload it so that the client knows you, can trust the person who has created that article that made him fall in love and be sure that you are going to send it to him in the best way.
10. Inform about your sales policies
As in any online store, on Etsy you should also think about your store's sales policies so that the customer knows if they have the possibility of returning the product, if they must pay for shipping or not, among many other questions that may arise. before buying. In many cases, giving this information is crucial for some buyers as it will increase their confidence, so try to write with details and do not leave any loose ends.
11. Create a blog and get subscribers
While this trick is more advanced, it doesn't mean it's difficult, you just need to spend more time on it. You can open a blog to write about topics related to the products you sell and in this way you will retain your customers who will connect with what you do from another place, perhaps more emotionally, depending on the writing style. This will allow you to rank in search engines based on the product you sell and will generate more traffic to your Etsy shop, which can soon translate into more potential sales. Offer your readers a subscription to the blog and take the opportunity to send them some promotions from your store from time to time.
12. Take good photos and retouch them
As we have already said, your products are sold by what is seen so try to take good photographs using a white background and abundant lighting so that the greatest amount of detail can be seen. Where possible, try to include photos of models wearing your product, or show how your creation would look in a certain room or context. Remember that the customer will want to see the product in detail and all the combination possibilities that it has to decide to buy. So do not miss the opportunity to fall in love at first sight.
What other alternatives are there besides Etsy?
If you are looking for other alternatives, you should know that you can carry out the following possibilities:
Sell handmade products on another platform.
Sell through general online stores like Ebay or Amazon.
Sell through your own website or through Shopify.
Comparison between Etsy and other similar platforms
So that you can make the decision of which online store is best for you to set up your store, we have compared Etsy with other platforms so that you have more information and can make a better choice.
Etsy vs. Shopify
To find out which of these two platforms is best for you, you must first know that Shopify is actually a software, that is, a program that allows you to create an online store very quickly. However, it has the following disadvantages:
You must pay around €30 per month to use the website.
You must also pay for the design template you are going to use on your website, in case you are not satisfied with the free version. The cost is around €60.
Here there are no buyers who can enter your online store, so you will have to invest in advertising.
If Shopify closed, you would be left without an online store.
Let's look at some advantages of Shopify:
Your online store will look more professional and can be customized however you like.
Accounts with a free trial month.
Between both platforms, our recommendation is that you do not use Shopify until you have a high enough level of sales or that you sell outside the store so that you have a way to pay all the fixed expenses that we have mentioned.
Etsy vs. eBay
To decide between these two platforms it is necessary to consider what type of products you sell. For its part Ebay is characterized by the following:
It was born with the aim of selling second-hand items.
It has a section for the sale of first-hand products that today is colonized by Chinese technology brands at very low cost.
Users who enter Ebay generally look for cheap products, not design objects or gifts as is the case on Etsy.
Taking this information into account, our opinion is that you will find it much easier to sell handmade items on Etsy compared to Ebay.
If you found this article helpful, be sure to visit our blog often for more online store reviews and tutorials.