In recent times, cashback platforms have become very popular, as they allow us to save money without asking for anything in return.
The increase in popularity has led to a greater offer of platforms, so it can become difficult to choose one when making your purchases.
Today we will talk about Letyshops, one of the best known cashback pages.
What is cashback?
If you are not familiar with the cashback system, we will explain it to you below.
Cashback platforms are associated with certain stores where you can make purchases from a link provided by the same cashback page.
When buying through the link, the store gives the platform a commission for advertising, and part of that amount is returned to users.
The amount returned will depend on the store, so you should read the details of each one here.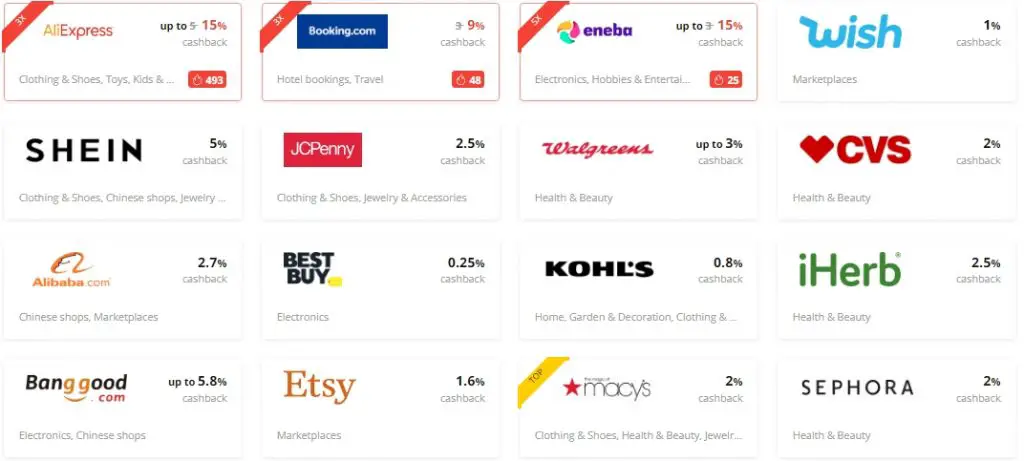 Letyshops also offers extended cashback, which means that you can access daily offers in which some brands multiply the fixed percentage that will be returned to you.
The return percentage is usually 5%, but recognized stores, such as AliExpress or Shein (you can read our article on how Letyshop works with Shein), they can reach a 25% cashback.

You must bear in mind that the extended cashback is limited, and that you can only use it on one purchase.
Learn how to shop with Letyshops
Keep cashback on
In order to get your money back, you must make your purchases after entering the Letyshops page, since you could lose the cashback if you take too long.
That the cashback is "activated" means that you have entered a store through Letyshops.
As the cashback lasts a short time activated, avoid browsing other pages after entering Letyshops and before making your purchase.
If this happens, you will be able to make your purchase, but your money will not be refunded and you will not have a receipt that allows you to claim, since there will be no record that you have used Letyshops to make the purchase.
Letyshops extension for Chrome and Opera
To ensure that your cashback is activated at the time of purchase, you can download an extension on your computer.
The Letyshops extension is available for Chrome and Opera, and you can download it here.
This extension works as an alert or traffic light and, depending on the color of the icon in the navigation bar, you will know if your cashback is activated or not:
Yellow-black icon: this is the color that the icon will adopt when you are not using Letyshops.
Green icon: indicates that the cashback is activated.
Red icon: the cashback has not been activated, you can click on the icon to see what happens.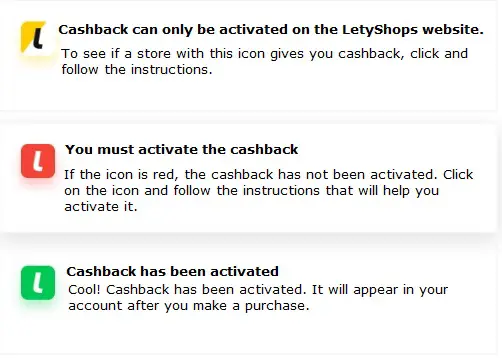 Also, when you enter a store that is associated with Letyshops, the extension will notify you to activate your cashback in order to save on your purchase.
Thus, you will not have to check if the store where you want to buy is associated with Letyshops.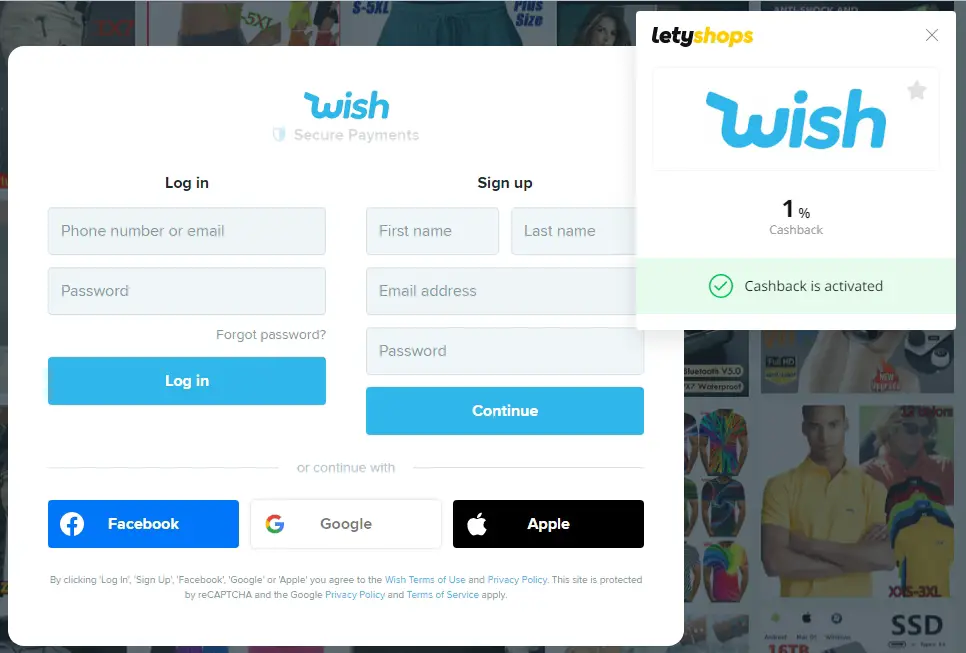 If you buy from the Letyshops application, the green or red icon will appear directly at the top of the store.
In order for the cashback to be activated, you must first enter the Letyshops application and wait for them to redirect you to the store's website.
How to buy through Letyshops?
First of all, you will have to register on the Letyshops page through this link. Then, find the store you want to buy from on the main page or in the search engine.
Each store has its own purchase conditions, so we recommend that you read the details carefully before buying.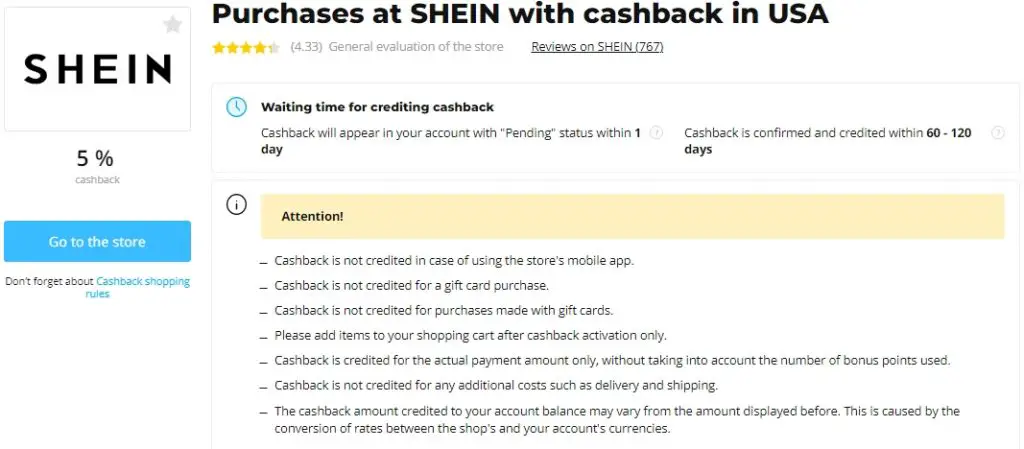 As you can see in the image, cashback is not always credited to all products. In the case of Nike, you will not be able to get your money back if you buy Apple watches, wetsuits, gift cards or Jordan merchandise.
To make your purchase, you must click on "go to the store" and continue with the process. Remember to check that the Letyshops icon is green to make sure cashback is activated.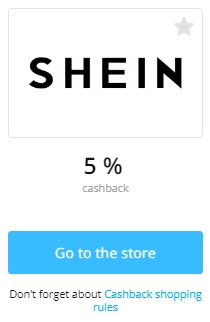 What does it mean when the balance appears as "credit pending"?
Your cashback balance will not immediately appear on your profile. It will take a couple of hours to appear, and it will appear in the "pending credit" section.
Until the order reaches your hands and you confirm that you have received it correctly, the store will not notify Letyshops to convert that balance into real credit.
This crediting time is stipulated in between 60 and 120 days, although the average is one month, so it is likely that you will receive your balance sooner.
Withdraw your cashback credit
Once the balance is credited, you can transfer it to your bank account or PayPay account from this link.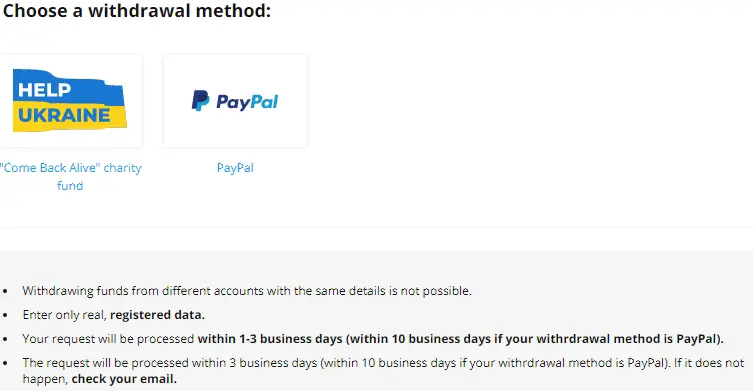 You can withdraw your balance when it is greater than €1. To do this, click on "Withdraw funds", complete the form and finish the operation.
It will take 1-3 business days for your money to appear in your account.
Don't lose your cashback!
As we already told you, before making your purchase, we recommend you take into account the following points:
Before making your purchase, register on the page and log in. After this, go to Letyshops and re-enter the store from the link provided by the platform.
Do not enter Letyshops until you are sure of what you are going to buy. Thus, you will make the purchase quickly and avoid losing your cashback. A good way to do this is to save the products in your wishlist, but you should know that some stores (such as AliExpress) do not allow you to add your purchase from the wishlist.
Sometimes mobile applications cause problems, so we recommend you buy from the website.
Install the Letyshops extension (here) so as not to lose your cashback.
After adding your purchase to the basket, check that the cashback is still activated.
Have you lost your cashback?
If you have followed our advice and read the purchase conditions of each store, but you have still lost your cashback, you can make a claim at this link.
To speed up the process and get your case taken into account, attach screenshots showing the amount paid and other details of your purchase.
Letyshops benefits from you receiving your cashback, so you can trust that they will try to solve your problem.
Other ways to save
Invite your friends
Another benefit of Letyshops is that, in addition to giving you money back for your purchases, you will get a €5 bonus for each friend who signs up (he will also receive a bonus of the same amount).
To receive this bonus, you must wait for the cashback of the purchases of your referral to be confirmed.
To recommend the platform to your friends, send them the link you will get here.

Loyalty program
Letyshops has a loyalty program in which you can go up in membership level and get more benefits.
Letybronze: for €10 accumulated cashback, your cashback will increase by 10% compared to the base rate.
Letysilver: for €50 accumulated cashback, your cashback will increase by 20% compared to the base rate.
Letygold: for €150 accumulated cashback, your cashback will increase by 30% compared to the base rate.
That the percentage is on the base rate means that if the store's cashback rate is 6%, being Letysilver you will have 7.2%.
Transferring the balance to your bank account will not affect your level up.
Is it safe to use Letyshops?
Letyshops has good reviews from its users, and we have found that most of the time it pays to buy through it to save money.
Although the cashback offered by some stores may be very low, it will add up and you may end up saving a considerable amount.
Even so, this cashback percentage can increase with the daily extended cashback offers, although always remember to check which items it can be used on, depending on the purchase conditions of each store.
Something that Letyshops could improve is that the verification time of the outstanding balance is shorter, although we understand that this verification is necessary to verify that all the conditions are met before crediting the payment.