Although Shein stands out for its high-quality products at low prices, there is a way to save even more.
This is possible thanks to the use of cashback platforms, such as Letyshops.
If you do not know what this is about, in this article we will explain it to you.
Letyshops: the fashion cashback platform
Letyshops is one of the many cashback platforms that work today. It is associated with almost four thousand stores, including Shein and AliExpress.
To use it, you must register here, make your purchase through the platform and wait for a percentage of your money to be returned.
You must bear in mind that you will only get money back if you buy from Shein redirected through the Letyshops page or application, otherwise your cashback will not be activated and you will not receive the refund.
Once your cashback is verified, your money will accumulate in your Letyshops account, and then you can transfer it to your bank or PayPal account.
How much money can you save with Letyshops?
Letyshops' fixed cashback percentage is always 5% of your purchase, although it sometimes offers extended cashback, so this percentage can reach 20-30%.
Activated cashback offers appear on the Letyshops homepage, and are limited. You can only make one purchase with this offer and you have a maximum amount of money that will be returned to you and a maximum number of users that can use it.

Save at Shein with Letyshops
As we have told you, the first thing you should do to buy from Shein through Letyshops is to register on the Shein page and on the cashback platform (from this link).
Install the Letyshops extension
To take full advantage of Letyshops, install the extension for Chrome and Opera on your computer (from here).
This extension will help you ensure that your cashback is active when you go shopping and you will not have to activate the cashback on the Letyshops page every time you want to use it.
How does the Letyshops extension work?
An icon for the extension will appear in the navigation bar. When you are not on the page, you will see it in yellow and black, but when you go shopping at Letyshops and enter one of the associated stores, it will turn green.
When you enter the Shein page through Letyshops, you will see a window in the upper right part of Letyshops, where you will be notified that the cashback is being activated.
After that, the icon will turn green.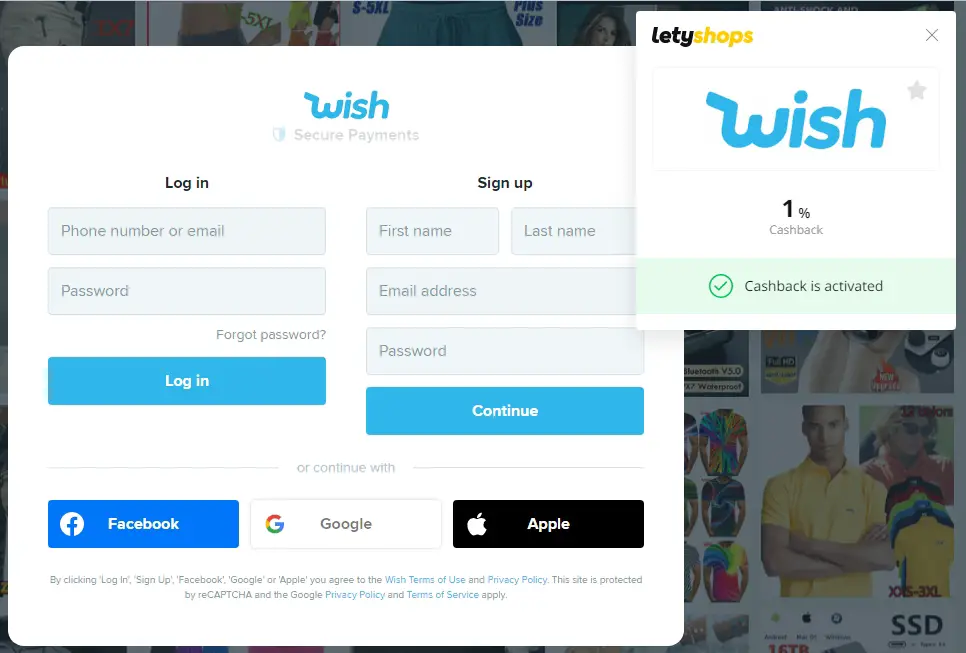 If the icon appears red, click on it to see what happens, because that indicates that the cashback is not activated.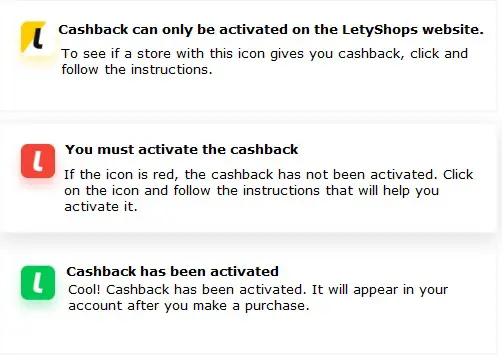 Remember that this extension is only available for the browser.
We recommend installing it, since with it you should not be aware of whether the cashback is activated, nor go to the page to check it every time you want to buy.
If, on the other hand, you want to buy from the Letyshops app, you won't need to install anything, as the green icon will appear directly at the top after being redirected to the store page.
Find Shein at Letyshops
Once you register on both pages, go to the Letyshops search engine to find the Shein store.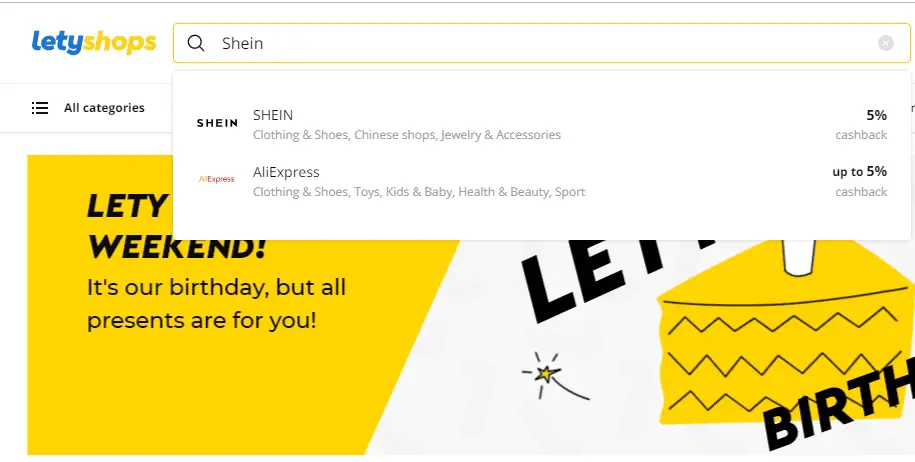 Each store has its own purchase conditions. In the case of Shein, the cashback is not valid to buy gift cards or in purchases that you will pay with those gift cards.
If you buy from your mobile, you must enter the Letyshops application, which will redirect you to the mobile version of Shein. If you buy directly from the Shein app, you will not get a refund.
To read the purchase conditions and enter the store, you must enter the Shein section in Letyshops.
Remember to add your purchase to the basket once you verify that the cashback is activated. Then, make the purchase and close the pages normally.
After making your purchase on Shein, as always, you can close both pages.
How to withdraw the accumulated balance in Letyshops?
The balance that you accumulate will not be reflected in your Letyshops profile until a few hours or a day after the purchase, and will appear as "pending". You can check your balance here.
If the credit appears as "pending" it means that it must be validated by Letyshops. Once this happens, it will become the real balance in your account.
The average waiting time for validation indicated on the page is 60 days, with a maximum of 120 days, although the average is usually one month.
These deadlines are understandable, since until the order reaches your hands and you confirm that it arrived without any problem, Letyshops will not pay the balance.
Once your balance is confirmed and you have accumulated €1 or more, click here and "Withdraw funds".
You can withdraw your funds to your bank account or to your PayPal account. In both cases you must fill out a form and confirm the operation.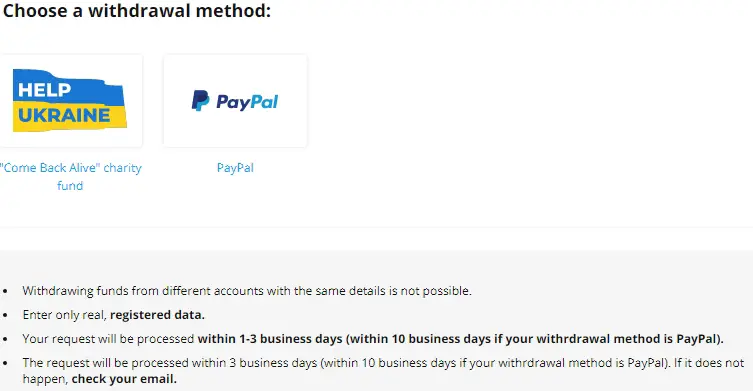 Once you have followed these instructions, within 1 to 3 business days you will receive your money.
Avoid losing your cashback when shopping at Shein
To avoid losing your cashback, we give you the following advice when making your purchase:
Add the items you want to buy to the basket and make the payment after checking that the cashback is activated.
First log in to both the Shein page and the Letyshops page. Then, go back to Shein, but from Letyshops, making sure that the icon of the extension or the application is green.
Start the purchase process once you have decided what you are going to buy (you can save items in your wishlist).
The application can cause problems, so we recommend that you make purchases from a computer. If you want to make the purchase from the application, always do so by entering the Shein website from the Letyshops app. Do not make your purchases from the Letyshops application, because your cashback will not be credited.
Install the Letyshops extension to make 100% sure that your cashback is not lost.