Thinking of opening an account on AliExpress and you still haven't decided? Well, we recommend that you do it! The Chinese shopping portal rewards its new users in very attractive ways.
They also reward the loyalty of buyers of years; if you haven't bought for the first time on AliExpress yet, take advantage of this opportunity. Great discounts on your first purchase are in your favor when it comes to this site.
Now, in this article, you'll find all the ways you can make the most of your first transaction.
How do you get discounts on your first purchase?
Generally speaking, there are two ways you can save money on AliExpress when you are a New User.
1. Welcome coupon
The website is always offering discount coupons for new users. To get them, just click here.
After clicking on the link, you'll be taken directly to the page where the coupon is offered, click on "Claim", and that's it!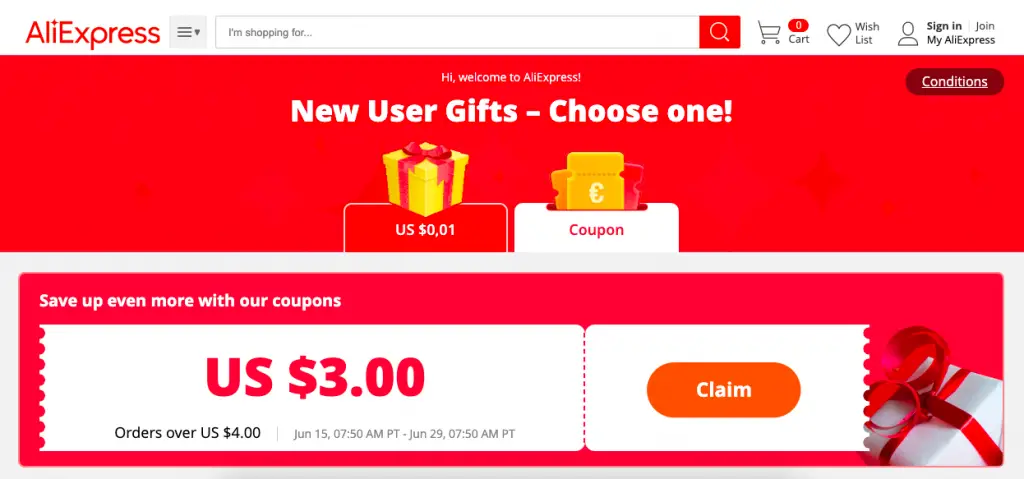 Remember that to make use of these discounts you'll have to register on the site. Besides, they're not cumulative. This coupon is only valid for your first purchase and has an expiration date, so we recommend that you use it before it expires.
2. Offers for new users
By clicking here, you can take advantage of the great discounts offered by AliExpress, as well as their promotions for new users. These discounts don't come as a ticket, but rather as a set of items that appear on sale at the fabulous price of $0.01. That is, you can buy any of the selected items for this price.
It should be noted that not all items are available for 1 cent, only those selected from the list in the link.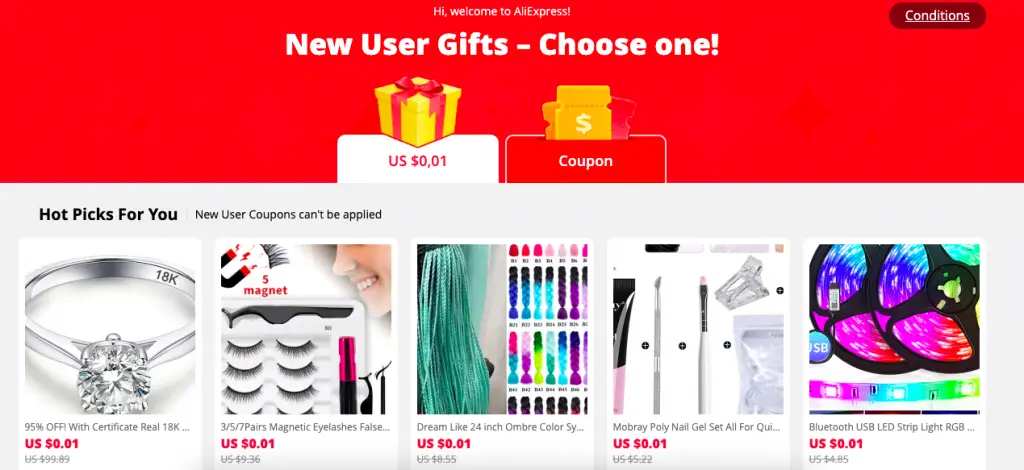 3. Exclusive price offers
By clicking on this link, you will access the "Exclusive Prices" tab: this is a section with discounts on selected items. There are more options to choose from in this section, although the items have a smaller discount than the previous ones.
How to use the new user discount?
First purchase coupon
Using the discount coupon on your first purchase is very easy! Once you have chosen the item you'll take, when you have your order in the shopping cart, click on "Checkout" and your coupon will be automatically applied to your purchase.
New user bonus
If you already know the product you'll buy on AliExpress, add it to your shopping cart and click on checkout.
Of course, you will only be able to buy one item at $0.01 or with an exclusive discount from their Super Deals.
How to get more coupons?
Main article: Redeem coins for coupons on AliExpress
On AliExpress, you'll find many ways in which you can get coupons and save money.
How is this possible? Easy, it's all about getting coins and then exchanging them for coupons… Here's how to do it:
AliExpress Games: Participate in the different games that the platform has.
Fulfill missions: The web portal and its mobile app, will leave you certain tasks to do within the shopping site.
Invite your friends to register on AliExpress: You can also get coupons for each new user you invite and register on the site (for each registered friend you will get a certain amount of money).
By participating in all these activities proposed by the platform, you'll accumulate coins. These don't have an expiration date, and you can collect as many as you want: you can then redeem them for a coupon.
Is it possible to get more discounts?
Yes, it's possible! As we mentioned before, you'll find many ways to save money shopping on this website, here's another way:
Store coupons
You can find these coupons in the description of the item you will purchase, you can get them by clicking on "Get Coupons" and then on "Collect Coupon".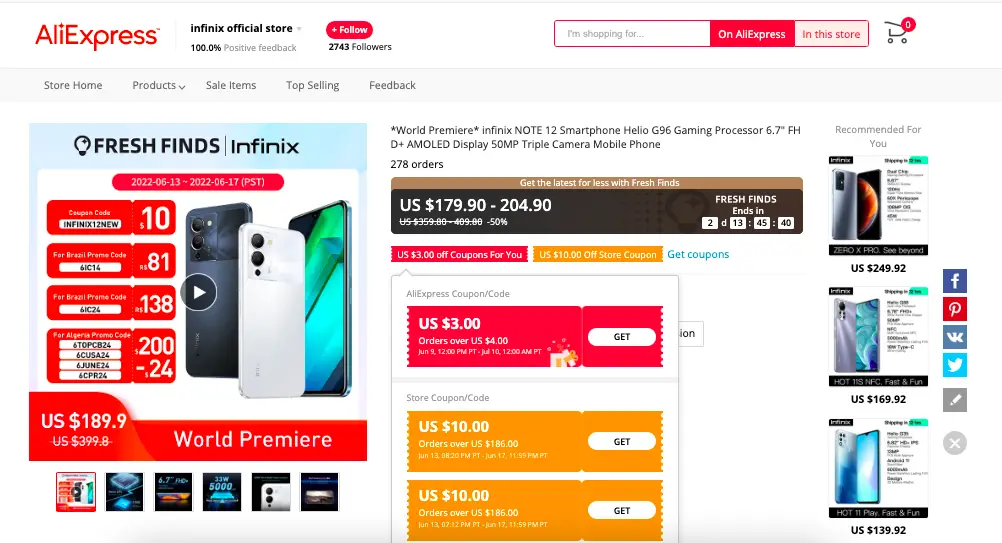 Store coupons have a minimum purchase amount, meaning that the more a product costs, the more discount you will get. Store discounts are entirely optional on the part of each seller, so there may be items that they don't have.
Where can you check all the coupons collected?
You can check the availability and quantity of coupons you have at your fingertips by following these steps:
Log in to the section that says "My Account".
Then, click on the section that says "Overview" (or enter here).
Then, go to the button that says "Coupons" and click on it.
After you access this tab, you will find all the necessary information about the value and expiration date (pay attention to this detail so that you can use it before it expires).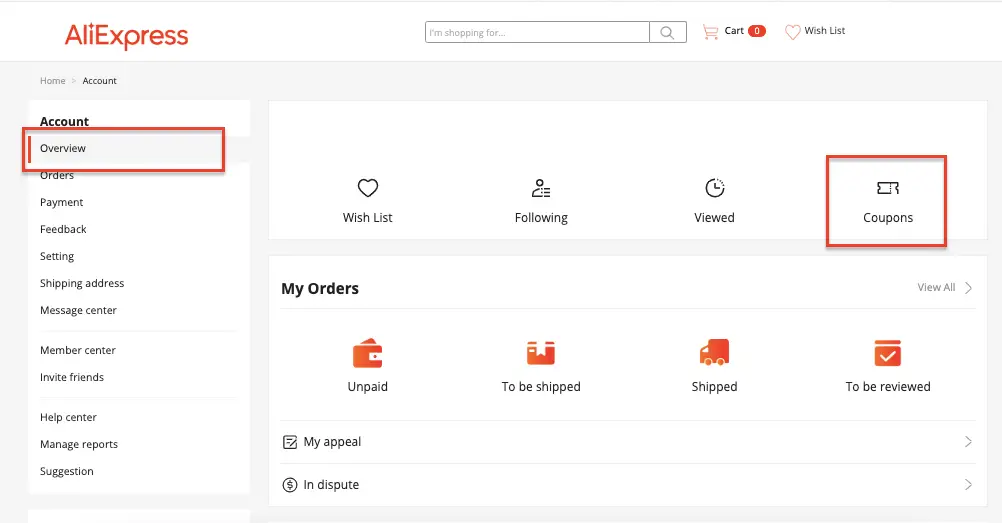 Frequently Asked Questions
What does it mean "The super home offer is not cumulative…"?
As we've already told you, these discounts are not cumulative, and you can only buy one unit.
If you add two products (either from the selection of $0.01 or with an exclusive discount for new users of the Super Offers) when you go pay you'll see the message "The super home offer is not cumulative". You have to remove one of the two items, you can only take one of the two options, choose the one you like the most!
How can I remove the new user bonus?
If you prefer to use the welcome bonus or the discount given by the AliExpress store instead of the "New User bonus", no problem! You'll be able to use the other one next time.
Just go to your order summary, click on the "AliExpress Coupon" that has been applied, and then select "Don't use coupons now".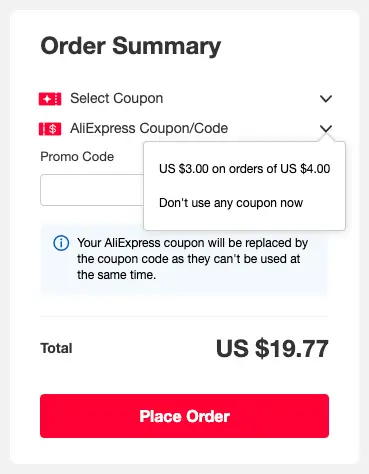 Normally, there are many concerns that may arise when shopping online, but luckily we're here to help you! We invite you, if you like, to visit our other informative articles, where you'll clear all your doubts and learn how to navigate AliExpress like an expert.