The professional appearance of an online store is certainly an easy thing to achieve these days, and that's a good thing because it removes the barriers to entry to selling online. However, on the other hand, beware of fraudsters who set up fraud shops.
This type of thing makes the distrust of buyers and regular users grow, which is why many times, when we see a store with excessively good prices, we doubt the originality of said store.
That said, we will solve the doubts that many of the buyers have been having due to the attractive prices of the Esdemarca store. Next, we will give you our point of view so that you can decide whether or not it is trustworthy.
Esdemarca: What is it?
This is an online clothing store, as well as brand name shoes and accessories, such as: Liu Jo, Lacoste, Tommy Hilfiger and Levi's among others.
Since you find items for men, women and children at such an affordable price, you may think that they are fakes.
Are the products fake?
The answer to this question is a resounding no, all the products offered by Esdemarca are 100% original and we know this because it is an authorized distributor of the brands mentioned above. In addition to that, they work with some suppliers that have their warehouses in Spain, which is why you should not be suspicious, since it is not a store that buys products from another country like China to be sent directly to buyers.
The prices are extremely cheap, why?
Esdemarca is a store that makes its sales entirely online, therefore it saves the expense that having a physical space can generate. In addition, the strategy that it has for the sale is to sell more quantity with a more adjusted benefit for them than other stores, unlike others in which the benefit is greater but the sales are not.
The biggest beneficiaries of these adjustments are the regular buyers and this has meant that they want to adjust their prices even more to continue being noticed.
Payment methods accepted
Some of the forms of payment that are accepted in the online store are the following:
Paypal
Bank transfer
Credit or Debit Card
Cash on delivery
Deferred Payment
How safe is it to pay with bank details?
It is extremely safe, in addition, one of the most important stamps for Spanish buyers is from the Esdemarca store, since it ensures the protection of our bank details.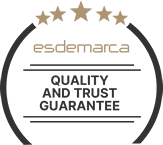 So you can be sure that the transaction is being executed under total confidentiality and the management of bank details is carried out by the bank through the payment gateway.
A rather curious detail that gives a lot of security is that it allows cash on delivery and payment by Paypal and both payment methods allow you to recover the money easily, something that scammers avoid.
Buyer Protection
This page gives you the right to return a product for a refund or simply exchange it for another size.
Returns at any post office or home address
Between these two options you can choose the one that best suits you, that is, a courier can go to the indicated address or, on the contrary, you can go and take the order yourself to the Post Office of your choice.
The cost of returns is 3.95 euros, unless it is due to an Esdemarca error or the product has a defect.
Request invoice
If necessary, you can download an invoice for the purchase you made, all this from the "my orders" section
Refunds before 30 days
Once the order is received at the warehouse and its status is verified, the refund will begin after 72 hours, although in most cases, it does not take the established time but usually arrives much sooner.
12-month return period
A benefit that attracts a lot of attention from buyers is that it allows them to have up to 12 months to return a product, although it must be unworn and in the same packaging in which it arrived.
Opinions on the different sectors of Esdemarca
One clarification that we would like to make is that any product found in the store has nothing to do with Inditex or the like.
Esdemarca is a store where you can find quality, so you don't have to worry about annoying t-shirts with imperfections; and, if you manage to buy during the promotions, the price will be much cheaper, with the benefit of more quality for less price.
The Spanish store Esdemarca has all the guarantees that are needed, as has been discussed, since it is a very secure online store.
A point of distinction that this store has and that is possibly its strongest point, are the returns in a period of 12 months. In addition, if a product arrives defective, they will be responsible for making the change or refunding the money, if applicable.
If you are a regular buyer who likes to buy products through online stores, then you should have no more doubts, since it is an online store like any other.
We are sure that a telephone number through which they can provide you with more direct attention in case you need it is an extremely relevant and necessary point, since talking with an advisor always calms us down a bit and speeds up the solution of some problems or doubts. . The number you need for this is the following: 91 769 72 17, you can make the calls you need as long as they are from Monday to Friday from 9am to 6pm.
So that you can find out about the different shipping methods, you can click here.
If you are a regular buyer, Esdemarca has a loyalty program that allows you to save on shipping costs. If in the course of the last 3 months you manage to accumulate 300 euros in purchases, in practically all cases the shipment can be free.
A good option, if you need to make a fast shipment, can be the 24-hour shipment that has a cost of 2.95 euros, although you must consider that sometimes they can be delayed a bit.
Our opinion about Esdemarca's shipping is that it is comparable to and even better than those from different stores that sell the same type of products, since in those other stores they usually raise the cost of shipping and you can't get them for free.
If you want to make a difference for a different style with clothes that not everyone has, don't think about it anymore, in Esdemarca you can find all the variety you need, since it is a point in which they stand out in a notable way.
To have an excellent wardrobe, Hunter boots (see them here) are in fashion, as well as those by Dr. Martens (see them here) and they are an excellent option.
At Esdemarca we have found some of the best prices and bargains that we assure you will not regret.
In the "Mid season sale" section you can find discounts of up to 70% during the new seasons, that is, you could easily find Reebok sports shoes (see models here) or Pumas (find them here) for less than 30 euros.
We hope that all this information gives you the security you need so that you can make the most of each of the offers that you can get at Esdemarca.