Since it was created in 2014, PatPat has ceased to be just a fashion store specializing in pregnancy and childhood and has expanded its horizons to be present in other stages of your life. Within its catalog you can find clothing for babies, children, pregnant and postpartum women. In addition, you will find categories aimed at the whole family, including fashion and home equipment.
By entering the page you can customize your shopping experience and select language, country and currency, so you can make your purchases from almost any country in the world.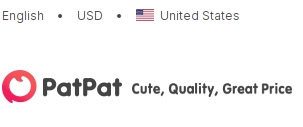 What are PatPat's strengths?
Variety of good quality products.
PatPat optimizes your time by offering you in one place almost everything you and your family need, from clothing to the equipment you need as children grow. In addition to covering a large number of garments, ages, prints and colors, PatPat joins, with its collection 'Curve + Plus', to the 'body positive' movement, so that all women can dress in the store.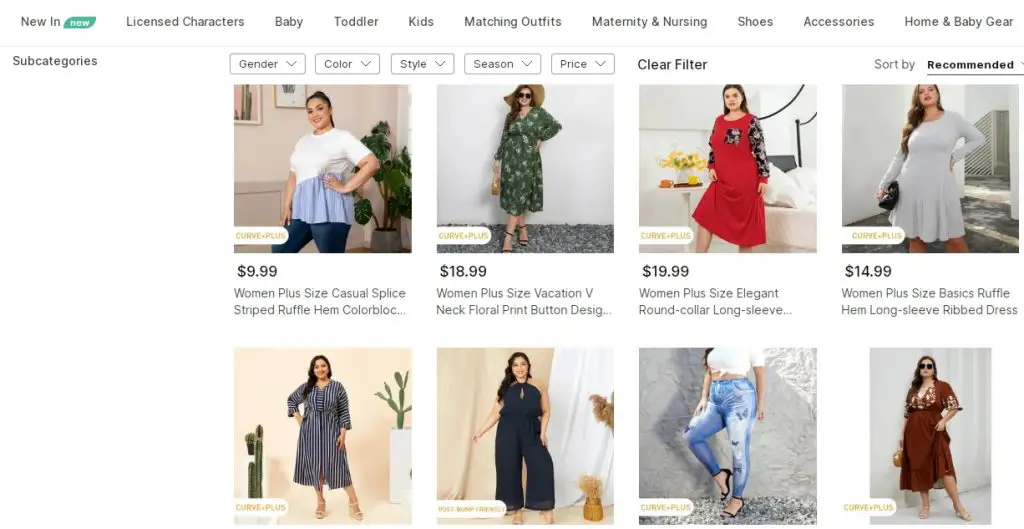 Within the catalog you will find tops, pants, dresses, jeans, leggings, pajamas, coats, jackets, sweaters and family outfits. Some garments are the product of collaborations with official brands, such as PAW Patrol (Patrulla Canina), DC and Looney Tunes. The photographs that illustrate these products are usually representative, with good quality prints and details.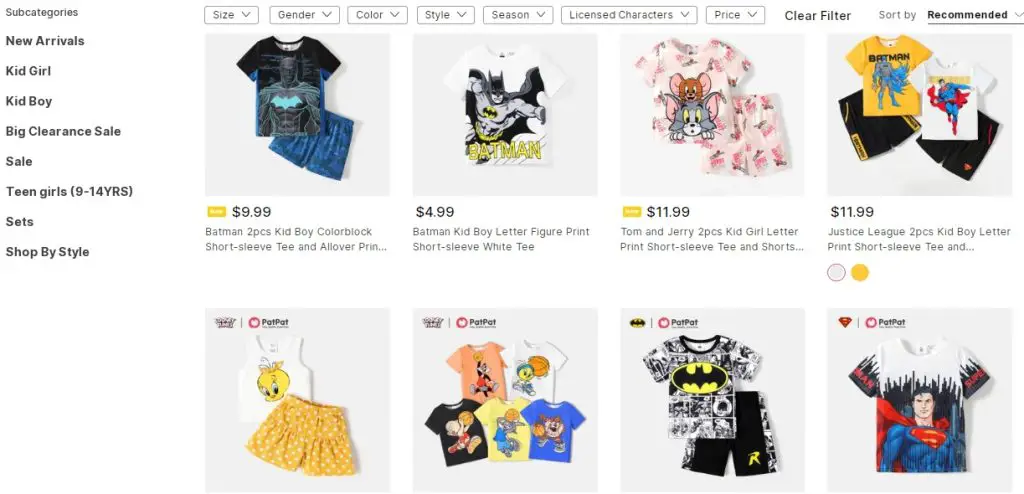 User friendly application.
As an alternative to the web version of PatPat, there is an app available for both Android as for Apple. Added to the fast and simple navigation are other benefits that we only have when accessing from the application: exclusive offers, a system of points for interaction with the interface that are transformed into money, and a user acquisition system by which you and an acquaintance will earn €10 if you manage to add them to the platform.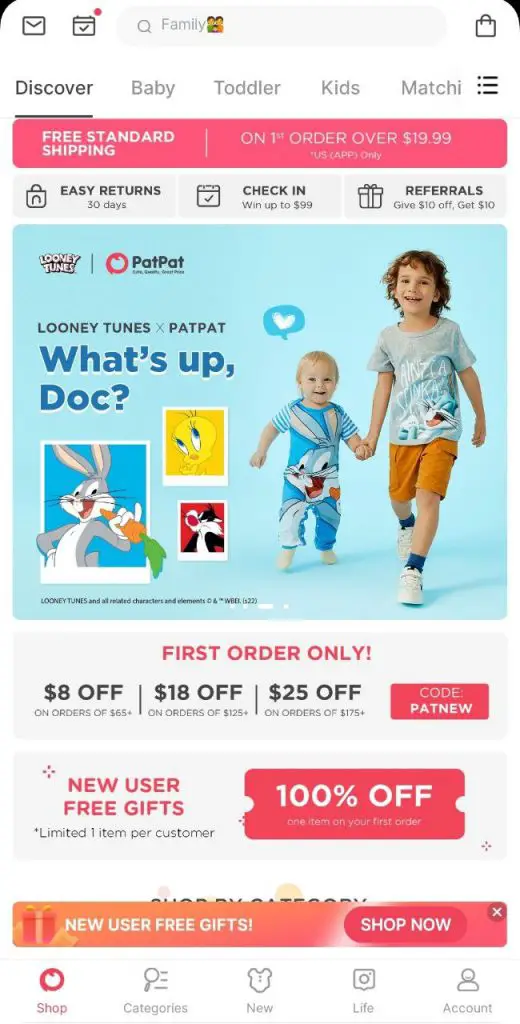 The variety of prices is comparable to the diversity of products, so you can find garments at €30 and others on sale for less than €1.99. The discounts vary, so you can periodically visit the page to find out about new offers.
Once the purchase is received, you have 30 days to return or exchange your order. Although you have this guarantee, you must bear in mind that the return or exchange shipment is not free, so it is recommended that you pay attention when making the purchase and be attentive to the sizes.
What should be improved??
The platform offers two types of shipments: one express and the other standard, whose costs, delivery times and availability will vary according to the country. You can consult these characteristics on the website, in the section 'Shipping information'.
For Spain you can choose between the two types of shipping:
Standard Shipping: the delivery of the products is made between 17 and 24 days after the purchase is made. If your order exceeds €34.08, shipping is free, otherwise it costs €9.30. It is the cheapest option, but delivery times are longer.
Express Shipping: the products are delivered between 9 and 20 days after the purchase is made. If your order exceeds €60.94, shipping is free, otherwise it costs €17.56.
Although some buyers have not experienced delays, it is normal for delivery times to be longer than promised. It is recommended that you try to reach the figure with free shipping, to avoid paying the high cost of a shipment that could be delayed.
The page allows you to track in the "Order Status" section, to know if your products are on the way or if they have already arrived in your country.
Although most of the users' doubts are solved, this usually occurs with a delay, being another aspect to optimize.
PatPat Customer Service is available through your email ([email protected]) or in the store itself, where you should login and send a message from your account. If you think that your question may be among the most common, do not hesitate to consult the Frequently Asked Questions section first.
The quality of the products has previously been rated as satisfactory. Even so, there are some aspects to take into account for future improvements, such as the fact that the fabrics of the summer garments are thinner than they appear.
Although PatPat covers a wide range of sizes, they should be reviewed because they vary from product to product. You must bear in mind that the garments are usually somewhat larger than what is indicated on the page, so you must take special care when buying clothing for young children.
Is it worth choosing PatPat over other online shopping platforms?
The most qualified to value PatPat are its own users, who have assigned it 73% excellent opinions.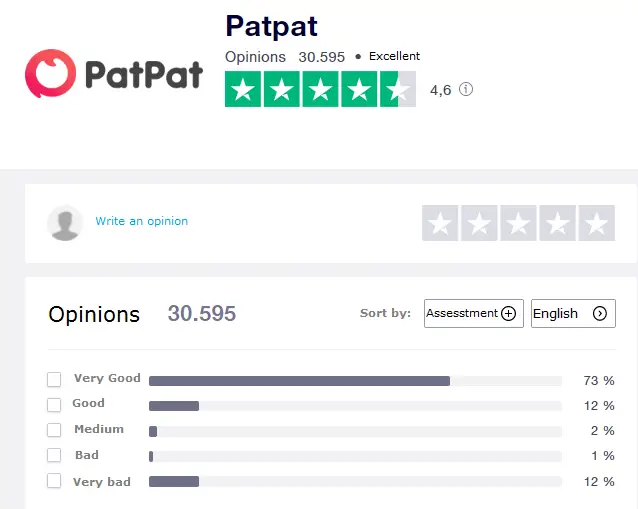 Taking into account the strengths of the platform and the aspects it has to improve, we recommend that you read the reviews of customers who have already purchased each product and be guided by them to evaluate the price/quality ratio. These comments will also help you when choosing a size.
Undoubtedly, what makes PatPat stand out is the wide variety of products, with attractive prints and vibrant colors, but this great variety can work against you when it comes to individual evaluations, since it covers a wide range of prices and qualities. . As mentioned above, to make your PatPat experience as rewarding as possible, you should pay attention to reviews and images of the product you are interested in that have been uploaded by other customers.
If you have the time to do this evaluation and are happy to accept a shipping delay, PatPat is a great option for finding high-quality products at low prices.