Goboo is an online platform that sells electronic items and has landed to compete with AliExpress and Amazon thanks to the fact that it offers products at very low prices.
In this article we will tell you everything you need to know about it.
Goboo: the platform that comes to compete with AliExpress
Like AliExpress, Goboo is of Chinese origin. It was founded in 2020 and has now arrived in Europe, which makes order shipments fast.
Goboo is an official distributor of Xiaomi and its sub-brands, so you can find a wide variety of these items on the page. In addition, the equipment sold on Goboo is the global version, so we do not run the risk of not being able to use it because it is the Chinese version.
Advantages and disadvantages of buying on Goboo
Next, we will analyze what are the points in favor that Gobbo has and in what aspects it has lagged behind.
Points in favor
Price
Prices on Goboo vs other online stores
The prices in Goboo are very low, so we do not rule out that it is a campaign to make themselves known and then increase them a little, although they will still remain low.
For example, you can find the Redmi Note 10 Pro for €299, while on AliExpress it costs €360.61.

You can find the Mi Watch smart watch for €86, while on AliExpress it is €129.99.
You will find, as always happens when shopping online, that some products are not cheaper on Goboo, so we recommend you search for what you want to buy in several stores and compare.
Like other platforms, Goboo offers offers (which you can find here ) and discount coupons, which will be applied directly when making the purchase.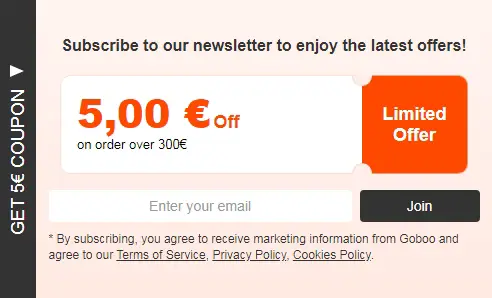 Within these coupons, you will find a welcome coupon for your first purchase.
Quality
All Goboo products are original, so we have the well-known quality of products sold under the Xiaomi seal. The excellent price-quality ratio of these products is enhanced by Goboo's good prices, without sacrificing the specifications, durability and technology of the brand.
If you were looking to buy a Xiaomi item without spending too much money, Goboo is your ideal platform.
Shipping
As we have mentioned, the fact that Goboo has warehouses in Europe makes it possible for you to receive your purchase in a few days and for free. The average delivery time is 24 hours.
There are two types of delivery, and the availability of each will be indicated in the product details, although most items will have express delivery:
Express delivery: it takes 1 to 2 business days to arrive.
Standard delivery: it takes 3 to 7 business days to arrive.
You should bear in mind that some users say that their orders have taken longer than indicated due to lack of stock, although this does not happen in most orders and has to do with a high demand for products.
In addition, at this link you can track the order and know where it is at any given time.
Guarantee
Goboo respects the buyer protection law and gives a 2-year guarantee on all its products and a 30-day return period.
The reason for return can be any, as long as the product is in good condition and unopened.
To request a return, you must log in to your account, go to "My orders" (at this link) and click on " Claim".
As Goboo has warehouses in Europe, the return will be quick, simple and cheap.
Payment methods
Goboo allows us to pay with PayPal, by credit card and by debit card.
The best option to make your purchases is PayPal, since this method provides you with an extra guarantee and your payment details will not be shared with the store.
Points to improve
Return
If the return is related to a Goboo or product error, you will be refunded the shipping cost and your order total within 20 days.
If the return is for something unrelated to the store (for example, if you did not like the product), the costs will be borne by you.
Although the return policies are good, it would be even better if the returns were free in all cases.
Variety
Although Goboo is oriented towards products from Xiaomi and its sub-brands, we can find a wide variety of items, including robot vacuum cleaners, tablets, smartwatches, smartphones, among others. In addition, you will be able to buy pre-sale products, which will be sent to you when they are released.
The truth is that there are products that are out of stock, such as laptops or Smart TVs, but you must bear in mind that it is a recent store, so we hope that this will improve over time.
Customer service
This is the aspect that Goboo would have to work on the most, since you can only contact the store by e-mail here.

It does not have a phone number, so users complain that problems are not resolved quickly and smoothly with customer support.
The good thing is that you are unlikely to have problems with your purchases, so you will rarely need assistance, although we believe that this is an area that needs improvement soon.