As you may already know, buying a streaming account on AliExpress is very easy. However, not all users are convinced whether this is worth it, or else, whether these are legal subscriptions.
Today, we will talk about this type of purchases. We will give you our opinion on this topic and all the information you need to know about buying a Netflix, Spotify or HBO account on AliExpress.
On AliExpress, what kind of subscriptions can I find?
Currently, on AliExpress you can buy subscriptions to most of the most popular streaming platforms around the world, such as Netflix, HBO Max, Dazn, Spotify, Disney Plus, Amazon Prime Video, etc.
You can even get them for much less money than what they normally cost if you contract them from the official stores of each of these platforms.
However, are these types of subscriptions legal? Unfortunately, no. They are accounts that are sold without the consent of the official platforms. Thus, they are a very economical opportunity, but you risk losing your money if AliExpress finds out and cancels the sale.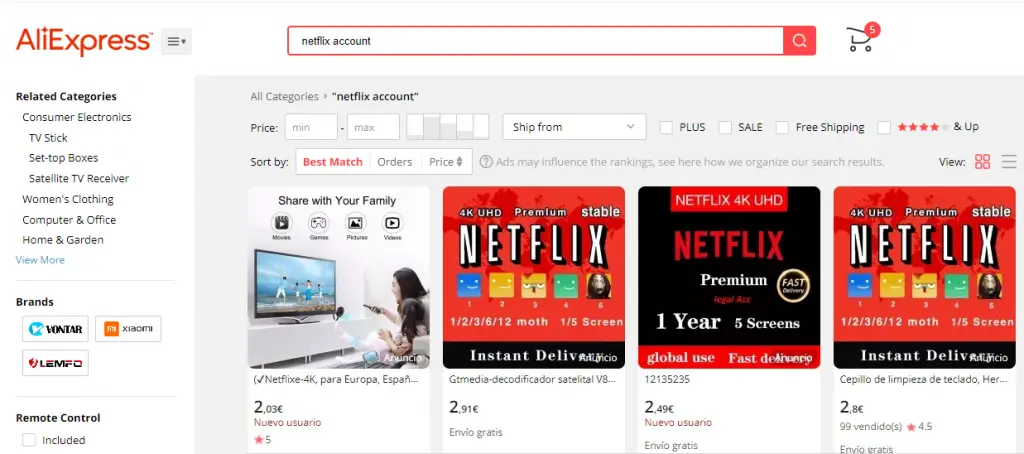 How do these types of AliExpress subscriptions work?
All streaming platform accounts that you can buy through AliExpress work in the same way as a traditional user. That is, with an email and a password.
At the time of purchase through the store, the seller will provide you with this information or offer you the possibility to activate the user with your own email.
After payment, you will receive a message with instructions on how to access your account and use the streaming platform you purchased.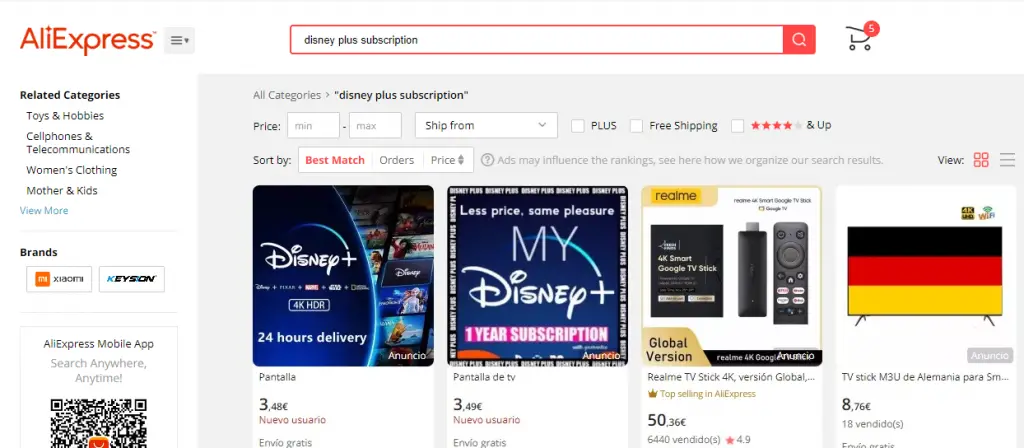 Also, you will receive an empty envelope at your address, since you purchased an online service, but AliExpress policy states that you must always receive your order physically. Therefore, the seller is obliged to send you something to avoid suspicion.
Once the envelope is in your possession, you will have 15 days to open a dispute on AliExpress and claim your money back. So think carefully and resolve whether you want to keep your streaming account or back out.
Is it worth buying this type of subscriptions on AliExpress?
We consider these types of subscriptions to be a risk and you could lose money if you buy them. Since, they usually do not work well in the long run. Hopefully, these illegal accounts work for a month or less.
Despite this, if you still want to give it a try, we recommend that you buy these subscriptions on a month-to-month basis. At the same time, never confirm receipt of the empty envelope sent by the seller and you will have more time to open a dispute if there is any inconvenience.
How do I open a dispute on AliExpress?
If your account stopped working and the 15-day trial period has not yet passed, you can open a dispute with the store and claim your money back. To do this, you will need to attach a screenshot of the error you get when you try to log in.
Remember, if you do this in time, AliExpress will rule in your favor. Since, these subscriptions are illegal and the store will refund your money.
However, if the 15-day trial period has passed, you will not have the possibility to complain. The only option is to contact the seller and try to get a new account. However, if you have problems, it is very likely that the merchant is no longer on AliExpress.