If Shein is one of your favorite stores to buy beautiful clothes online at very low prices, you will surely want to know how to get discounts to buy even cheaper. In this article we are going to explain you how to do it using Honey.
But what is Honey? It is an extension for Chrome, Opera, Firefox or Edge browsers that will give you the discounts it tracks on the Internet in most of the stores you visit. It is a reliable tool: keep in mind that it was bought by PayPal in 2019.
Here users take center stage, who have the ability to add coupons through Honey's website, its mobile app or extension. This means that you too can contribute your coupons and help other people.
Shein has the great advantage that many of the coupons it provides to its customers can be used again by other users, regardless of whether they were used in a purchase or not.
How do I use Honey at Shein?
There are different ways to use Honey to get Shein discounts. They are all very simple and depend on what device you are going to use to make your purchase from this online store.
Steps to use Honey on Shein from your computer
To use this app on Shein's website from your computer screen while shopping, you will need to follow these steps:
Register as a user in Honey: go to Honey's website (you can do it from this link), complete the registration form and finally, download the browser extension.
Add products to the Shein cart:The next step is to choose garments from the extensive catalog of this online store and add them to the cart.
Click on "Pay" to use Honey: go to the shopping cart and select "Checkout" so you can use the extension and see the available discounts.
Open Honey: to view the discounts, click on the application from the browser extensions button. If you have already clicked on "Checkout" you will see the coupon section to try them out.
Try the coupons: In case Honey has not opened automatically or the option "Try all coupons" does not appear, you will have to try them one by one. To do this, copy and paste the codes until it says it is valid.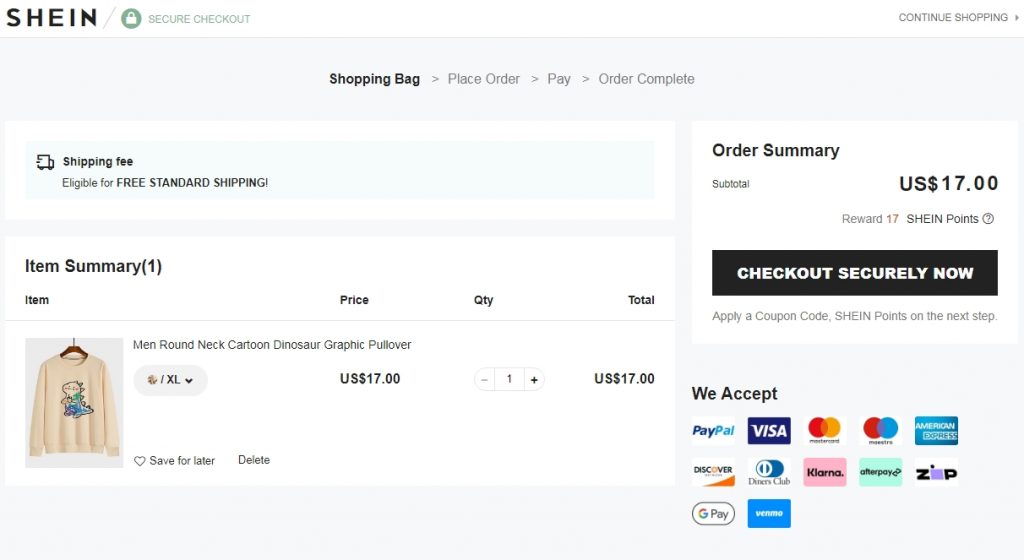 Steps to use Honey in Shein from your mobile
The procedure is very similar to the previous one. First, you must download the Honey mobile app and log in with your user so you can visualize the available Shein coupons and use them in your order, paying less money.
How do I know if Honey has discounts for shopping at Shein?
Once you log in to shop, Honey will automatically show you on the screen the discount coupons available at this online store. When you click on "Try coupons" Honey will test them to see if they are active.
If you want to check for coupons without having to add products to your Shein shopping cart, head over to the Honey website and check which coupons you'll be able to get before you order (you can click this link).
I can't find any coupon for Shein in Honey: what do I do?
Sometimes it may happen that you use Honey and yet you do not find any coupon available to apply to the order you want to make in Shein. In case you cannot find discounts, you can try the following alternatives:
Try later: Try coming back later to make your purchase on Shein, to see if there are already coupons available.
Ask other shoppers for coupons: You can access Facebook groups and ask if anyone has Shein coupons to share.
Search discount coupons online: This option can be slow and difficult, but it is possible to get discounts from other buyers.
Get Shein points: Keep in mind that you can always get points in this online store and buy gift cards to get more discounts.
As you will see, it is simple and safe to get coupons for your purchases at Shein with Honey, to pay less for beautiful and good quality clothes online.
If you found this article useful, be sure to read our blog frequently for more tutorials on shopping and online stores.