If you have been reading user reviews, you have probably noticed that Shein products have good reviews and that, besides being cheap, they are of good quality.
Something that many buyers wonder is whether the garments shrink after washing them, as this influences not only the quality of the garments, but also the size we should select when ordering.
If you are one of the people who have this doubt, in this article we will tell you what you want to know.
Is the size of Shein still the same after the first wash?
When we get our hands on an order of clothes that we made online, the first thing we usually do is try it on. If we like the way it fits, we usually take it for granted that it will always fit and immediately give it a positive review.
The problem appears after a couple of wears, when we decide to send the garment to the washing machine and try to wear it again. In some cases, we see that what was a size M now looks more like a S, and that what used to fit us perfectly on our body is now too tight.
If you want to shop at Shein and you are afraid to go through this, we must tell you that the behavior of the garments of this platform is similar to that of other brands.
That is, we have good news: if you follow the washing instructions, it is unlikely that your garment will shrink.
How should each garment be washed?
The treatment and care you'll need to give to Shein garments will depend on the material they're made from. The Shein website gives us this information in the details of each product. In this section, you can see the type of fabric, composition, material and care instructions.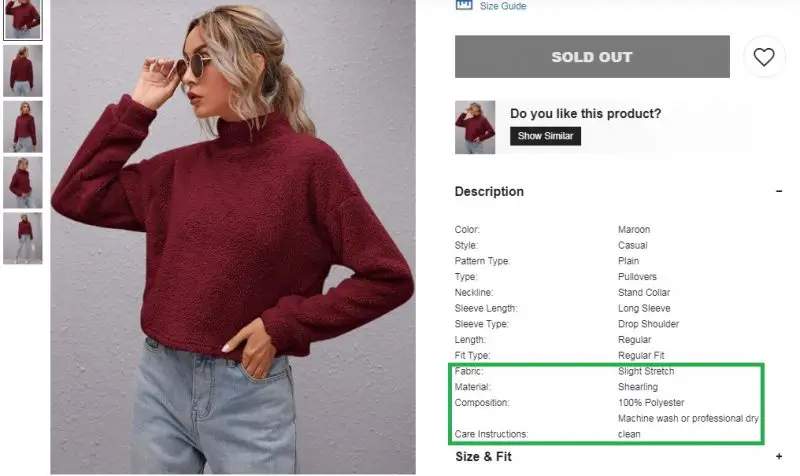 You should be aware that the "Care Instructions" section does not appear on all products and provides very basic instructions, such as the ones you can see in the image.
How do I know if the garment is going to shrink or not?
As we have said, it is very important that you look at the materials with which the garment is made to know if it will remain the same size after the first wash.
If you buy clothes made of natural fabrics (such as wool, cotton or linen), it is likely that your garment will shrink. You should know that most garments that are manufactured today have a combination of fabrics in different proportions, designed to prevent shrinkage.
Most synthetic fabrics (such as polyester) will not fade or shrink, but you should be aware that they are garments that do not allow the skin to breathe well. However, some synthetic fibers (such as viscose) may shrink.
You should keep in mind that whether a garment shrinks (or not) will also depend on whether you follow the care guide to the letter.
Care instructions
The care instructions that you should follow so that your garment maintains its quality and does not shrink can be found on the labels.
Some of the indications you may come across are as follows: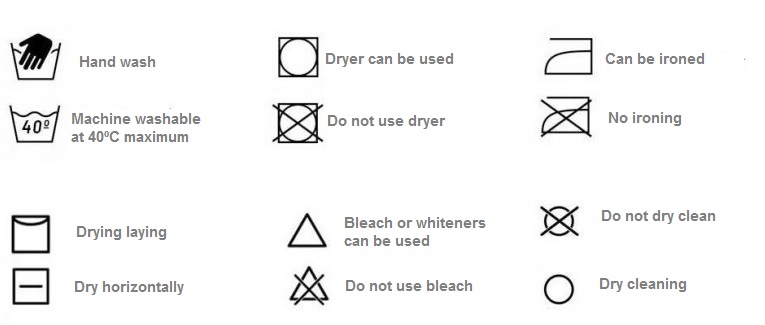 Unless you buy garments made with fabrics that require special washing, we recommend washing them at a temperature below 30ºC, with detergent (and no other stronger products) and with a cotton, mixed or synthetic program.
If you know that your clothes are made of fabrics that shrink easily, use the delicate program of your washing machine.
Most Shein clothes can be put in the washer or dryer, but be sure to check the label before you run them.
If you don't know if you can use the dryer to dry your garments, air dry them to prevent shrinkage from high temperatures.
Choosing the right size
In our article on how to choose the right size in Shein you will have more information about it, but if you have doubts between two sizes, we recommend you to buy the larger one, since it is always better to have a few centimeters left over than to have something that fits you small.
The good thing about Shein clothing is that sizes go hand in hand with international charts, though so we recommend you check user reviews and comments before making your purchase.
Quality of Shein clothing
As you've seen, while Shein's garments are of good quality and durable, whether this holds true will depend on you following the care instructions to the letter.
If you follow the tips we've given you, your clothes are sure to last a long time but, if you want to guarantee the quality of your clothes, we recommend you take a look at Shein's premium line of clothing.
Premium quality clothing
Shein launched a catalog of premium garments (such as MOTF PREMIUM) that you can see at this link, aimed at those who want to guarantee the quality of the garments they buy at the cost of a higher price.
The higher cost is compensated, since, in addition to being better quality garments, you will also find in this catalog exclusive and modern designs.
This does not mean that when buying garments from the premium line you should not respect the care instructions. This is always necessary to maintain the quality of the garment in the long term.
Customer Service Center
If the clothes you bought from Shein shrink after the first wash, you can always contact the customer service center here, where they will surely be able to solve your problem.
We recommend that you always have product details, measurements of the garment after washing and photographs of the garment at hand to speed up the claim process.