When shopping at Shein, you may have some doubts about the messages you get in the product tracking. Sometimes you see "international warehouse" or "international warehouse". What does it mean? In today's article, we will explain in detail everything you need to know about this message. Our recommendation is to enter here for more information about Shein stores.
What does the message "international warehouse" in Shein mean?
This is a message that often appears during the first few days in Shein's order tracking.
The words "international warehouse" are often accompanied by messages such as "awaiting packing", "has left warehouse", "awaiting shipment" or others. Each of these will give us a clue about the status of the order.
Either way, your package is in one of Shein's warehouses. However, we are left with some questions: Where is it? How long until it arrives?
Below, we're going to answer.
Where is Shein's international warehouse?
Shein's headquarters are located in the city of Nanjing, towards the east of China, although it also has an office in Guangzhou, to the south of the country, recognized for being the international center of Chinese clothing.
So, the international warehouse referred to in the follow-up is located in China. However, Shein also has other locations around the world, strategically distributed: it has warehouses and factories in different countries that allow it to streamline the logistics of shipping and delivery of its products.
Its warehouses are located in the USA, Australia, Spain, Russia, Germany, Italy, France, Switzerland and the Middle East, although the main one is located in China, with more than 10,000m2. Most of Shein's packages are shipped from here.
If you want to see photos of this warehouse, click here.
From which international warehouse do you ship my package?
As we said, most Shein packages are shipped from central warehouses located in China. However, if what you bought was available in a country closer to you, it will most likely be shipped from there.
We don't have a choice: it all depends on the stock availability of the product and the address you indicated at the time of purchase. Of course, if you are buying from Europe, the package will most likely be shipped from a European warehouse, assuming it is in stock.
To find out where your order is coming from, you can check with the tracking number on external sites such as 17track.net or Aftership. When you enter this code, the same page will tell you the country of origin of the shipment.
Whichever country they ship from, your Shein order is going to get to you within the estimated time frame, so don't worry and wait a few days for it to progress and check where it's at.
Why don't I have a parcel assigned to me yet?
Sometimes, when the package is in the international warehouse, it has not yet been assigned a parcel and that is why it does not have a tracking number. Rest assured that this is normal. When the order is delivered to the shipping company, they will assign you the number so that you can track it.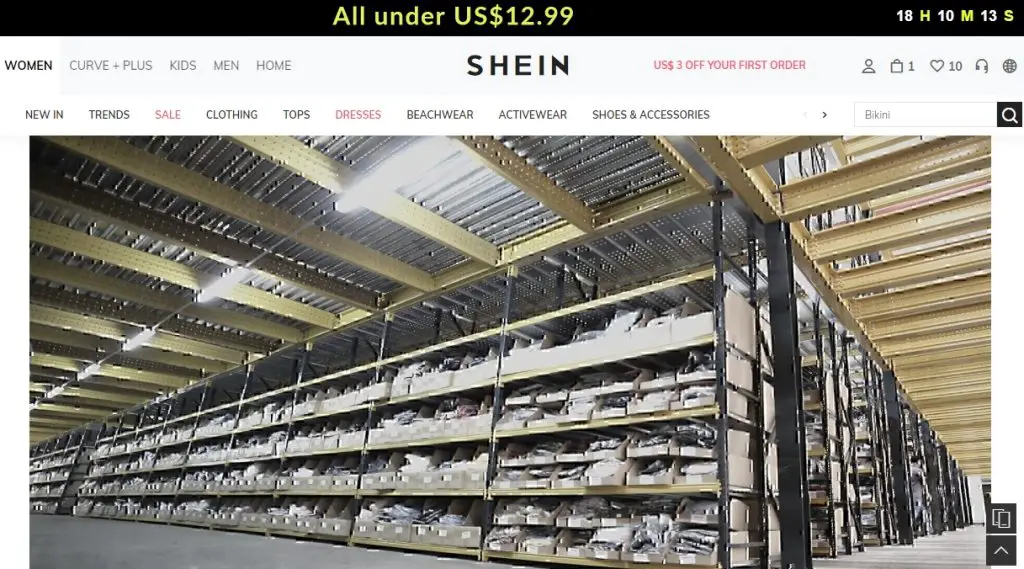 How long until my order arrives since it is in "international warehouse"?
As you may know, the delivery time of a package may vary depending on the country and region you are in. Even if Shein provides you with an approximate date, it is advisable to check the tracking updates.
It is difficult to guess how long it will take for the package to arrive after the "International warehouse" message, because it will then be in the hands of the shipping company and here the delay does not depend only on Shein.
In addition, it may happen that upon arrival in your country the package is held at customs or even have to pay taxes and duties. Generally, Shein products do not pay additional costs and go directly to your home, but you should keep in mind that, otherwise, all this could delay the arrival of your order.
In conclusion, it usually takes 3 to 4 weeks for packages to arrive at your home from Shein's warehouse. But, as we have explained, this period may vary depending on the shipping company or the post office you have been assigned. Please also note that packages may take longer in times of high volume of orders.
How to request a refund at Shein?
Main article: Complete guide to refunds at Shein. 
If the estimated delivery time has passed and your order has not yet arrived, or if what you have received does not match the description or photos of what you purchased, you can request a refund from Shein.
To do this you must access the "My orders" section and contact Shein's customer service center. Here they will give you all the necessary instructions on whether you need to continue waiting or if you should directly process the refund. To contact them right now, click on this link.
Fortunately, the company has a very good customer service that always seeks to provide an answer to your questions, thus ensuring customer satisfaction. All you have to do is explain in detail what has happened in order to process the refund.