When we shop online, we can run the risk of making a mistake, either by choosing the wrong size or we don't like the garment as much as we thought we would. In these situations, the best thing to do is to ask for a refund.
To find out how to request a refund from Shein, you should first check out the return and refund policies at this link.  Below you will find detailed information on how to go about this process.
When can you ask for a refund on Shein?
Before you take any steps to request a refund, you should be aware that you may only request a refund if you find yourself in the following situations:
The order has already arrived in your hands
After you have made sure that the package was not what you expected, you should not ask for a refund, but for a return. To learn more about this, you can read our article about returns on Shein.
The order hasn't been shipped yet
In this case, you can just cancel the order. This is the easiest option, and in a few days, you will get your money back.
The order hasn't arrived yet
In this case, customer service will ask you to cancel the order so that they can proceed with the refund.
Important fact: in all cases, you'll receive an email first to let you know that the refund was successful. This will be effective from 5 to 10 days.
Extra fact: in case you want to get a refund, Shein will allow you to choose several methods for the refund.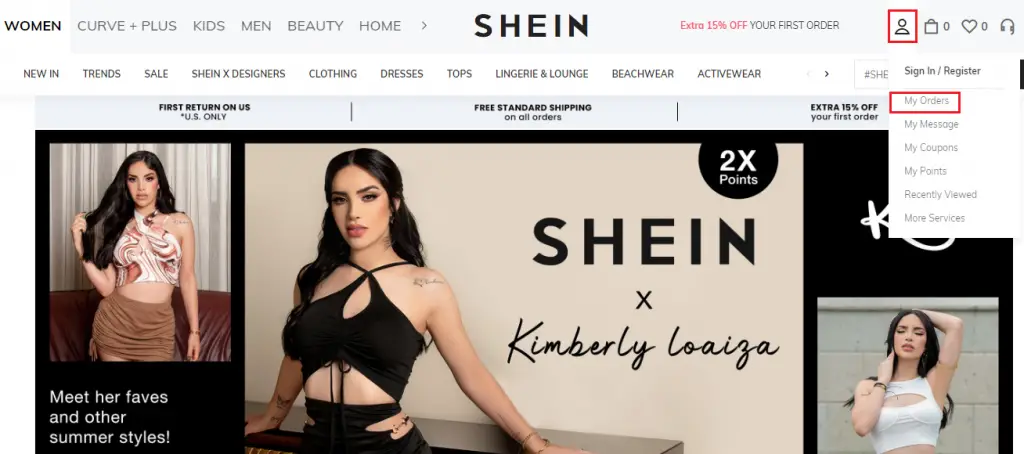 You can also request your refund in your Shein wallet, where it will remain as a balance for any future purchases you want to make. But if that doesn't interest you, you can simply choose the original payment method you used.
Steps and methods to get a refund from Shein
With this method, it will take at least 3 to 15 business days for the refund to become effective. It can even take up to a whole month, but it's best if you want to get your money back by the original payment method.
If you paid with one of your gift cards, what you will be refunded is the gift card, but you can also ask for it to be left in your Shein or PayPal wallet.
Important fact: If at the time of requesting the refund you forgot the card code, you can ask for help by contacting support.
In this platform, your money will be refunded within 2 to 7 business days. It is one of the best options, since PayPal is accepted in most stores, plus you can transfer that money to other of your cards.
This is the fastest option to receive your money in 24 hours tops. If you're someone who shops at this store frequently, then this method is the most recommended for you. If in the end, you don't want to spend that money on Shein, then you just need to withdraw it.
Important fact: sometimes the system may not allow you to refund the money, or it may take longer than usual due to maintenance.
If you've paid with Afterpay using your credit card, the money will be returned to your credit card. When paying in installments, please note that if you've canceled your order while payments are still pending, the remaining payments will be canceled.
Frequently Asked Questions
You can review Shein's FAQ section through this link. Below, we will go over some of the most common questions:
Refund duration time
As we mentioned, this will depend on the method you have chosen to get your money refunded.
If you order it through your Shein wallet, in 24 hours tops you'll have your money. PayPal is another of the easiest options, and you will receive your refund within 2 to 7 business days. With Credit Card, it will be within 3 to 15 business days, and with Afterpay between 3 and 15 business days.
Refund Status
If you want to know the status of your refund after requesting it, just follow these steps:
Go to "Details" of the order you have requested a refund for.
Then click on "Returns and Refunds Record" where you will be able to see the status and method of the refund.
If you want to have a little more information, then click on "Details".
Then click on "Refund Status". Here you can see if the request was completed, which means that the money has already been sent by the company and your refund will be paid in a few days.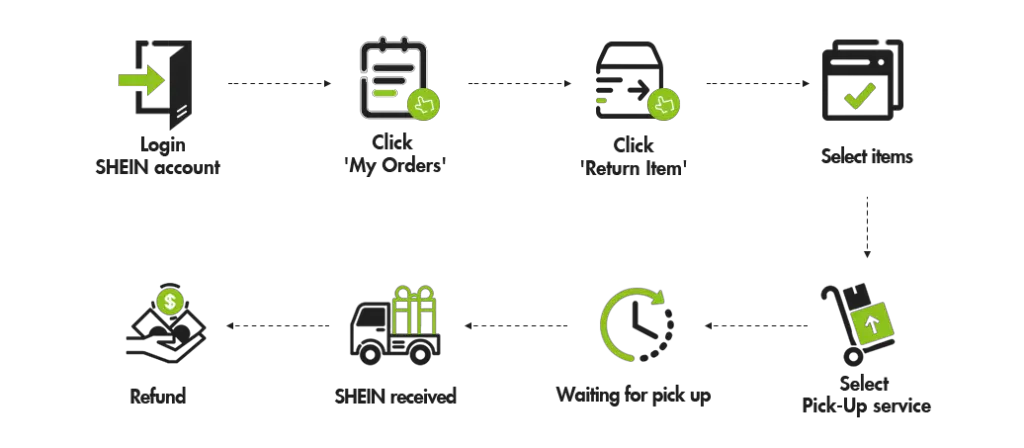 The amount of the discount is different from what was originally paid
This happens in some countries when you return several items and you are charged for the cost of the return label. This cost will not be refunded.
Important fact: if you used coupons and Shein points, you should know that only the money you paid at the final price will be refunded after using the discounts.
What do I do if I have already received an order for which I requested a refund?
There are several things that can happen:
Shein may ask you to return the order. If it hasn't gotten to you yet, you just have to refuse the order.
It could also happen that Shein says that you can keep it for free.
They might make you pay again.
However, the important thing is that you keep in touch with Shein's help support to follow the whole process.
How can I talk to Shein staff?
You can do it through this link and clarify all the doubts you may have.
Can I ask for a refund if I paid customs?
According to the information provided by Shein, you will not have any problem with customs if you're in Europe, but if for some reason you have difficulties, it's best to present your payment receipt and contact Shein.
Are points, coupons, and other discount methods refundable?
The answer is yes, but the problem may be that they have expired. It's not guaranteed that you will get new coupons back, so take this into consideration.