Surely you know AliExpress and the large number of products that you can find on the Chinese platform.
Despite the benefits and discounts that AliExpress offers us, there are things that we cannot find on their page, such as product replicas.
The solution to this is brought to us by Taobao, the platform that has a greater variety of products and whose prices compete with those of AliExpress, being even lower than those found on the well-known website.
The problem that we find when we want to buy on Taobao from Spain is that this platform only makes shipments to postal addresses in China. To solve this problem, Chinese companies appeared willing to act as intermediaries, such as Wegobuy.
What does this mean? That these companies will receive the order for you in China, and then forward it to you.
In this article we will focus on the intermediary Wegobuy (you can register here), we will see its benefits and if it is really convenient to use it to buy on Taobao.
Benefits of Wegobuy
As we have mentioned, in Taobao we can find even lower prices than those found in AliExpress.
Wegobuy allows us to take advantage of these benefits from outside of China, acting as an intermediary between buyers and Taobao and Tmall.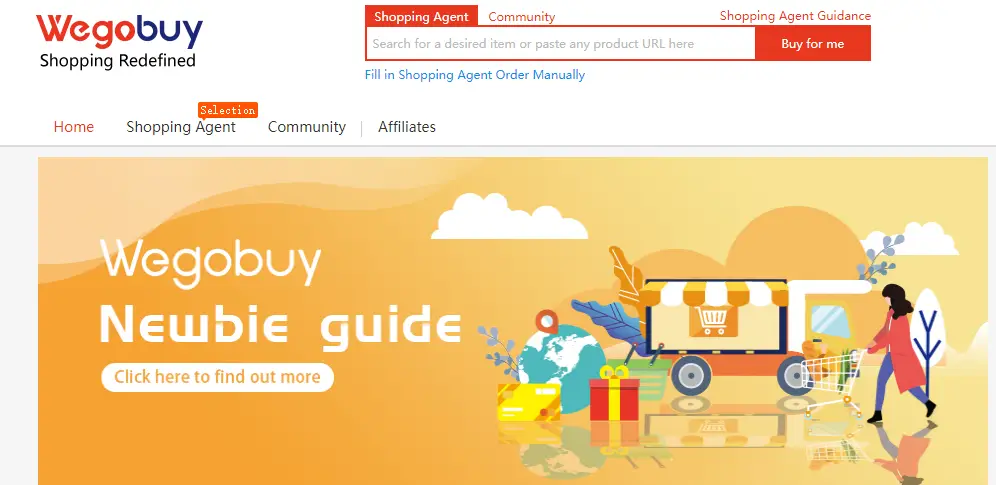 Another benefit of Wegobuy is that it stores your orders for up to 180 days, so you can place multiple orders, wait for them to come together on Wegobuy and, when you're ready to receive them, order them all together and pay for one shipment.
As Wegobuy works with the IOSS system, it will be easier to pay VAT and in packages valued at less than €150 you will not have to do any customs procedures, so they will not go through that procedure and you will receive them sooner.
How to buy products through Wegobuy?
First of all, you have to enter the Wegobuy page through this link. Once on the main page, you can configure the language and currency. Then, you can register as in any other web page.
Once registered, you can put in the search engine what you want to find, and the page will search for products from Taobao and Tmall that match your searches.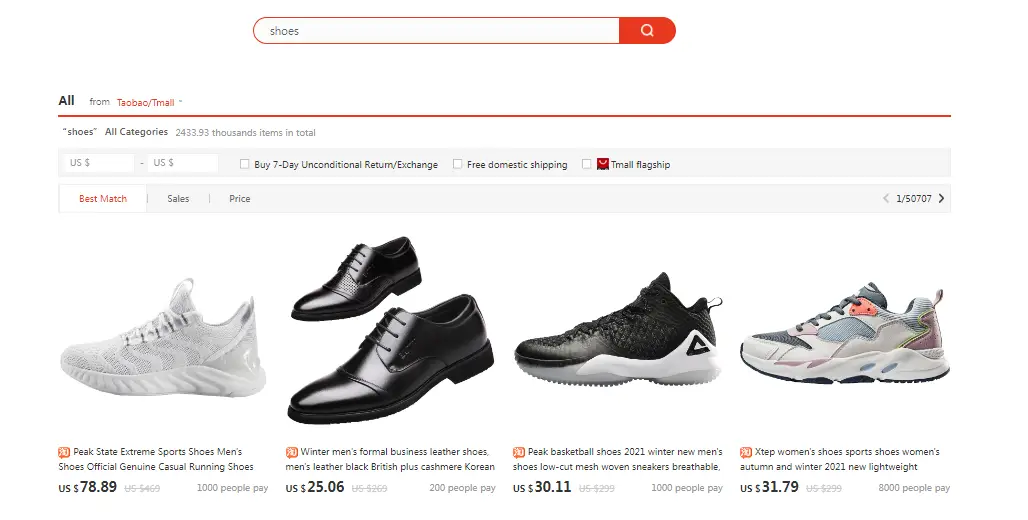 You can also search from Taobao and Tmall pages. Once you have found the product you are interested in, you will have to copy its link and paste it into the Wegobuy search engine, hit search and the platform will show you the article.
Request extra services from the Wegobuy agent
After adding all the products you want to buy in the basket, you will have to indicate to which country the order will be sent. At this point, you can also request extra services from the Wegobuy agent, such as having the order processed expressly (in less than an hour for less than one US dollar), requesting more detailed photos of the product (which will about 30 cents) or send a message to the seller (for example, to ask for a size chart).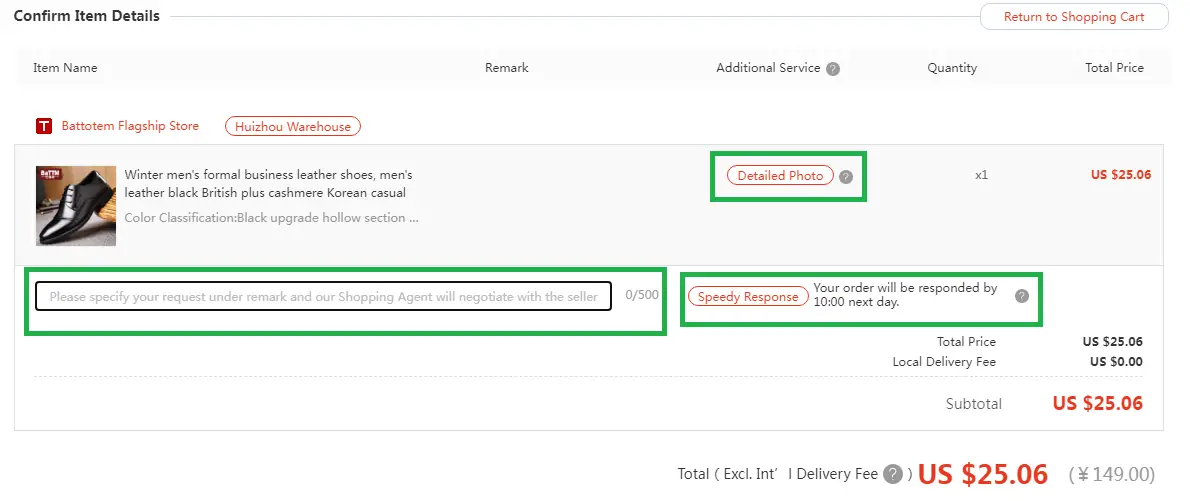 After paying, a few days later, when the agent receives the order, it will appear as received on our profile.
Ask for the package to be sent to our country
When the package arrives at the Wegobuy agent, he will send us five photographs of its contents so that we can verify that it is what we ordered. If there is any problem, we can ask for it to be returned to the seller.
If everything is in order, we will go to the "warehouse" section, where we will request that the purchase be sent to our country. We can select several orders and group them into one, but remember that your purchase will not be saved for more than 180 days.
When choosing the shipping company, you will see that the most used are EMS, EUB and SAL. Once you have selected the company of your choice, you will have to pay VAT following the IOSS system if you are ordering from Europe.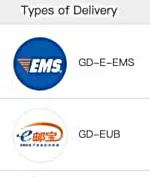 Is it worth using Wegobuy?
Next, we will make an analysis of the pros and cons when buying at Wegobuy. Remember to check that the product you are going to buy will work in your country, and if it is to your liking.
Points in favor
Prices
Something to highlight about Wegobuy is that they do not add management fees to the products, since their profit comes from the extra services they offer and shipping. You will not see a markup on the final price of the product displayed on Taobao.
If you want to know the cost of inbound shipping, you can check it here. You will see that these prices are a little higher if you compare them with those offered on other platforms, but you should bear in mind that this expense is compensated because you can pay VAT directly before sending it to your country, since it works with the IOSS system.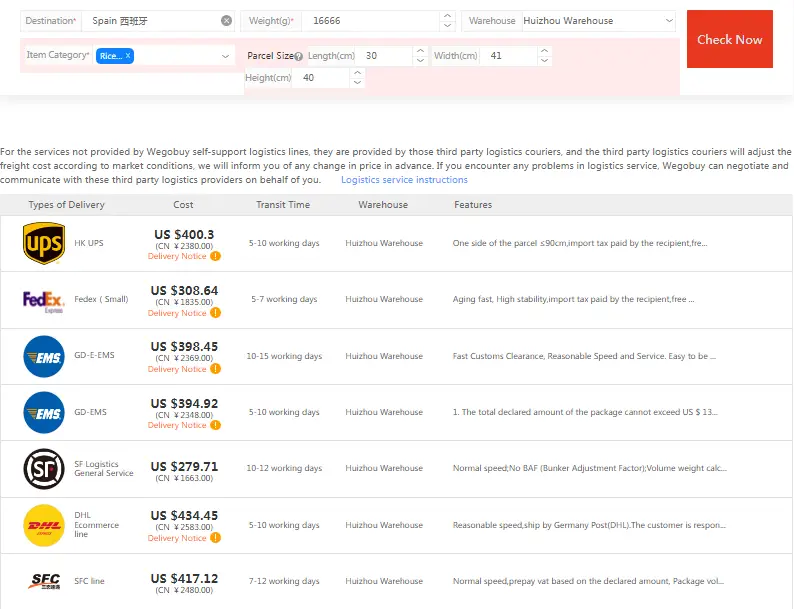 Payment methods
There are several options to make the payment:
With PayPal (it is the one that gives a greater guarantee on the purchase, although it is not applicable to all products).
By credit card (although it will also lead us to pay with PayPal, only to pay as a guest and without an account).
With our balance in yuan, which we can recharge by entering our profile and clicking on our "available" balance.

Shipping
As we have mentioned, the most used companies are EUB, SAL and EMS.
If your package weighs around 2ks, we recommend EUB as it has a good price and relatively fast shipping.
If your order weighs more than 5 kg, we recommend SAL, because it is cheaper.
In addition, Wegobuy offers other services before sending you the package, such as removing the labels from the clothes, protecting the shipment with film or bags, removing the product's box, vacuum packing it, etc.
Customer service
Wegobuy's customer service is remarkable, as it helps us verify that what the sellers have sent is what we ordered, and contacts them if it is not, so that they send the correct product.
There are two ways to contact Wegobuy, which you can find here. Wegobuy customer service is available 7 days a week from 9am to 6pm. in the time UTC +8. That is, from 1 or 2 in the morning until 10 or 11 in the morning in Spain (depending on the winter or summer schedules).
The second form of contact is through email. To receive all the help you need, we recommend that you include as many details as possible about your order (for example, order number) and problem in the email.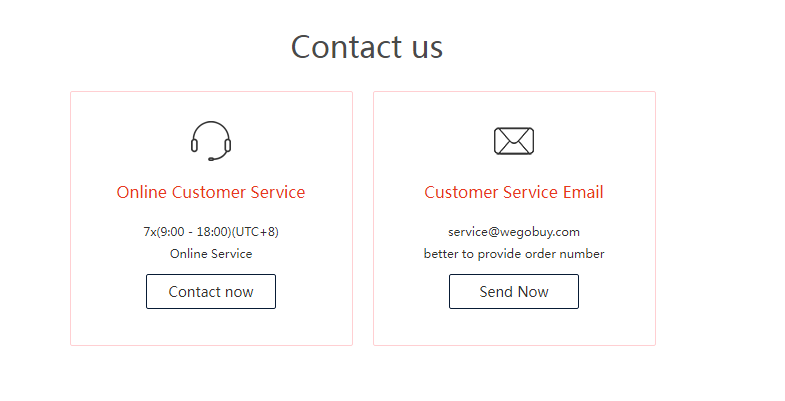 Points to improve
Guarantee
Although Wegobuy offers extra services to ensure that what arrives at your door is what you ordered, returns are not easy.
That is why we recommend asking for photos of the product received or sending a message to the seller asking for more information, before requesting that the order be sent to your address. If you are not satisfied with what the agent receives, you can ask them to return the package.
If you're buying tech products, shipping can be almost as expensive as ordering, so you'll need to assess whether it's worth it.
Product information
We recommend you search for the product you want to buy on the official pages of Taobao or Tmall, since there is information and details of the product that are lost when we see it on Wegobuy.
If you use Google Chrome, podrás traducir la página a tu idioma y así conseguir más detalles.