These are two very similar online stores due to their medium quality products at very affordable prices. But there are some other aspects that characterize them and that is why in today's article we are going to compare both platforms so that you can decide which one is best for you.
AllyLikes or Shein?
Perhaps one of the most notable differences between the two stores is the prices of their clothes: for now, AllyLikes offers products with a higher price than those offered by Shein.
As for the shipping costs of orders, at Shein you will pay a minimum cost of €2.99, while at AllyLikes €4.99. That is to say, it is cheaper to buy in Shein, if what you are looking for is to spend as little as possible.
Another advantage of Shein is that it ships to countries all over the world -with some exceptions-, while AllyLikes is only available to Europe, the US and Canada. However, if today it is possible to buy clothes almost everywhere in the world through AliExpress, it is most likely that in a short time, AllyLikes will also be available in more countries.
So compared to Shein, AllyLikes has the following disadvantages:
Their prices are more expensive than Shein's.
Not available for Latin America, for now.
For purchases under €19, shipments are more expensive than Shein's.
Your products do not have large sizes. Small sizes predominate, for now.
It does not have a points program, for now.
Keep in mind that these features are likely to change progressively and AllyLikes will improve as an online store in the not too distant future.
Comparison table between Shein and AllyLikes
If we compare these two platforms, both offer free shipping for purchases equal to or greater than €19. However, if you spend less than this amount on AllyLikes, you will pay €4.99 for shipping your order, while on Shein only €2.99.
Regarding security in the purchase process, both platforms are totally safe. If you have made orders or returns on AliExpress before, you should be aware that Alibaba manages both AliExpress and AllyLikes, so you don't have to worry.
In addition, AllyLikes renews its stock frequently and offers different discount coupons for purchases within the platform. However, this store does not have any points program like those of AliExpress or Shein, although this is likely to change soon as its new application is not yet fully developed.
AllyLikes delivery times are similar to Shein: between 10 and 30 days. In addition, on both platforms returns are free.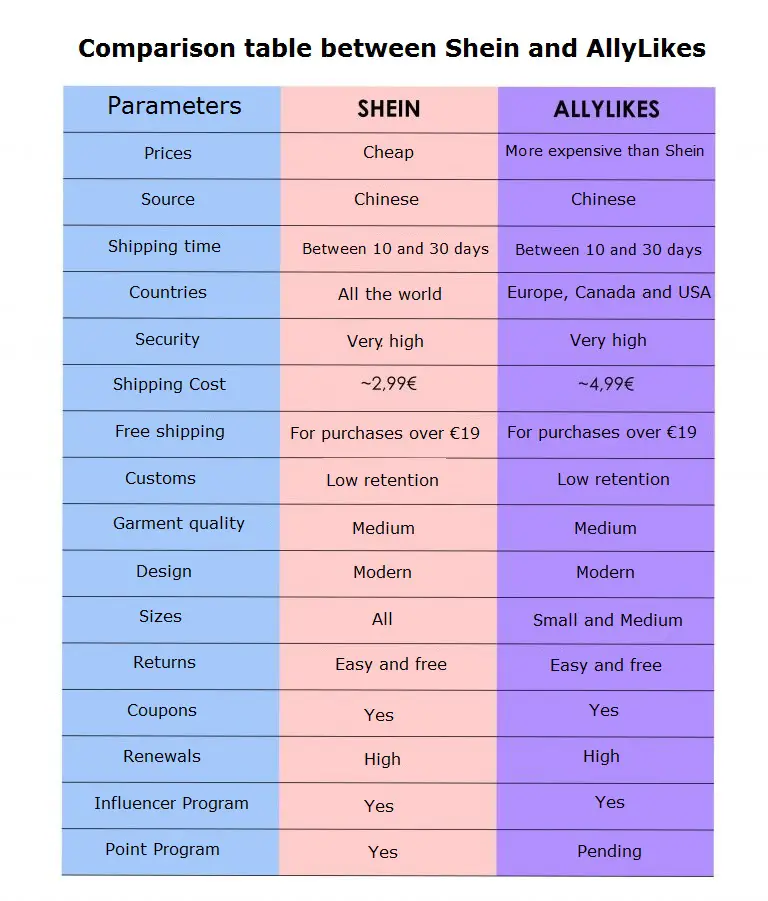 If this article has been useful to you in deciding on one of these stores, we recommend that you read our blog frequently for more information about online shopping.