Farfetch is an online fashion store specializing in high fashion that had its beginnings in 2007. It has no physical store, so all its operations are carried out through the digital platform, which you can access here.
In short, it is a web page that works as an intermediary between important brands and haute couture designers so that they have contact with a clientele that seeks benefits in that market. Next, we will tell you all about Farfetch and give you opinions so that you can evaluate for yourself if it is worth buying from the store.
How does Farfetch work?
When you make a purchase, the garment is sent directly by the seller, since Farfetch does not have warehouses or physical spaces to store the products. The seller you choose can be anywhere in the world, so shipping times will always vary.
Its operation is quite simple and there is nothing extraordinary or different from other online stores, the only peculiarity is that the products are luxury fashion.
What kind of clothes does Farfetch sell?
You can find all kinds of high-quality products in this online store, especially the latest fashion trends thanks to all the boutiques that are associated with the platform.
You will find dresses, shoes, pants, skirts, and much more. There are also categories for all ages, as well as for women and men.
Popular brands that work with Farfetch
To give you an idea of ​​what Farfetch has to offer, here are some of the most popular and well-known brands in the store.
What is the quality of Farfetch's garments like?
Designers go through an arduous quality certification process and must meet requirements in order to be part of the platform, among which are guaranteeing security and speed so that shipments arrive smoothly to your hands.
You don't have to worry about copies or short-lived garments, because absolutely everything offered by the store is original and high quality couture fashion.
Is the mobile version good?
According to consumer reviews, in general the mobile version of Farfetch is simple to operate, as well as being intuitive, so you won't have any major problems when using it. It doesn't have different features than the web version, but notifications will come directly to you and you won't miss out on sales, discounts or new items.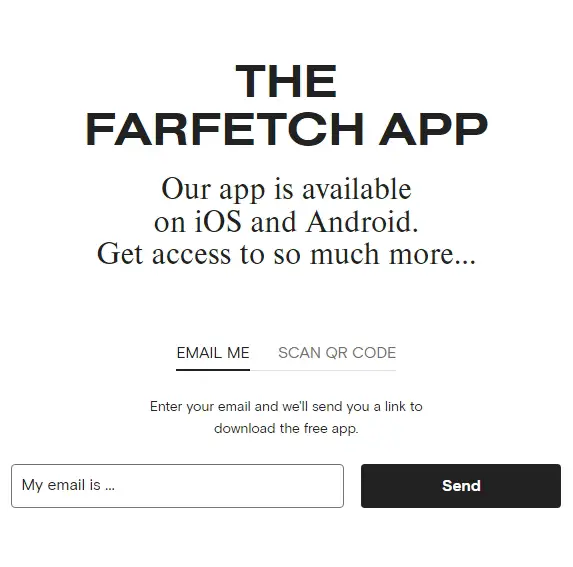 You can download it for both Android and Apple. You can also enter your email in this link to receive the download link or scan the QR code.
Farfetch Guarantees
The refund and return policies of the garment are totally safe regardless of the seller or brand with which you made the purchase. If the product arrived with a manufacturing defect or is not the size you wanted, you can contact the Farfetch team to make the respective refund and return.
Returns have a period of 14 days once you have received the package. To start the process you must speak with customer service.
Important fact: We recommend that you first check the product well before making returns to avoid major inconveniences.
Farfetch Consumer Reviews
If you still had doubts about whether the platform is as good as we have told you in the previous points, you will be happy to know that the general opinions of consumers have mostly expressed the excellence of the service and products offered by the platform and its allies.
They also have a loyalty program, which rewards active shoppers with discounts and gifts. You can see a little more information on the subject by clicking here.

Customer complaints
One of the biggest complaints consumers have had is canceled purchases. This occurs because sellers or brands contact users a few days later to say that the garment they have requested is no longer in stock. Although there are no problems with the return of the money, it is certainly a recurring problem that is not liked by buyers.
Prices
Since the store specializes in haute couture clothing, it's no surprise that the prices are high, but don't worry, there are also brands with slightly more affordable prices.
There is even a section of second-hand clothing (pre-owned), but you should check the price well before buying it, because sometimes the costs are similar to when the garment is completely new. There is also the sales and discounts section, which you can access from this link
Fun fact: if you subscribe to the newsletter you will receive sales notifications directly to your email, so we recommend you do so without a doubt.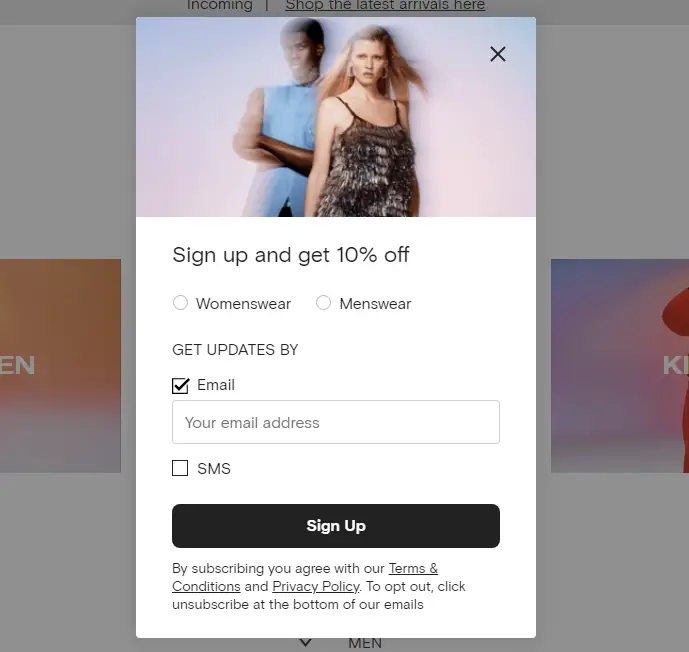 Fun fact 2: Similarly, there are special discounts for students at StudentBeans and UNiDAYS, something you cannot miss if you are in your school or university days.
Customer service
Buyers have expressed that customer service responses tend to be a bit late, especially when it comes to cancellations by the store or the seller that is dispatching the product due to lack of stock. Don't worry, you will receive an answer, but sometimes it can take a little more than 24 hours.
If you have general questions, you can review the section of frequently asked questions at the following link and thus avoid wasting time trying to speak with customer service.
Important fact: keep in mind that the platform is not responsible or responsible for cancellations by stores, this is an aspect to improve.
Other ways to contact Farfetch
Email: [email protected]
Message (chat), via this link.
Telephone: 34518880637 from Monday to Friday from 9:00 a.m. to 6:00 p.m.
Shipping
There are three types of shipping that Farfetch offers:
These last around 2 to 6 days after you have made the purchase. You can even make a reservation in the "Pre-order" section, and when you use it, they will give you free shipping.
This takes about 2-4 days, it is more expensive, but it is worth it if you want your package to arrive quickly.
This only works in some areas and cities, so you should check if you have the possibility to use it. Delivery is the same day and with an F90 delivery service.
Points to consider
The cost of each shipment will depend on the store that is dispatching the product, something that could improve the platform, so that there is a specific price guide and thus improve the buyer's experience.
Another point that you must visualize is the distance of the shipment, since this can be lengthened if the package must travel by sea. They can also be somewhat expensive, so we recommend the following:
Use free shipping and discounts offered by Farfetch.
The single shipping method is a good way to save money, you just have to meet the minimum purchase they ask for and make the purchase. It reaches almost anywhere in the world.
Conclusions
In general opinions, the store has quite a few points in its favour, especially for its high-quality products, in addition to the fact that it works with renowned brands, so the issue of counterfeits or low-end clothing has no place at Farfetch.
However, they still have aspects to improve, such as the issue of purchase cancellations since, although it is not the direct fault of the store, they should take action on the matter to avoid inconvenience and inconvenience to users.