If you've been shopping on AliExpress for some time, you'll know that a few years ago, the platform limited the possibility of paying for purchases with PayPal.  But now it has changed its decision, allowing the use of this payment method again, but only for some suppliers.
How do I know when I can pay with PayPal?
It's currently possible to pay with this system through the portal. However, whether this method is allowed depends not only on the seller but also on the country you're in.
For example, if you're in America or certain European countries, you can pay with PayPal to any seller located in China. This service is not limited to these continents only, so make sure to investigate if there's a possibility to pay with PayPal where you're located. If not, the website has other payment methods that could suit your needs more.
How to pay with PayPal on AliExpress?
Once you've verified if your locality of residence allows transactions with this method, all you have to do is enter the item of the product you want to buy and take it to your cart or shopping cart.
Click on "Buy Now" (click here) and you'll be taken directly to the AliExpress payment screen with the product you've chosen.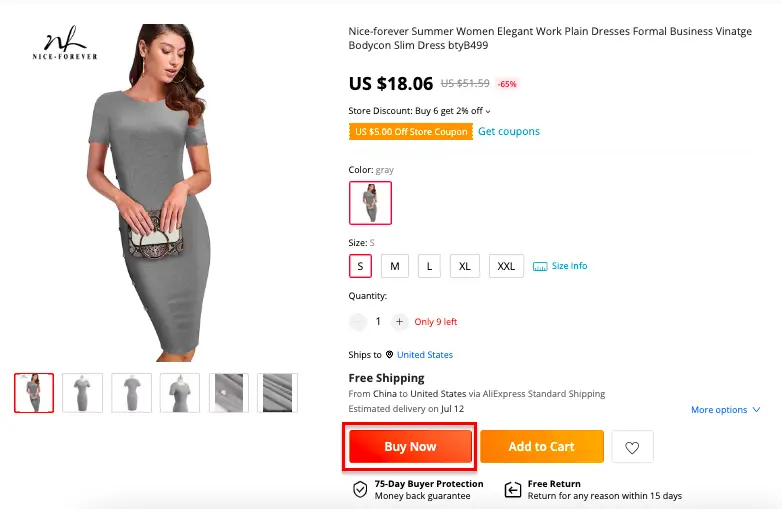 Two sections will open, one of them where you can choose a payment method (PayPal, Apple Pay, credit card, among others).

Finally, you have to enter the address where the order will be sent and that's it!
You should know that in the past, the system did charge commissions. However, this is no longer the case, at least for people living in some countries in Europe. If you're in a different location, it's quite likely that you'll have to pay commissions, as there are countries that work with rare currencies. In these cases, the platform performs an automatic conversion and therefore charges a commission.
Advantages of using PayPal
This payment method has many advantages. If we remember that AliExpress is not strictly a store, but a website where there are many sellers and stores. We understand that, as in all online pages, there won't always be reliable and honest suppliers. For this reason, one of the main advantages we see in the possibility of paying with PayPal is the "protection" it offers to the seller.
PayPal supports buyers, so if you don't receive the correct item, it's lost, or other problems occur, you can open a dispute and ask for a refund (total or partial) of the money paid in a transaction, offering in the cases mentioned above the protection of up to €1,000.
How do I open a dispute?
To open a dispute through AliExpress, just log into your orders and report the problem.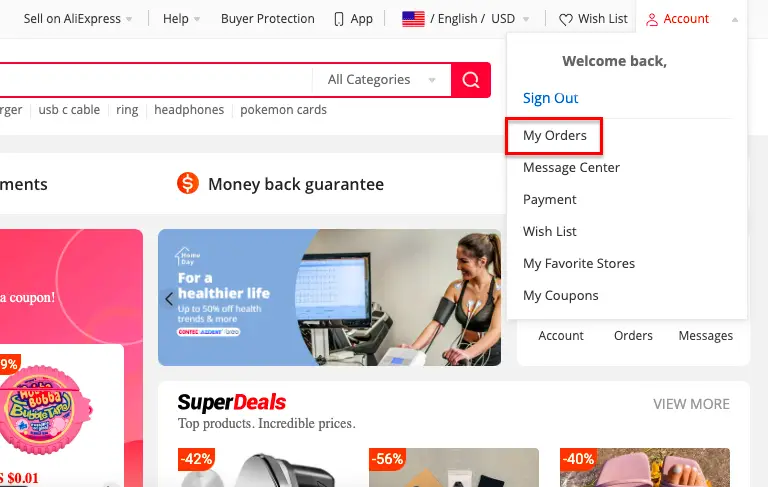 If after closing the dispute you were dissatisfied with the result, and they didn't solve the problem, you can ask a refund through PayPal if you used it as a payment method.
Here's how to do it:
First, you'll need to log in to your PayPal account.
Then, on the home page, click on "View all my activity".
Find the reference of the payment you want to dispute and click on it.
When the detail of your purchase opens, click on "Report a problem".
That's it! You will have to wait around 6 to 10 days for PayPal to accept the request and refund your money.
How to request a free refund?
Some items purchased on the AliExpress platform can be returned for free. And you can also opt for this option if you're paying with PayPal, whatever the reason.
You have to know that if you return several items of the same order at different times, they'll be counted as different returns.
How do I request a return through PayPal?
Before you start doing any of the steps described below, make sure you have activated the PayPal refund service (see here).
Already activated? Now, let's go through the steps!
Log in to the PayPal platform.
Click on "View all my activity".
Find the purchase you want to return.
Then click where it says "Get a refund of return charges".
Upload the documents requested on the website (if you're missing any, you have up to 14 days to complete them) and you're done!
It should be noted that, in order to avoid possible issues, the website has set a limit of 12 times a year in which you can use this service.
In addition, we have to inform you that PayPal also covers part of your order if you want to return it: the maximum amount that PayPal covers to reimburse you for the return of an order is a maximum of €30.
If you're returning a large and heavy product, you'll have to choose the courier company that best suits you and that works with this payment method.
Conclusion: Is it a good idea to pay with PayPal?
Considering all the advantages it offers, of course, it's a good option! However, let's remember that in the past AliExpress had eliminated its use, then accepted it again, and so on. This makes us think that it's a rather unstable relationship. Although at the moment it can be an excellent alternative to pay for your orders, we recommend you to have other payment methods active, since we don't know what will be the next change.
Another payment alternative: AliPay
AliExpress offers on its platform several payment methods to facilitate the purchase of their products regardless of where you are. All these methods are reliable and, in order to continue creating user convenience, they've been circulating for some time now their own payment method called AliPay.
Set up your Alipay account by clicking on this link.
AliPay Features
AliExpress tries to offer a secure payment method that, being created by this Chinese company, will have 100% control of its functionality and the protection of user data. AliExpress is constantly promoting its use, to such an extent that from being not known at all, it has already become one of the main payment methods.
The advantages offered by Alipay are the following:
Instant refunds.
Secure payments with 24-hour control of all your transactions to avoid fraud.
Bonuses when paying on AliExpress.
As we mentioned above, the Chinese giant seeks to promote the use of Alipay: since it offers the aforementioned bonuses for setting up your account, adding a card, or using it frequently.
However, as you may have noticed, the possibilities offered by PayPal and AliExpress are very similar. We recommend you use the payment method you feel most comfortable with.