11/11 is one of the most anticipated events on AliExpress. In China, it is the big shopping day and for you the opportunity to give gifts or fulfill a whim at a very low cost.
Specifically, on the 11th of the 11th of AliExpress is the day that the store offers the lowest prices of the whole year. Also, the moment when it launches more promotional coupons and tempting discounts.
If you still do not know what we are talking about, continue reading and discover how you should prepare for that day. We will explain when it starts, how to get the offers and how to apply the best promotional coupons.
When is the AliExpress 11 on 11 event?
As its name suggests, AliExpress's most anticipated event starts every November 11 and lasts for 48 hours. During these two days, you will be able to buy everything you want, but do it in a hurry, the stock and the offers usually disappear in minutes.
For this reason, here is a trick: prepare your shopping cart in time. If possible, choose the products before the start of the 11th of 11th. That way, once the event starts you can start paying with unmissable discounts.
Three guidelines to make the most of 11 of 11
If you've never participated in an AliExpress 11 on 11, heed this advice: before you start shopping, check out the store's selection of deeply discounted bestsellers, the list of featured brands and the new products on sale in the "Fresh Finds".
This will be the simplest way for you to quickly get to know the hundreds of thousands of items that on November 11 will be with discounts of up to 70% on AliExpress.
Get discount codes
Although you will find discounted items on 11 del 11, don't forget to get and use discount codes on your purchases. Remember that they will give you extraordinary discounts.
Keep in mind that not only do you have to get them, but you have to use them quite quickly and in the first hours of the 11th of the 11th, since they usually run out immediately.
Next, we leave you discount codes that you can apply to your purchases:
ESD114: is a discount of 4 euros on purchases of at least 30 euros.
1111ALIXBLOG9: is an exclusive code that offers a discount of 9 euros for each minimum purchase of 60 euros.
ESD119: With this code you will get a discount of 9 euros on a minimum purchase of 60 euros.
ESD1115: in this case, the discount is 15 euros for a minimum purchase of 100 euros.
D11ES16: You will receive a discount of 16 euros for each minimum purchase of 80 euros.
ESD1118: This is a discount of 18 euros on minimum purchases of 120 euros.
Do not forget that the discount codes are those that you enter manually at the time of payment. Otherwise, no discount will be applied.
Ask for promotional coupons and save on the 11th of 11th
Unlike discount codes, promotional coupons are ordered and saved in your account. Thus, at the time of payment, they are automatically applied according to the purchase.
In the particular case of 11 del 11, AliExpress offers exclusive promotional coupons. Normally, they are of the type "discount of 40 euros for a minimum purchase of 80 euros". Also, they are usually limited and will only be available for a maximum of three days from the start of the event.
Therefore, if you want to catch one of these you must be very attentive and, if you manage to catch it, spend it immediately. Still, don't worry. It will not be the only coupon that AliExpress launches. You frequently enter the web or the store application and you will find a discount that works for you.
AliExpress codes and coupons, are they supported?
Unfortunately not. For this reason, when buying you must choose what suits you best, whether to use a discount code or a promotional coupon.
Even so, there is always an option for you to save on AliExpress: seller coupons. These are particular promotions of the store sellers and, in your favor, you can combine them with official codes or coupons.
Take advantage of the "Buy and Save" promotion
If you don't know what it is, you may wonder what the key to the "Buy and Save" promotion is. Very simple, the rule is that the more you spend, the more savings you will achieve.
In this way, if you use this promotion and have a coupon or code from AliExpress and from the stores on the platform, you will be able to access purchases with spectacular discounts.
Remember, the items included in the "Buy and Save" promotion will offer an automatic discount of 2 euros for every 25 euros spent. Also, keep in mind that shipping costs will not be counted in the minimum cost of spending, but the VAT of the product will be added.
One last clarification: the "Buy and Save" promotion is only available from the AliExpress application.

Play "Jump and Win" and get promotional coupons
"Jump and Win" is the signature game of 11 of 11 and is only available on the AliExpress app. If you don't have it yet, click on this link and download it.
The objective of the game is very simple. You have to complete a circuit jumping from box to box. Here, the trick will be to keep your finger pressed and achieve just enough pressure to jump without falling into the void, since if you stop outside, you lose.
Also, if you manage to accumulate 19 gift boxes from official AliExpress stores, you will receive a special present.
Remember, you will only get two games per day and another 20 for completing tasks such as visiting stores or checking out items. Now, if you win you will get tempting discounts on selected items.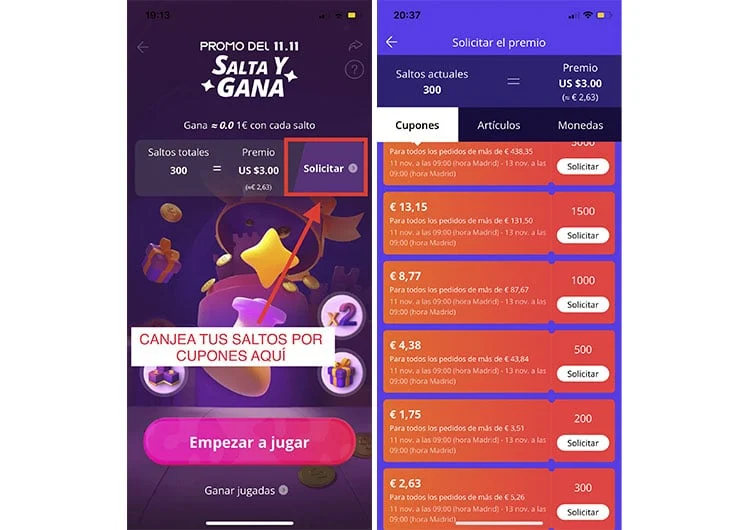 How to exchange jumps for coupons?
All the jumps that you accumulate in your account can be exchanged for AliExpress discount coupons once the 11th of 11 starts.
Normally, the best discount coupon you can get will be the one that gives you a discount of 2.63 euros on a minimum purchase of 5.26 euros in exchange for 300 jumps. Since, the others require a much higher minimum expense for the discount they offer.
Get prizes with your payment method
Depending on the payment method you choose, you may have more prizes and your purchase will be even cheaper.
For example, if you pay with PayPal you will have an automatic discount of 3 euros on a purchase of more than 20 euros. Thus, at the end of your order, the discount will be applied immediately.
Also, you can pay with AliPay and accumulate a 20% discount in your AliPay Wallet. Or, you will earn a discount of 6 euros if you cancel your payment with PayLater.
Don't forget to play Megaruleton
In the AliExpress Megaruleton you can try your luck and win multiple prizes, coins, promotional coupons and unmissable offers.
Before the 11th of 11th, play and take advantage, but during the event intensify your plays, since you can win powerful prizes, such as cars, scooters, AliPay bonuses, etc.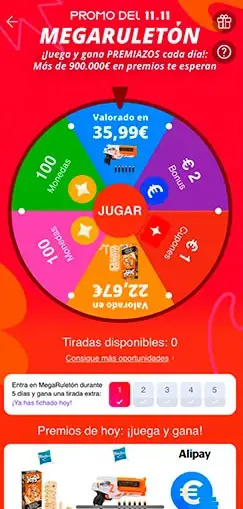 Get to know the top deals for 11/11
Thanks to AliExpress Plaza or local warehouses, it is becoming easier to find items that ship from your country. Therefore, buying in the store is more tempting, since you access cheap products and in a matter of days you have them in your home.
Next, we leave you a selection with the best offers.
The list is headed by Apple Airpods Pro and wireless headphones Samsung Galaxy Buds2. Then, in the world of smartphones, they highlight the Xiaomi Redmi 11 Lite with 5G, the Xiaomi Redmi 10, the Xiaomi Redmi 9T, the Xiaomi Redmi 9C and the Samsung Galaxy A03S.
Also, the Xbox Series S console is at a very good price, as i the Nintendo Switch Neon. Another option is  LEGO toys and Play-Doh.
Now, if what you are looking for is to renew your television, you can also do it at 11 del 11 on AliExpress. Since, the 49-inch LD Smart TV or the same model, but 65-inch.
If your goal is to save money, another option may be to convert your Smart TV with the Chromecast 3 from Google and also complements this tool with its Google Nest mini assistant at a low cost.
On the other hand, in the 11 of the 11 of AliExpress you will be able to change your laptop. A good option could be HP 240 G8 8G RAM computer. In parallel, during the event you will be able to access the best robot vacuum cleaners, for example the Conga 990 Vital from the Spanish brand Cecotec. Even if you look for the most sophisticated, you have the Conga 1690 Pro.
If the previous articles are not your thing, you can also opt for Xiaomi's electric scooters, the My Electric Scooter Essential or the HUAWEI GT 2 Pro.Whereas, if you want to buy a useful food processor, you can opt for a Chefbot Compact or a Chefbot Touch.
In addition to the previous articles, on AliExpress 11 of 11 you can buy the FIT-FORCE folding treadmill at a very good price, a San Ignacio frying pan set, Kelme Flamenco model sneaker, Oral-b Pro 2 2500, a German Chemistry nail hardener, the perfume 1 Million by Paco Rabanne, the Regenerist cream by Olay or moisturizing lotion Dramatically Different by Clinique.
Also, during this event, you will even find diapers from the best brand, such as Dodot.
Is it worth buying on AliExpress 11 of 11?
Although there are unfair offers, for example, raising prices days before and pretend sales during November 11, most of the discounts during this event are real. Also, are the large number of coupons and promotional codes that you can accumulate and thus save on your purchases.
In this way, you should know that you can take advantage of this great day in AliExpress and get products with a very cheap final price.
Last clarification: if you can't decide for 11/11, you can also take advantage of Black Friday on AliExpress. Check out our article "Everything you need to know about Black Friday 2021 on AliExpress" and learn more about it.