The online sales and shopping platform AliExpress offers several shipping methods, and we'll help you understand each of them. Today we'll tell you everything you need to know about the shipping method called Saver Shipping.
Here's how it works, how it compares to the most popular shipping methods on the platform, and how to track it.
What kind of shipping is AliExpress "Saver Shipping"?
Thanks to the AliExpress platform's agreements with different courier companies, the Chinese company offers three shipping methods:
AliExpress Standard Shipping
AliExpress Premium Shipping
AliExpress Saver Shipping
The latter has some novel features that attract attention. It's a type of standard shipping that you don't have to sign for when you receive it and, at the same time, it offers the possibility of tracking your order. This makes it more attractive than conventional shipments that don't allow the latter option. However, to clear up any doubts you may have, read our article on the differences between AliExpress Standard and Premium Shipping.
AliExpress Saver Shipping: combined delivery
Another distinctive feature of AliExpress Saver Shipping is that it allows combined delivery. Many of you have asked us about it: What is it? What does it offer? Below, we'll try to clear all your doubts. Also, remember that you can read more about this option in our article What is combined delivery on AliExpress?
If a product is marked with "Combined delivery offered by AliExpress" it means that it can be grouped with several other orders in a single package. However, this will happen only when the value of the shipment exceeds $5. If this happens, the delivery time will be reduced from the initial 30 days to 15 or 20 days.
For this reason, this shipping model is an excellent option to consider if you plan to purchase several products.
Frequent use: cheap products
Increasingly, the AliExpress Saver Shipping kind of shipping is chosen by buyers when purchasing low-value items. This type of shipping is very popular because the delivery time is 30 days, but as mentioned above, this time is usually much shorter and the product arrives earlier than expected.
Opinions about AliExpress Saver Shipping
The overall balance of the Saver Shipping type of shipping is favorable. However, we recommend this type of shipping only for low-cost items and only if you choose free shipping. This way, you'll save some money, and you'll still receive your order.
AliExpress Saver Shipping and other shipping methods
As we told you, the reviews about AliExpress Saver Shipping are good. Even so, you should have as much information as possible, therefore, below we make a comparison between this model and other shipping methods such as those mentioned below:
Cainiao Expedited Economy with combined delivery
AliExpress Standard Shipping
Cainiao Super Economy for Special Goods
Saver Shipping or Super Economy for Special Goods: Thoughts on each method
First, it's important to note that both shipments are ordinary, meaning, the package will be left directly in the mailbox and doesn't require any signature to be picked up.
The most important difference we can find is that with Saver Shipping you'll be able to track the order once it's in your country. The truth is that this option is quite useful for nervous buyers.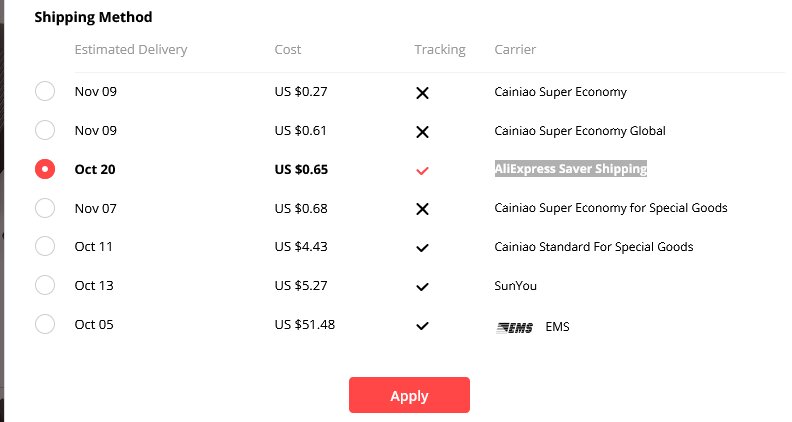 Another difference that can be observed is the delivery time, since, in Cainiao Super Economy for Special Goods delivery is estimated between 30 and 50 days, while in Saver Shipping is estimated in 30 days or less. Thus, this second model is a faster and more practical option.
In short, if a seller offers you both options, you'll most likely choose AliExpress Saver Shipping. However, if you want to know more about the other option, you can check this review: What is Cainiao Super Economy for Special Goods shipping method and how does it work?
AliExpress Standard Shipping or Saver Shipping: Which is better?
In this comparison, the first reference to note is that both shipping types are siblings, only AliExpress Standard Shipping is the bigger one.
The big difference between the two shipping types is that Standard Shipping is certified. This means that it requires a signature in order for the purchase to be delivered. In this sense, this requirement by Standard Shipping makes deliveries more secure.
In addition, this shipping model has another plus point. The delivery time is between 15 and 20 days approximately. Compared to AliExpress Saver Shipping, it's a few days less.
AliExpress Saver Shipping or Cainiao Expedited Economy: Which one is better?
In this case, AliExpress Saver Shipping also far outperforms Cainiao Expedited Economy Shipping explained in our article on Cainiao Super Economy for Special Goods. Since the latter doesn't give you the option to track the order. However, both offer the possibility of combined delivery and the estimated delivery time is 15 to 20 days.
All in all, the AliExpress Saver Shipping method stands out from most other shipping methods offered by the online shopping and selling company.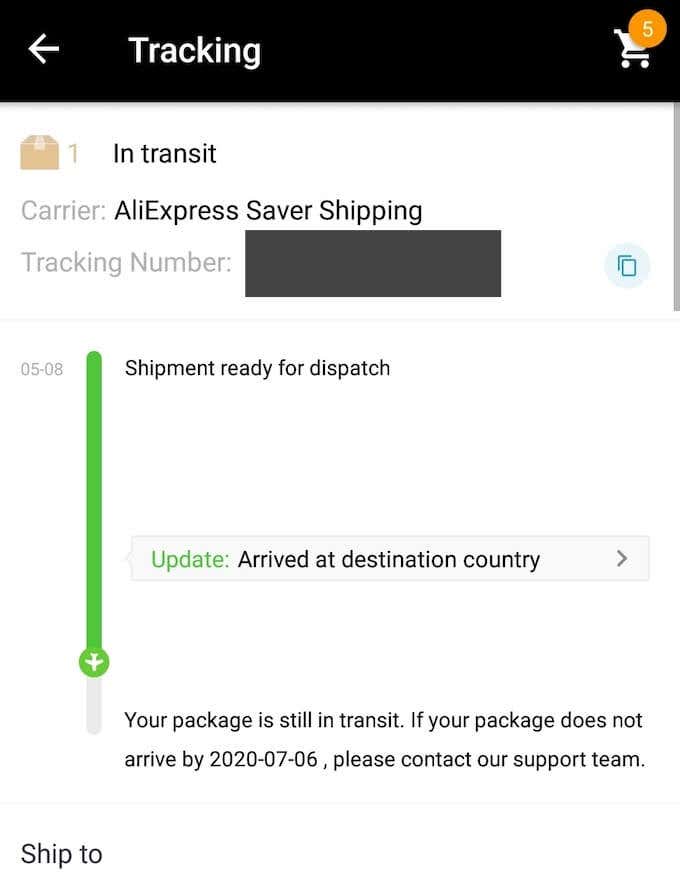 Tracking
With the AliExpress Saver Shipping method, you can track your package. This means that if the buyer wants to check the status of their order, they can click here and then click on "Track Order".