One of the most used terms when making any kind of online purchase is the word "shipping", which refers to the shipping of the requested package.
Depending on the shopping platform and more specifically on AliExpress, there are different types of shipping, guaranteeing you as a buyer different experiences when receiving the order, as each option will be adapted to you.
You can take a look at the customs and import section on the official AliExpress website through this link.
Shipping methods handled by AliExpress: Advantages and disadvantages
One aspect that all these shipping varieties have in common is that the shipping is handled indirectly by AliExpress. How is this possible? We'll explain it below.
This web shopping site has different agreements with shipping companies from different countries. This, in order to offer you a significant improvement in the speed of shipping and, above all, in the secure delivery of the package.
To talk about which delivery method is better, several factors must be taken into account: among them, your location, because if you're in a country where shipping rates are more expensive, or if the package will arrive through intermediary postal companies, the cost will increase and your budget or savings aspirations will be affected.
Before scheduling any shipment, we recommend that you verify if your home address is updated and correct, in order to avoid any inconvenience in the process. You can check this information by clicking here.
AliExpress Standard Shipping
This is the most common shipping method. If you choose this shipping method, the seller will place your order in the AliExpress logistics center. Once it arrives there, it'll be shipped to your home location. To make this possible, and depending on where you're located, the Chinese platform can use several allied courier companies, also seeking to reduce the time in which your package will be delivered.
This shipping is indicated for routine products (not heavy) that cost more than $5 approximately. Although this is not the cheapest delivery option, it's one of the most reliable.
Among its many benefits is the fact that your shipment will be certified. The order will have a tracking number, that you can use to track your order through the page in the "My Orders" section and know exactly where your package is until it reaches your hands.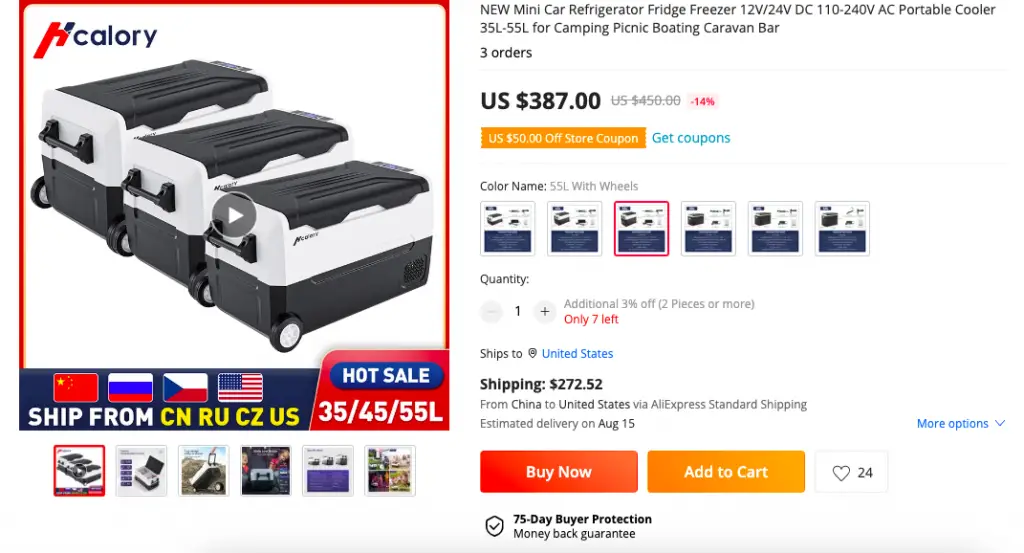 In the image below you can see the calculation of the approximate shipping costs.

One of the reasons why Standard Shipping can be expensive is because packages that are marked with this stamp will always have priority in the postal service, compared to other modes of shipment. Because of this, once it reaches the destination country, it'll be delivered promptly.
AliExpress Premium Shipping
Main article: AliExpress Premium Shipping
On the other hand, we have this delivery method. It's not the most common use for moving routine items, as it is used to move heavier, bulkier, and more expensive packages.
AliExpress makes this Premium Shipping a reality in collaboration with other private courier companies such as FedEx, DHL, and Seur, among others. These companies speed up the delivery time considerably, up to 7 to 15 days.
However, it's worth mentioning that, of course, the transfer price will be much higher, since you may also receive customs surcharges (and also run the risk of the package being retained).
Therefore, our recommendation is to use AliExpress Standard Shipping, as it's likely to present fewer inconveniences and as a result, your order will arrive faster and at the same price you purchased it.
Other shipping methods
Next, we will describe another fast shipping alternative offered by AliExpress.
AliExpress Saver Shipping
Main article: AliExpress Saver Shipping
This is one of the new alternatives offered by AliExpress for shipping at a very low price and even for free.
Saver Shipping's use is indicated for shipping products that cost less than 5 dollars and weigh approximately less than 3 kilos.
Unlike other fast shipping services, such as Cainiao or China Post, this shipping method does offer a tracking number (even though it is "ordinary", i.e. it doesn't require a signature for receipt).
Can you trust an AliExpress shipment?
Yes, of course! AliExpress has been an important reference when it comes to online shopping sites for several years because it has earned the trust of its users. The platform ensures that you can buy everything you need, safely and with just a click.
Of course, an incident could always happen, but you have nothing to worry about because the packages usually arrive in time and perfect state.
Tricks to receive your orders in less time
Need to receive a specific order? You can speed up the delivery time by filtering your search by AliExpress. Here are the steps:
First, log in to the shopping portal.
Then, in the "Search" bar, enter the name of the item you wish to purchase.
Filter your search with "Fast Delivery".
And that's it! In addition, you can choose to buy from a supplier that's closer to your country of residence, that delivers to it or that has a warehouse outside China, in areas close to your residence.
One last tip!
Another concern expressed by users when buying through AliExpress is that many times the seller doesn't send the product through the courier system. Even though the important thing is that the package arrives in your hands, if you need the requested item to be sent through a specific agency, you can contact the seller before receiving your order if you haven't specified the final shipping guidelines.
However, if you haven't paid any amount for the shipment, the seller can actually use another method of shipment without being penalized. But if this is not the case and the seller has skipped any agreement, you can claim the shipping cost.
Finally, and as we always recommend: before deciding to open a dispute, first talk to the seller to try to reach a consensus.
Normally, there are many concerns that you may have when shopping online. Luckily, we're here to help you! We invite you, if you like, to visit our other informative articles where you'll clear all your doubts, so you can learn how to navigate AliExpress like an expert.