If you're new to AllyLikes, you may have many questions about their application or website. There is even the possibility that you don't know how to buy in this store or how to solve your doubts.
Despite this, you can relax. AllyLikes has incredible customer service that will guide you through the store and make your experience there one of the best.
So, if you have any problems or questions, don't hesitate to contact the AllyLikes team and make the most of your time in this store.
Below, we show you how to achieve this and do it successfully. Read on.

When should I contact AllyLikes?
Now that you know about the customer service of the Chinese-origin store, you should know in which situations you should or can contact the AllyLikes team.
Specifically, you can make use of this possibility if you have any issues with deliveries or orders. For example, if your package doesn't arrive on time or is listed as delivered, but did not arrive, you should contact the store.
Also, talk to AllyLikes if you are interested in an item, but are hesitant to pay for it, either because of the product itself or because of the stock.
Besides, you may have problems with payments or with your account, and the AllyLikes team will be the only ones who can help you.
How do I contact AllyLikes?
First, you should know that contacting the AllyLikes team is very simple. Then, you will be able to do it through several ways of communication.
Do you want to know which ones? Read on, we will introduce them one by one.
Write to AllyLikes by email
If you want your query to be solved quickly and easily, you should email the store.
You have to write to [email protected] and tell them what your problem is. Don't forget to add a subject to the email, so the store knows what your message is about or the reason for your inquiry.
Contact AllyLikes through their website
Another option to reach AllyLikes is through their website. There, you'll find a form in which you will have to add your data and the reason for your query.
If you use this communication channel, you will receive the store's response almost immediately in your email.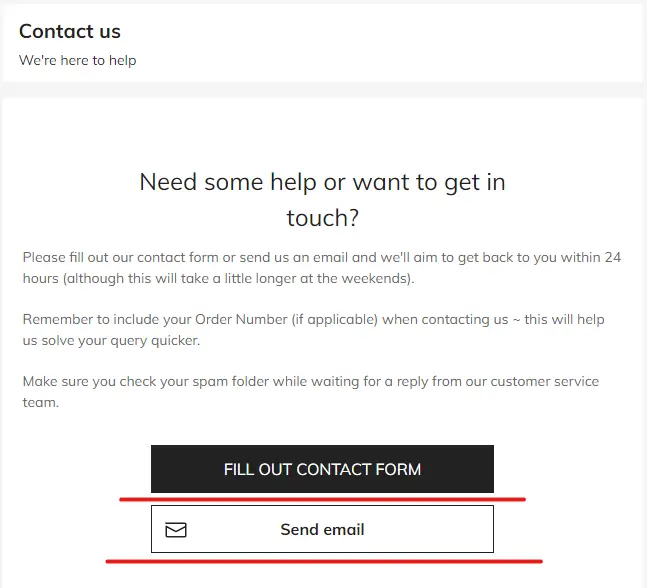 Returns: Should I contact AllyLikes?
In this specific case, no. That is, if what you need is to process a return, either because the order does not match what you paid for, there was an error, or it arrived damaged… What you have to do is initiate the process, but not contact the store.
To do this, you must go to the list of your orders and click on the "Return" button below the purchase you want to return to AllyLikes. Once you have done this, you will have to complete the details requested on the page for the store to confirm or deny your return request.
Remember that if you have any problems or doubts about how to proceed, you can contact the AllyLikes team. We suggest you do so through the website.