AliExpress has always been recognized as a shopping platform with international relevance, where users from all over the world can purchase products at low prices. Even so, there are options to save more money, and this is the case with coupons.
The low prices found on AliExpress can be lowered even further through the various types of discounts, coupons, and promotional codes that can be obtained.
Sometimes it's difficult to keep track of which coupon is best and how you can get the most out of it, so in this article, we'll try to solve all your doubts. Before we begin, we'll remind you which coupons and promotions are currently active:
Types of AliExpress coupons
Next, we'll explain to you in detail what the AliExpress coupon types, promo codes, seller or store coupons, and selection coupons are all about.
AliExpress coupons
These are the most common ones you'll find on the platform. They're probably the best option since they're applicable to any AliExpress product. They're differentiated by their distinctive red color.
These coupons are linked to your account and aren't manually entered at the last step of the purchase, but are claimed and used at checkout. They are compatible with merchant coupons, but not with promotional codes, so you'll have to choose which one suits you best if you have both. You always have to take into account their expiration date.
You can check if you have any available coupons by clicking on this link.
What can you do to earn coupons at AliExpress?
Welcome (or New User) coupons
You'll find them when you make your first purchase on AliExpress, and you'll get a discount of 3 dollars on a minimum purchase of 4 dollars. If you haven't made any purchases yet, you can still benefit from the welcome coupon.
Claim yours here, click on the coupon, and you're done. You can learn more about this in our article on new user coupons.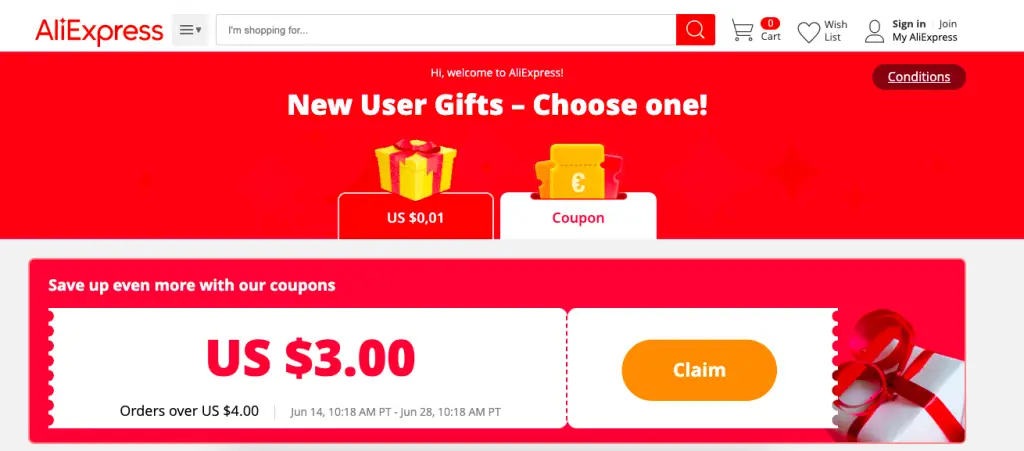 Exchange coins
You can exchange coins for coupons. Coins are rewards given by AliExpress for checking in daily on their site. When you accumulate a certain amount, these coins can be exchanged for coupons. However, keep in mind that coupons can run out, and you'll have to make another attempt to get the coupons you want. You can start exchanging coins and coupons here, and learn more in our articles about coins and how to redeem them.

Invite friends to the platform
Another way to earn a coupon is to bring friends to AliExpress. For each friend you invite and register to the platform, you'll get a coupon worth a certain amount (click here). In some cases, your friends will receive a discount coupon. You can learn more in our article about the referral program and the benefits of inviting your friends.
Special and "hidden" campaign coupons
You can also find coupons hidden by the app and the website on special campaigns and holidays. If you look closely, you can get discount coupons that pop up.
Birthday coupons
As the wording indicates, it's a gift coupon that the platform offers you along with other special discounts for you to celebrate your birthday. You can check if your date is up-to-date by clicking on the link.
You have to keep in mind that each coupon requires a minimum purchase amount to be used, as well as an expiration date. The higher the value of the coupon, the higher the minimum purchase.
You can check the expiration date of your coupon by clicking here.
Promotional or discount codes
These are the classic letter and number codes that you have to insert in a bar before making the payment. Along with AliExpress coupons, they're the best option to save money.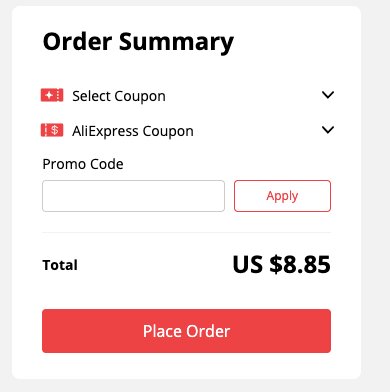 You should keep in mind that these are not compatible with coupons, which means that if you have coupons and codes, you'll have to choose which one suits you best and use it.
These codes can be easily found in special AliExpress campaigns, both on the front page of the app and on the website. As they're limited, it's recommended that, when you come across one, you use it right away to make sure you don't run out.
Seller promotional codes
This style of coupon is very uncommon. They can be found on the product card, within "Discounts and Coupons" or also on the front page of your store. They are orange and, on AliExpress, most sellers offer some coupons that can only be used on their items.
Store coupons
These are orange and can be found on their storefront page or item description. These coupons depend on whether the seller wishes to offer them or not, you can see them all here.

Select coupons
These tickets are usually available on big campaigns (or special holidays). They're very easy to get, therefore, you're very likely to accumulate quite a high amount of balance with them.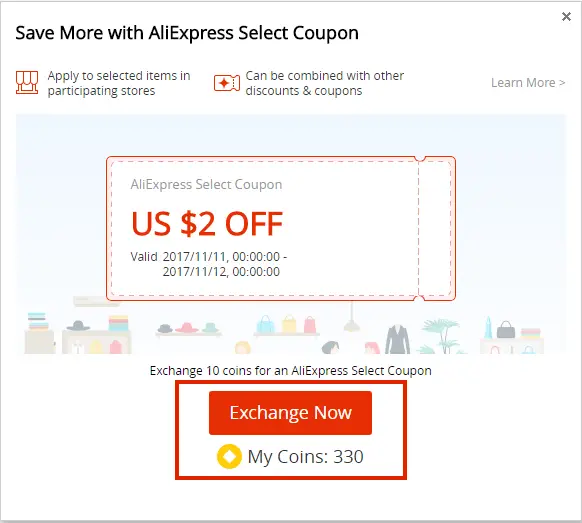 The use of this type of coupon has a small drawback: they're not suitable to apply to all your purchase. If it happens to be the case that you have a total accumulated balance with these promotional codes (or discount coupons), you can't use the total accumulated you have either.
To use them, you'll have to look for sellers that accept them on their items, and you should also keep in mind that these coupons have a maximum limit of discount amount, depending on the amount of money spent.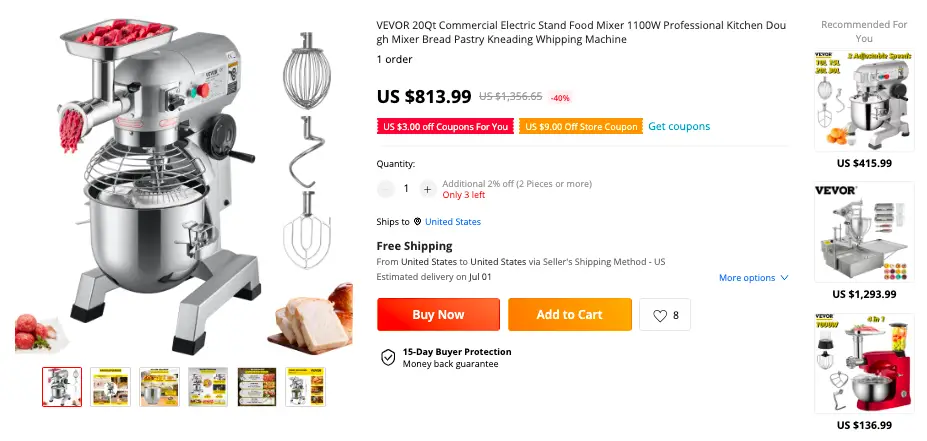 How to use selection coupons?
Let's take for example the item shown in the picture above: let's assume that you want to buy this blender using the discount.
If you notice, there are quite a few coupons and discounts for you to use. If you apply them, the blender has a 40% off from its original price.
Another good aspect of selection coupons is that they're compatible with AliExpress coupons and seller coupons, so it's best to use them in purchases of a higher value. You can save a lot of money by combining all of them.
Where to find discount codes?
These codes are usually associated with AliExpress special days and holidays promotions and the truth is that they're becoming easier to find on the homepage, in the mobile app, or in the web.

You can look for them a few days before the special campaign starts, so you'll spend them before they're sold out. Remember that AliExpress always announces them some time in advance.
Other ways to save on your purchases
We'll show you some other alternative ways in which you can avoid spending a lot of money on the platform:
Buying several of the same items
This is one of the most common ways to save a few dollars. If you buy more than one of the same item, or different products from the same section, the website grants you a special discount. However, it's not usually a significant discount.
This discount is indicated on the front page of the article, under "Discounts and Coupons".
Direct seller and AliExpress discounts
To get them, you have to meet the minimum amount of money that's indicated in your purchase.
These coupons are very similar to the selection coupons and are applied automatically (i.e., you only have to select them) when you make the purchase. You should also know that, unfortunately, they're not always available. They're only obtainable on some special AliExpress campaigns.
Another quite practical way to earn coupons and discounts is to be active on AliExpress, loyalty is very well rewarded. The Chinese platform rewards you for using the site frequently, giving away coupons for being active and visiting the front page of the site daily, either on its app or web.