As of lately, AliExpress has added a new shipping method so that you can have another option when making a purchase on the platform. It's called AliExpress Selection Standard and in this article, we're going to tell you in detail how it works.
This online shopping site has different types of shipping:
What are the advantages of using this new method? Can it be better than the popular AliExpress Standard Shipping?
At the moment, the platform hasn't provided a lot of information on it. However, we've already tested this method and that is why today, we're going to tell you the advantages and similarities with the rest of the shipments so that you can choose the most convenient one.
To see the type of shipping for a product, click on this link.
What is "AliExpress Selection Standard" shipping?
As with all the methods that have "AliExpress" in their name, they're shipments managed by the platform itself. They work through agreements in some countries with logistics companies to provide the most convenient delivery times for the buyer.
The "AliExpress Selection Standard" is a new very cheap shipping method. It has a tracking number and is usually offered on some of the platform's products -usually those costing more than $10-.
Its delivery time is 3 or 4 weeks, depending on the destination country, and it works in a very similar way to AliExpress Standard Shipping. Most sellers offer both options.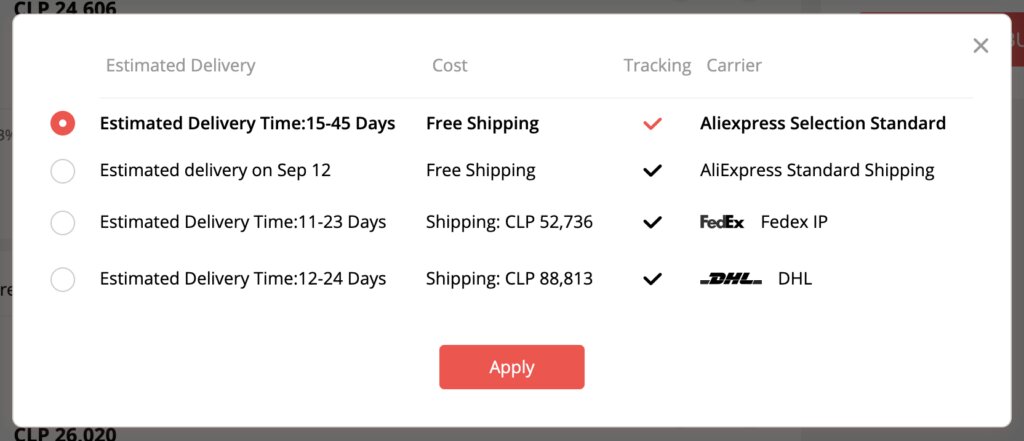 Is it worth choosing this shipping method?
As it's a certified shipment, you'll be able to track your package throughout the whole journey. In this sense, it's worth choosing this type of shipping over other ordinary or cheap ones that don't have a tracking code.
With this certified shipment, you'll have all the updated information on the route of your order, and it'll also arrive in less time than others, with a lower incidence in all the countries where it's available.
How to track your order using the tracking number
When you buy a product with the AliExpress Selection Standard shipping method, you'll be able to track it in the same way as with any other AliExpress shipping number. It's recommended that you enter the code on the home page of global.cainiao.com, which provides tracking for this online platform.
You can also check on sites such as Postal Ninja, 17track.net, or Aftership. Generally, you'll get information from any site that allows you to track orders through different carriers. Please note that in some countries a new tracking number will be assigned to your package upon login.
Differences between AliExpress Selection Standard and AliExpress Standard Shipping
We've tested this new method and the truth is that there are no differences between the two shipments. The two work in a very similar way: the tracking number is very similar, as well as the delivery times.
We also noticed that many sellers who used to ship their products through AliExpress Standard Shipping are now shipping through AliExpress Selection Standard.
Whether this new method has a greater impact will be determined over time. For now, both shipments are reliable, fast, and secure.
Don't forget that if your order does not arrive within the estimated time, you can always open a dispute to request a refund.