Sometimes, certain inconveniences happen when shopping online. This time we've prepared a guide with everything you need to know about AliExpress claims and disputes. Plus, we'll give you some tips on how to win them.
You can find the form to open a dispute here.
When to open a dispute?
We must make it clear: You shouldn't always open a dispute or a claim. Opening a dispute should be done under specific situations and that's why we'll teach you which situations are the proper ones to initiate your claim.
→ Product that isn't the same as the description or comes with a defect
If upon receiving the product you perceive that it's broken, the description doesn't match what you received or it's the wrong size, it's a good time for a claim and you have every chance of winning in case you do so.
For the claim to be effective, we recommend that you attach as much evidence as possible, such as pictures of the size of the garment, screenshots of the measurements that the seller posts in their store, and videos that demonstrate the problem with the product.
By doing this, it's more likely that you will receive a full refund (remember that a refund is always better than returning the product to the seller).
→ Products with a slight defect
If a product is in good condition, but still doesn't quite correspond to the description, you can also open a dispute and request a partial refund.
An example of this situation is, if the color is different than desired, the quality isn't as expected or it has some imperfection.
It should be noted that, just as in previous cases, the more evidence you attach, the more chances you have of winning the dispute.
→ Incomplete order
If your order contains more than one product and some of them are missing, claim a partial refund and you'll be refunded for the missing products.
The most appropriate way to prove that some product is indeed missing is to record yourself opening the package, although if you're a buyer who doesn't abuse disputes, (i.e. someone who's serious), only a photo of the package just opened will suffice.
→ Fake product
Should you receive a product that isn't original, you can claim and you'll get a full refund. It's of utmost importance that you attach all the evidence you have justifying that it's not an original product.
→ You receive a product that you did not order
If, for example, you ordered a smartphone charger and you receive an iron, you should open a dispute and you will get a full refund.
→ The order didn't arrive
When the product is due to arrive and you haven't received it or it appears as "Shipment canceled" in the tracking, open a dispute and AliExpress will refund the order in full.
It's very important that the dispute is opened before the end of the order protection period. A screenshot is proof that you must provide.
→ The shipping method is incorrect
If you've specified a shipping method and the requested order was shipped another way, you can also open a dispute. If the shipping is free, you will not receive a refund; but if, on the other hand, you paid for the shipping, you may be able to get a partial refund and sometimes even a little more for your trouble.
As you can only claim once per order, you'll have to wait until you receive the product. Make sure everything is alright and then, after that, you can open the dispute for the shipping method. In the event of a change of shipping method – which does not affect anything – and the order arrives on time, we don't recommend that you open a dispute.
→ Order that wasn't received but appears to be delivered
Main article: AliExpress order delivered but not received
This can happen for different reasons, so we recommend that you ask the seller and wait. In case the seller doesn't have a solution for you, open a dispute: AliExpress will most likely accept it without asking any questions and you will soon receive a full refund.
For this case, some websites can be useful. In some of them, such as ParcelsApp or Ninja Post, you can get information about the city where it has been delivered. Besides, it makes for good proof that you can use in your dispute.
Disputes: How to open them?
Before a dispute is opened, we recommend contacting the seller, explaining the situation, and notifying them that you will open a dispute. You can contact them through this link.
Doing so will make you look good in the eyes of AliExpress, but it's important to remember that in order to get a refund, you must always open a dispute, so you shouldn't pay attention to things like "I'll send it back to you".
To open a dispute you need to follow the steps mentioned below:
Access your orders (you can use this link).
Search for the order in question.
Click on "View detail".
Click on "Open dispute".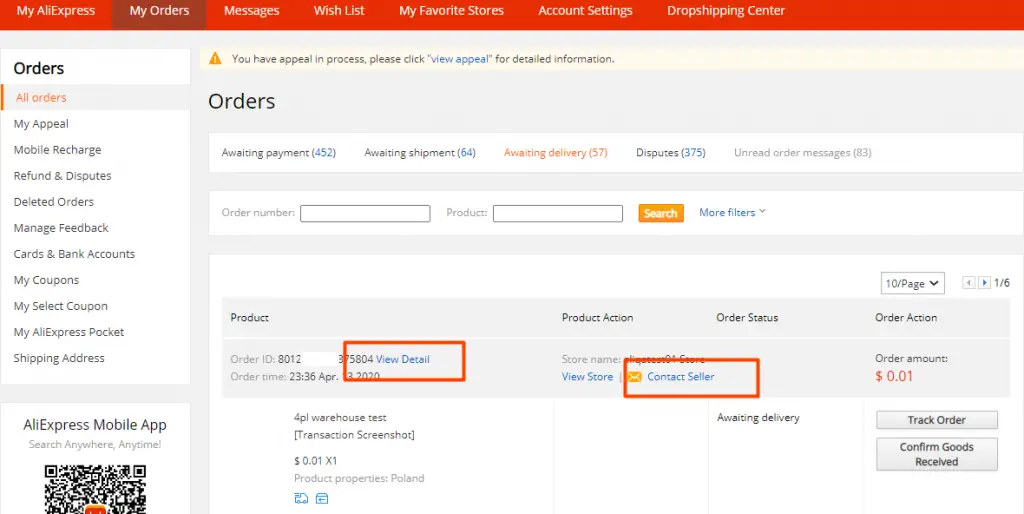 Decide if you want to ask for a refund or just make a return (remember that, in case the product is not marked with "Free Return", the shipping is at your expense).
Choose the reason for the dispute: you can choose the most similar one if you can't find the exact reason, add all the explanations you need, and attach all the evidence. This way, the reason for opening the dispute will be clear.
→ Dispute after confirming you've received the product
Once you've confirmed having received the order, you have 15 days to open a dispute, so there's no problem with you confirming receipt of the order, as this won't affect the decision taken and doesn't put your money at risk.
Dispute phases
In the first phase, the request will be answered by the seller.
The seller has two options: to accept your proposal or to present a different alternative, offering you to wait a little longer, or less money than what the product was worth, or the possibility to return the product. Please note, as mentioned above, you may have to pay the shipping costs yourself.
If after a few days no agreement has been reached with the seller, AliExpress will have its team automatically intervene in the dispute.
At this point, an external agent will review the documentation and offer an impartial solution, so we remind you that it's very important that you provide all the necessary information.
After all this, AliExpress will present its proposal and this is when you will have to pay attention to the "End of negotiation" date (you can check your disputes in the following link).
Now, before the date mentioned above arrives, you'll have to choose between AliExpress' proposal and the seller's proposal. If the day arrives without a decision, the resolution proposed by AliExpress will be applied.
If the resolution indicates that you must make a return, the refund will be completed once the seller receives the product, for this reason, such shipment must be certified with tracking. Now, if the resolution indicates that you will receive a refund, this will begin to be processed when the dispute is closed and it will take only a few days for you to receive your money.

AliExpress Resolution
When a dispute is opened, it'll take some time for AliExpress to intervene and when this happens, you will receive a notification in your email with the decision they have made in your case.
Another option to see the decision made in your case by AliExpress is that, through the dispute, you click on "AliExpress Judgment Details": you'll be able to see if the reason is valid or not for the platform.
Judgment from AE Valid: They agree to your request and establish that you're right in your claim. Generally, they will propose a full refund without returning the product.
Judgment from AE Invalid: After having reviewed the case, they don't agree with your request and according to the evidence provided, they will place a solution that they consider impartial.
Tricks to win claims
The amount of evidence you present is one of the most important factors to win the claims or disputes. Another important factor is to be as clear as possible when exposing your problem. The more information you provide, the easier it will be for AliExpress to prove you right.
Another important factor is credibility because if you open a dispute every time you receive an order, AliExpress will not take you seriously.
Finally, the relevance of AliExpress messages is high, so you must read them carefully. For a minimal error on your part, you can close the dispute. You shouldn't accept the seller's proposal when AliExpress's resolution is more favorable to you. You can also choose to return your order when you're explicitly advised that you have to assume the shipping.
How to accept the proposal depending on the case
Depending on which of the two proposals is more favorable and which one you like more, you have to click on "Accept". Remember that once you accept the proposal you choose, the dispute will be closed and you won't be able to open another one. We recommend you make sure that everything else is fine with the order.
It should be noted that you shouldn't close the disputes because of the seller's promises because you will lose the possibility of opening another one.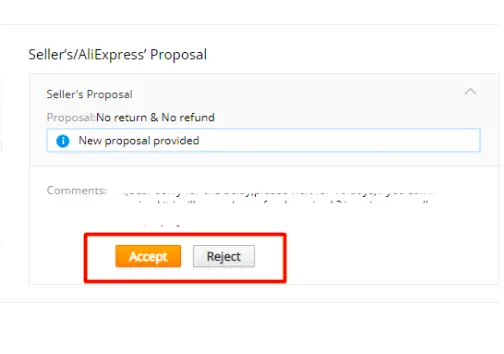 When and how will I receive my refund money?
Main article: Refunds on AliExpress
After finalizing the dispute, the refund will be made through the same payment method you used and takes approximately 15 business days. Remember that there's a possibility that you won't receive 100% of your money, especially if your local currency isn't accepted on AliExpress and also no refund will be made for bank fees.
AliExpress doesn't let me open a dispute. Why?
Although AliExpress usually leaves warning messages, these are the most common reasons:
The first 10 days that must pass since the shipment has been made haven't passed.
When the dispute is opened because the order hasn't arrived yet, the status shown is that it's in transit.
The protection period of 15 or 60 days has passed after receipt of the order was confirmed.
You're attaching an unsupported aspect to the claim or a very heavy/incompatible file.
If you are still unable to open the dispute, the best thing to do is to contact AliExpress customer service (click here) or the seller.
Canceling a dispute: How to do it?
There may be occasions when seeing that the order doesn't arrive, you open a dispute. Then in less than 10 minutes, the order arrives, making you what to cancel the dispute.
In that case, you just have to look for the dispute and click on "Cancel dispute". However, before doing that, check that everything is right with the order you just received.
Another case that may arise is that you realize that the explanation you've made doesn't convince you or you lack evidence. In this case, you just have to close the dispute and reopen it again with a better explanation of your arguments.
Finally, it may be that the dispute you started was due to a delay in the order and the seller or AliExpress asks you for more time. If this is the case, you'll have to cancel and wait.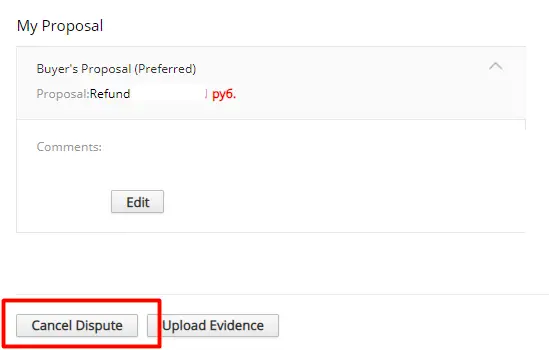 How to edit the dispute if it's in progress?
As long as the dispute isn't closed, you can edit it or add more evidence.
However, if the resolution provided by AliExpress isn't to your liking or you have new evidence that can make everything play in your favor, it's better to cancel the dispute and open another one with all the evidence and explain it in a better way.
Reopening a closed dispute
When you cancel a dispute, but you're still within the protection period, you can open a second dispute without any problem.
If, on the other hand, a dispute was previously opened and you have already selected or accepted a resolution, you won't be able to open another one, although you can appeal it.
How to appeal a dispute?
This is a last resort solution that has existed for a long time for cases where you're not satisfied with the resolution.
It usually never reaches this point, but, if you think the resolution isn't fair, you'll have 7 days from the end of the dispute to contact AliExpress customer service.
What is the phone number on AliExpress for claims?
Main article: AliExpress customer service phone number
The truth is that there's no customer service number. The ones that appear on the AliExpress page or the internet are from physical stores that won't help you with your problem, as they're usually different companies.
Returns: How do they work?
Main article: Returns on AliExpress
Returning your order is a good option, as long as it indicates that the return is free. In that case, if you don't like it or it doesn't correspond to what is described on the page, the best thing to do is to request a refund and return it, although you can also consider that if the detail is small, you can request a partial refund.
Buyer protection and warranties
For the buyers' peace of mind, AliExpress has a buyer protection policy to inform them about the rights they have.
The different guarantees that you'll be able to find are as follows:
Local warranty: AliExpress will comply with the legal obligations of each country in which it operates. For example, if in your country the warranty is 2 years and the return period is 14 days, AliExpress will comply with it.
Money-back guarantee: Following the steps explained above, you'll receive your money back if there's any problem with your order.
Free and local returns: Some sellers will indicate that the return is free and will give you a code to make the return. However, this option isn't available in all countries.
How to report a seller?
If a seller violates the rules that AliExpress establishes for commerce, such as illegal product sales, or inappropriate behavior… you can report them to the platform. Here you can find exactly how to do it.