As you may know, AliExpress has several shipping methods, and today we'll be talking about the so-called Seller's Shipping Method. Find out with us how it works and how it differs from other shipping methods.
Seller's Shipping Method, what is it, and how does it work?
The Seller's Shipping Method refers to the fact that the store in question will be the one who chooses the method and the company that will deliver the package.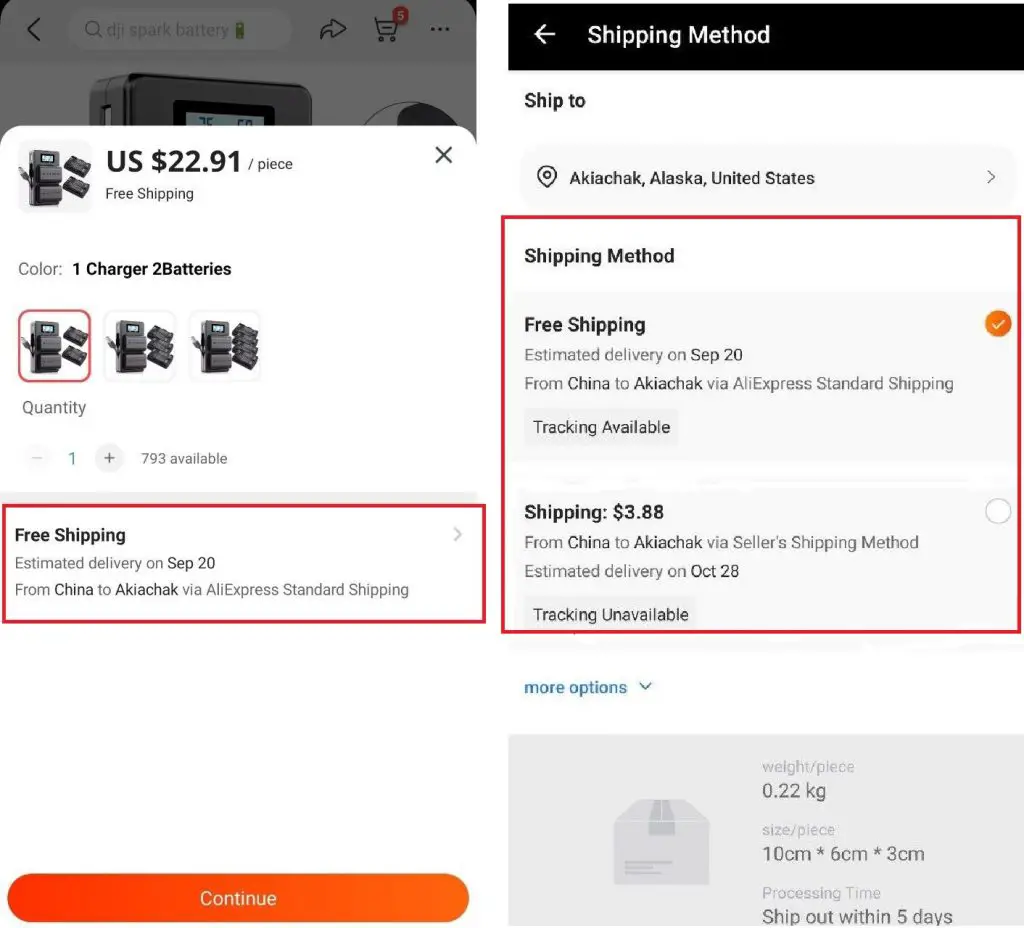 To learn more, we invite you to visit our article "AliExpress Shipping Methods" where we explain in detail everything related to this topic.
Can I track this shipping method?
Although the seller is the one in charge of deciding the method of sending the package, it will not stop being an ordinary one and without the possibility of tracking. Therefore, once it is out of China and arrives in your country, you will no longer be able to track it until it is delivered to you.
This type of thing happens because it is an inexpensive and quite accessible shipping method that is generally chosen when orders cost less than 5 euros.
On the other hand, it is very normal for the delivery person to leave the package at the door of your house, and thus you do not have to sign anything to receive it.
Is it possible to know which courier company handles my order?
If after making your purchase you were able to verify that the shipping method used was the Seller's Shipping Method, you just have to enter your username and then enter "track order".
It is important that you know that the tracking number can take between 5 and 10 days to appear, so you should not despair. In any case, you can always send a message to the seller to ask for some information regarding the order.
How long does it take for an order to arrive with this shipping method?
Unfortunately, we cannot say an exact time in which your order can arrive with this shipping method since the date provided by AliExpress only works as an estimate, it is 75 to 80 days.
And yes, it sounds exaggeratedly long, but this is because since it is the seller who decides the shipping terms, the company AliExpress can't be bold enough to put such a small date, unlike other shipping methods.
Also, your order may arrive much sooner than that established time, but that does not mean that they are the fastest to deliver.
What does the message "delivery date 'x' or full refund" mean?
This message means that if you do not receive your order on the established date, you will be free to open a dispute requesting a full refund of your order, which will be accepted by AliExpress immediately.
If you want to open a dispute, you can click here.
Disputes are for things that are really necessary
If you tend to open disputes very frequently, you will run the risk that AliExpress will stop taking you seriously and may even ban you, even if you have not received your order.
Therefore, we recommend making disputes when they are really necessary and are requests for relative amounts that do not raise suspicion of the moderators.
How is the Seller's Shipping Method different from others?
We'll leave you here a comparison between the different options that most often appear together on AliExpress, so that you can choose the shipping method that meets your needs.
AliExpress Saver Shipping vs Seller's Shipping Method
Although both methods are of the ordinary type, AliExpress Saver Shipping has the advantage that you can track your orders and the delivery time does not exceed 30 days.
Therefore, if you have to choose between the two, the best is AliExpress Saver Shipping.
AliExpress Standard Shipping vs Seller's Shipping Method
This case is not very common to be seen in the shipping options, however, if both options appear, the best one will always be AliExpress Standard Shipping because it has an order tracking certificate and its record delivery time is 15 to 20 days.
Cainiao Super Economy for Special Goods vs Seller's Shipping Method
In the case of these two options, there is not much difference, since both are ordinary shipping methods and do not have tracking.
However, Cainiao Super Economy for Special Goods has a great advantage in its favor, and the biggest is that it has an estimated delivery time of 30 to 50 days while Seller's Shipping Method is 75 to 80 days of waiting.
Final opinion
In conclusion, we can tell you that the Seller's Shipping Method is a good option if your order has a value of fewer than 5 euros since it does not present any problems despite the time it takes to deliver your order.