Sometimes, what we order on Shein isn't what we expected, or we don't like the way it fits, and after the initial disappointment, we may question how to return it.
In this article, we'll explain in detail all you need to know about Shein's return methods and how you can make returns, even for free. If you want more information on this, you can read Shein's return policy through this link.
Methods to make a return at Shein
In this section we'll show you two ways to return items on Shein:
Follow the steps below to return successfully:
The first thing you need to do is to view the order you placed from this link and select "Make Return".
Select the products you want to return.
Pick the return and refund method you want.
It's important that you place each item in its bag and envelope, so don't throw anything away when you receive your package.
Ship the package.
Once the package arrives at Shein, the company will do a review and then refund your money.
You will be credited for the refund in approximately two weeks.
Return orders through your country's post office
This option is much easier because you don't need to print any labels or do anything special with your package. Here are the steps you need to follow:
Return label: you only need to download it. You don't need to print it, you can scan it.
Post office: you can go to any post office and show the label.
Confirmation email: once you have done all these steps, you will receive a confirmation email with the number assigned to your package and follow the return.
Making a return by paying
Because some countries don't apply the above return methods, if you want to return your order to Shein, you may have to do it by your own means and with your own money.
You will have to cover the shipping costs unless Shein tells you otherwise when you make the return inquiry. The steps are the same as above, but in the shipping method you will select "Return by my own means". Shein will then give you the shipping address.
Important fact: you must send the package to the address provided by Shein, and not to the address that appears on the package when you received it.
You must also keep in mind the following points:
All items must be in their original packaging along with the labels, which have the barcode, undamaged.
You must attach the shipping or receipt number provided by Shein under "My Orders" and then under "Return History".
The return number must go along with the recipient's name, to make the process faster.
Important aspects of Shein's returns
Here are the most important things to consider when purchasing a product from Shein, especially if the product doesn't convince you, and you want to return it.
1. Cost of return
A plus point for new users is that the first return is free (although it won't be expensive later). You can even make a single package, with all the returns, to avoid unnecessary expenses.
2. Days available to request a return
You can return your purchases before the end of the 45 working days given by Shein since you purchased the product.
3. The time it takes Shein to issue a refund
The refund takes approximately 10 days after the package arrives at their facilities, and you can do it through Shein's wallet (this is the fastest method) or through the account that you used to make the purchase. You only have to select where you want to receive the refund.
Important fact: the only thing Shein refunds is the cost of what you bought. Shipping, insurance, and other extra expenses are not refunded.
4. Ways to make a return to Shein
Remember: free of charge through your country's postal system and/or by paying.
5. Return conditions
Some products can't be returned:
Underwear.
Bodysuits.
Beauty products.
Party and event products.
Pet accessories.
Some accessories, jewelry, and costume jewelry (except
scarves, handbags, and blankets).
Shein doesn't accept returns of dirty or damaged products. When a product can't be returned, you will see a warning in the order summary.
Important fact: swimsuits and bikinis can be returned if they have hygienic protection and haven't been damaged in the process.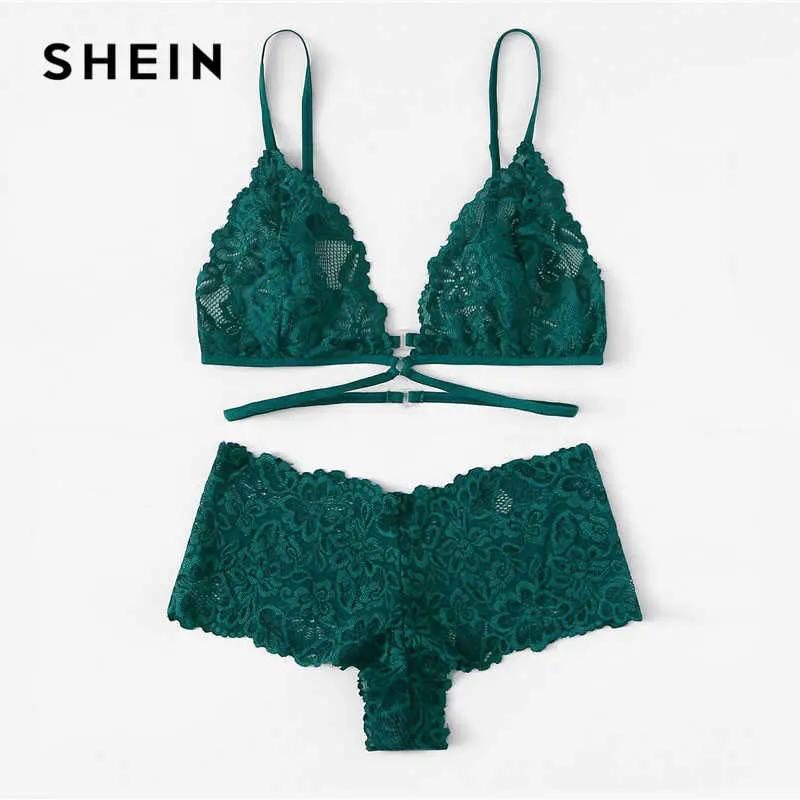 Frequently asked questions

Here we answer some of the most frequently asked questions consumers have when making a return.
How do I contact Shein?
If you need help with your return, the best thing to do is to contact Shein staff through customer service. They do this through automated chats, messages, emails, and on some occasions, by phone.
Click on this link and choose the method you want to use.
If the return label is used, what can I do?
Sometimes, when returning a product, the labels may appear to be damaged. In this case, you can contact customer service to get a new one.
Can I change the size?
Even though you can, you'll have to go through the entire return process and place a new order with the size you want.
Extra fact: if you used coupons to make the purchase, you won't get them back, unfortunately. However, you will get your Shein points.
Can I return my order if it doesn't have a bag?
We recommend that when you receive your Shein order you keep the bag that each item came in and make sure you know which product it belongs to, even before you decide to return it.
However, if for some reason you have broken or lost the packaging, you have several solutions:
Use the ZIP bag of another garment, removing the reference of the garment corresponding to that bag and placing the one you want to return.
Send the garment without a bag.
Place the garment inside transparent bags and write the SKU reference number on top, so that the whole return process is faster.
SKU reference:
This is quite simple to do, you just have to go to the garment you want to return and, inside the section, you will see it under the name.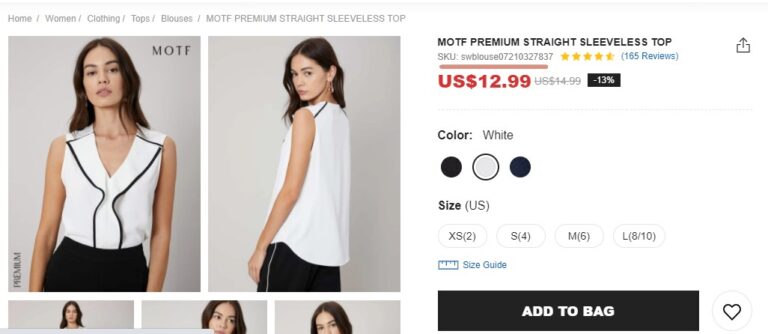 In the mobile app you must first go to the description and look for the SKU reference: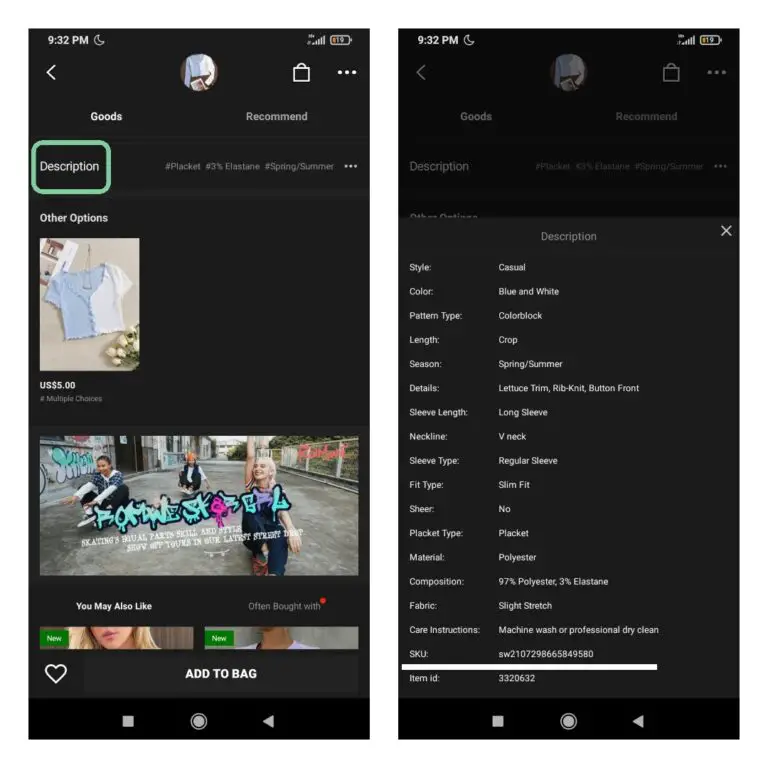 Can I request a return through PayPal?
Shein has changed their way of making returns and now most returns must be made through PayPal. However, opening a PayPal account is not complicated, since you just have to register, link the bank card you want, enter the email address you used to register at Shein and your money will arrive without any problems.
After all this process, you just have to choose where you want to send the money you have in PayPal.
Extra fact: the good thing about using this platform is that they even refund the shipping costs, something that doesn't happen with other methods that we mentioned.