We have already explained in previous articles that it is possible to contact the AliExpress team if you have any problems with your purchases, in case you have not been able to resolve it with the seller. If you want to start a chat with an agent on this platform right now, go to this link.
In the same way that happens with the customer services of large companies, to communicate with an AliExpress agent, you will have to go through the filter of a robot. Her name is "Eva" and she will answer your questions 24 hours a day.
Many of our readers have asked us if it is possible to chat with a real person in a situation like this. That is why, below, we are going to tell you some tricks to get an AliExpress agent to help you. We have already tested them and they work, so pay attention.
How to contact an AliExpress agent
Now we are going to tell you step by step how to contact a platform customer service agent through chat.
Access AliExpress chat
In principle you must access the customer service chat. If you want, you can from this link, directly. Once inside, briefly explain what problem you're having. It is recommended that you use short phrases, such as "my order has not arrived". Do not extend too much in the query because the platform itself will ask you later to understand what is the difficulty you have and find a solution.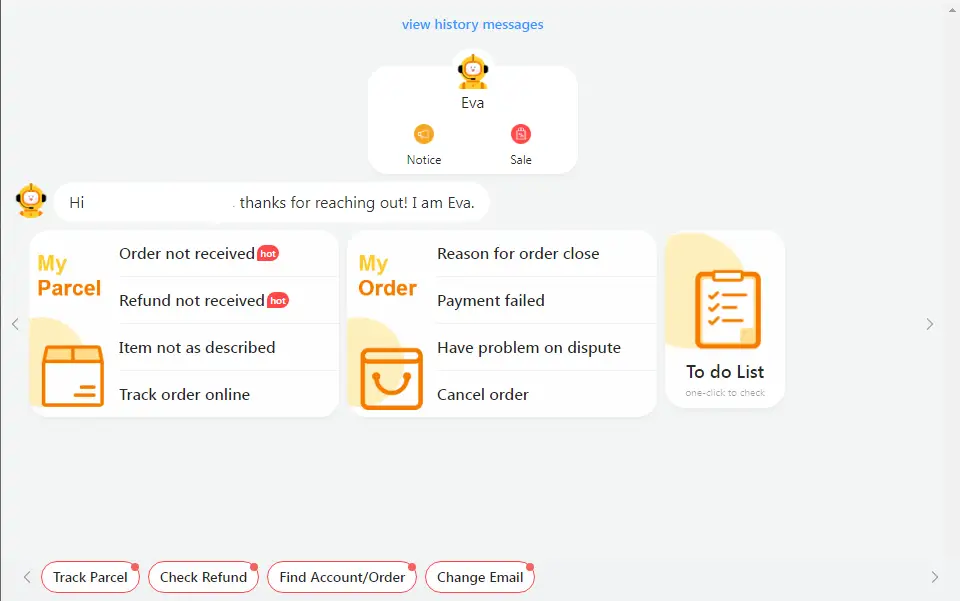 AliExpress will give you an answer based on their FAQ and this can be very useful in many cases because it will solve your doubts quickly. But if you still need to speak to an agent, write in the chat "I want to speak to an agent". The robot will probably ask us more questions to avoid going overboard with a person from the customer service team.
In general, when "talk to an agent" appears as a suggestion, it means that the robot has already understood that it cannot answer your questions. So, select this phrase or rewrite it in the chat and you will only be able to speak with an AliExpress agent.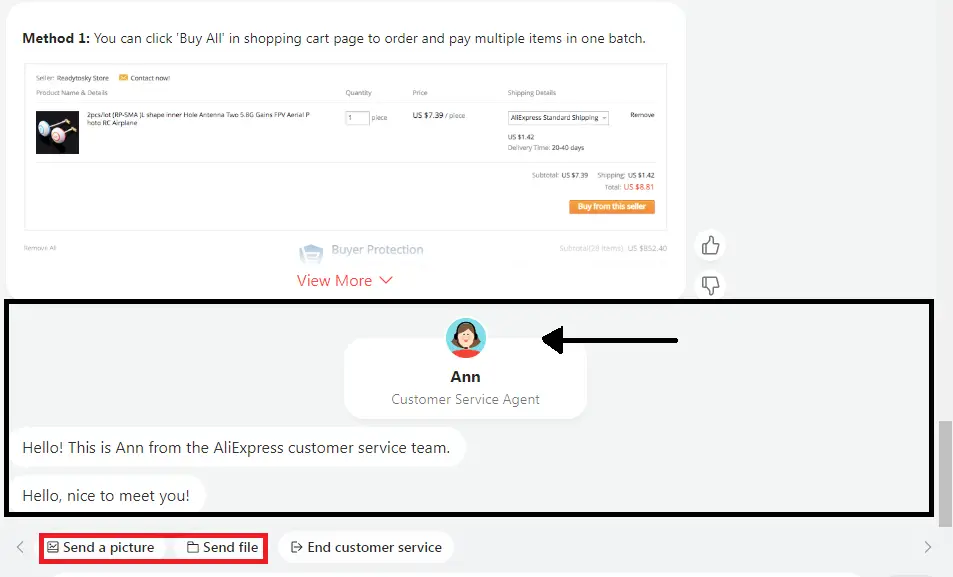 Typically, you'll be put through immediately, but if there are a lot of people waiting, it may take a few minutes to get into personalized chat. At the end of the conversation, you will be able to close the chat directly or evaluate how the attention of the person with whom you spoke was.
Do I have to speak in English or Spanish?
Before, the best way to contact sellers on AliExpress or the platform itself was in English. But this has changed in recent years, since the company decided to improve its presence in Spain, and that is why you will now find agents who speak Spanish.
In general, it is the robot that detects that you are communicating from Spain and that is why it will try to put you in contact with an agent who speaks Spanish. If you were put through to someone who speaks English, ask to speak to an agent who knows Spanish and they will, if one is available.
Can I send files via chat?
The agent will have access to your order history, but you can still send them documents, photos or a tracking number, to speed up the process. Our recommendation is that you have everything at hand so that the conversation is more fluid.
Other ways to contact an agent on AliExpress
If you have already followed these steps and still have not been able to find an agent, AliExpress has other ways of communication that we have already explained in the article on how to contact AliExpress.
To communicate with the company quickly and efficiently, you can use the following service channels:
Through your social networks, either on Instagram or Facebook
By phone
By email to [email protected]
Is talking to an agent the best option to solve a problem?
When a problem arises, we need to resolve it as soon as possible and that is why most users believe that the best option is to contact an agent. However, after years of using AliExpress customer service, we were able to verify that the response can vary depending on who attends us. It may even happen that the agent simply explains to us how a process works.
At the same time, we have obtained very good results by contacting us by e-mail with AliExpress. If you explain the whole problem in the message and attach the corresponding proofs, it may be passed to a supervisor directly. The advantage is that you will have a written response, which can be useful if the problem is not resolved.
Our opinion on contacting an agent via chat
Although many users think that talking to an AliExpress agent is impossible, it is actually easy: very similar to contacting through a robot from a phone company. You will have to be patient while you skip the previous questions but in the end you will be able to communicate with a real agent.
Chat is a very fast and immediate communication channel to contact AliExpress. Although they will not always solve your problem, you have nothing to lose by trying. And in case you don't receive a solution, you can always use other contact methods.