Normally, you won't have any major inconveniences on AliExpress, but if something does happen, you should know how to contact the store and have an agent from the company help you.
In this article, we'll help you do just that. We'll explain in detail the three easiest ways to contact AliExpress.
Is it possible to contact AliExpress?
Of course, it is. You can do it in several ways, but here we'll only explain the easiest and the ones you won't waste more time with. It's not always easy for AliExpress agents to answer the store's phone or respond immediately to email messages.
Here are the three most direct communication channels:
Message the AliExpress chatbot
A great contact option is an AliExpress chatbot. You can access this through the store's website or through this link.
Although with the chatbot you'll only get automated answers to the most frequently asked questions, they'll be very helpful and will guide you to solve your problem. In particular, you'll be able to find important information about orders not received, disputes, faulty items, etc.
Indeed, this is a very effective and fast first channel of communication that can help you to improve your experience on AliExpress.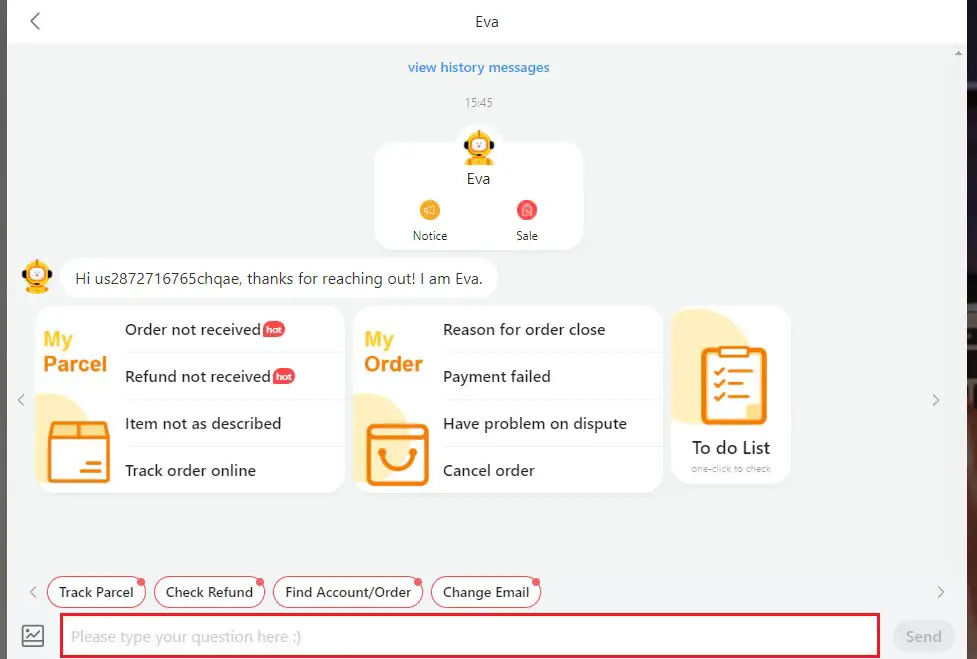 How to access the AliExpress chatbot?
This is very easy to do. If you access the store from your computer, you just have to log in to the AliExpress platform and go to "Account". Then, click on the Need help? tab that you'll find in the pop-up window with the "Eva" emoticon.
You can also access the chat by clicking here or going to this link that will direct you to AliExpress Customer Service. If you choose the latter option, you will have to click on "Online Service" and finally "Chat Now".
That's it. You're now in the AliExpress chat. Remember that you can write your own questions or select one of the questions predefined by the system.

If you want to use the chatbot from the AliExpress app, you will have to go to the "Account" section at the bottom right of the main page. Then click on "Help Center" and finally click on "Chatbot Eva".
Ask AliExpress to call you back
If the chatbot wasn't enough, you can ask AliExpress to call you by phone. If you choose this option, a store agent will contact you from 9 am to 8 pm.
Remember that to use this means of communication you must specify what you wish to inquire about. This way, when you receive the call, the AliExpress operator will know in advance what your problem is.
We must let you know that this option isn't available in all countries, so check beforehand.
How do I request a call?
In this case, you can only ask AliExpress to call you through the store's application. Once you're there, select "Account" then "Help Center" and "Book a call". Finally, choose the reason for your request and click "Send".
Regarding this communication channel, we must say that it's very good because you'll talk to a real person. However, it's often difficult to achieve this because AliExpress only accepts a limited number of calls per day, and you'll have to insist on your request.
Even if a store agent calls you, and you don't answer, you'll have to book the call again.
Check out our article on AliExpress' customer service phone number to learn more about this method.
Send AliExpress an email
Another option is to email AliExpress through this address: [email protected] and detail your problem.
In this case, remember not to send the same message over and over again. The only thing you'll achieve by doing this is that the site's email will be saturated, thus, it'll take longer to answer you.
End notes
Firstly, we can say that the communication channels described above are the easiest to use. However, AliExpress has a lot of room for improvement in this area.
Currently, AliExpress should expand its Customer Service and make more real-time operators available to users. Also, it would have to resume the old option of talking to a store agent via chat, since, automated responses don't always help.