One of the aspects that most users worry about is how to track their orders on the AliExpress platform. Mostly because when shopping online, there are always several inconveniences that can arise, such as the package getting lost, being retained, and the worst of all… that it never arrives in your hands.
We're here to help you, that's why we invite you to stay and discover all the ways you can track your package purchased through AliExpress.
Order tracking number: How to get it?
Once you've already decided which item to take, you placed the order and when the seller has shipped your package, it will go to the list of shipped orders; the seller will attach a tracking number that you can see in the order detail.
How do you check this serial number? Easy! From your computer, follow these steps:
Log in to your account.
Then click on the tab that says "My Orders".
Go to the list of orders and hover your mouse over the "Locate Order" or "Track Order" button.
Then, you'll see the tracking number and the last status of the package. If you click on the button, you'll be directed to a page with more information.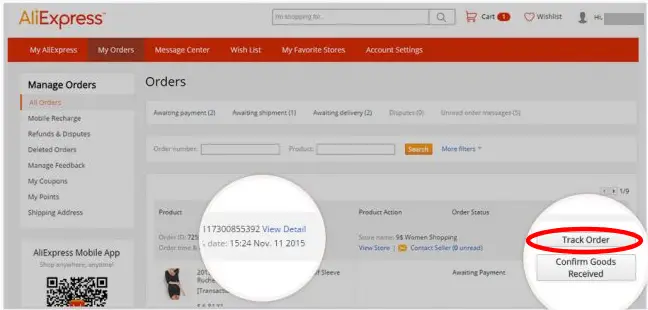 From the mobile application
If you're browsing AliExpress from its app, you'll follow the steps below:
First, go to the order list.
You will go to "Orders pending receipt".
Then click on the "Track Order" button.
And that's it! This action will take you to another page, where you will see the tracking number and the list of movements of the package.
Other pages you can use to track your order
A very important point to take into consideration, in this matter of orders, is whether it's ordinary or not. Generally, ordinary packages or packages that cost less than $5 don't have a tracking number, because they're sent through generic mail. Although it has its own tracking code, the serial will only be useful while they're in China.
Once it leaves the country of origin, it can no longer be tracked if it shows any kind of movement.
On the contrary, orders that have their own tracking number are much more secure and, therefore, more traceable.
Once you have the package number certificate, you can track it through the AliExpress website, as we showed you how to do previously in the section above.
However, there are also external websites where just by entering the serial number of the package, it'll automatically show you the list of movements that the order made until it reached your hands.
In case you have several packages and want to keep an eye on them, the best thing to do is to look for a mobile application that can track the numbers simultaneously, and inform you of changes in their whereabouts. Search in your app center, for some names of programs like AfterShip, 17track, TrackingMore, ParcelsApp… All you have to do is add the tracking number and set up the alerts.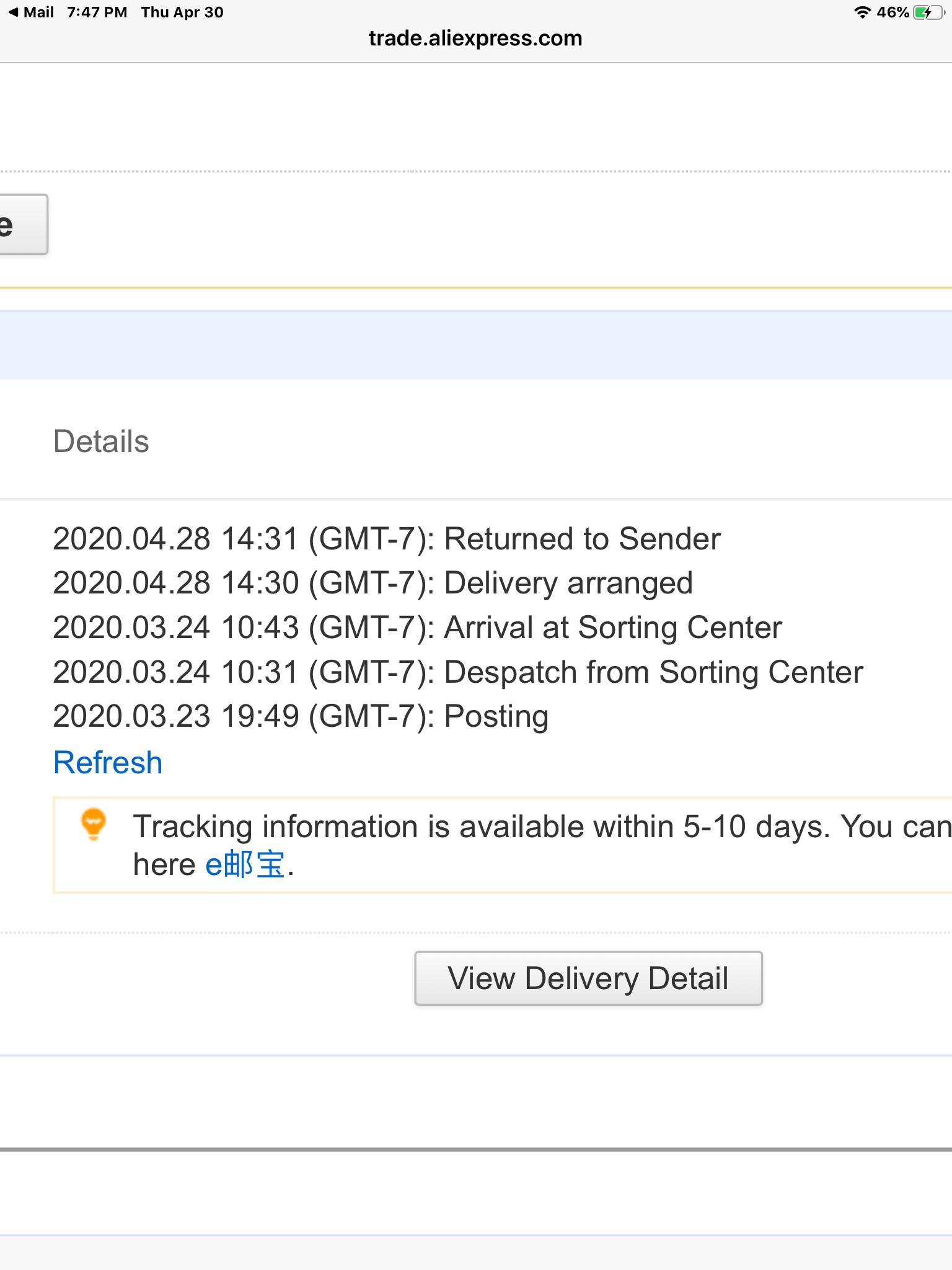 Order Statuses
Now that you know how to track your order quickly, easily, and reliably, we'll show you what each of the statements in the order status means.
Obviously, the following aren't all of them, but they're the most frequent ones. We'll be explaining them in order of appearance, that is, according to the stages of the shipment.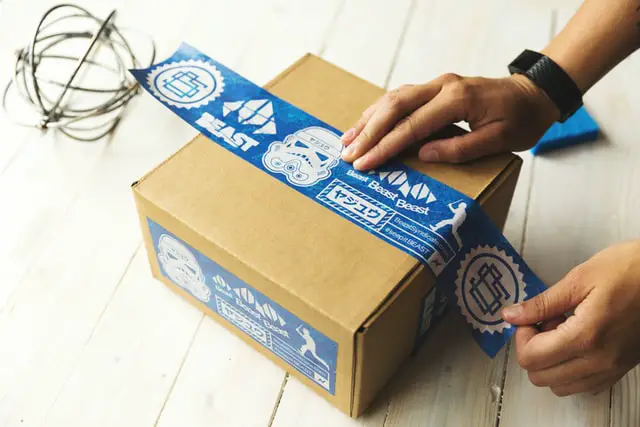 Departure from country of origin
Item pre-advised, preregistered, or collection
When you get this notification, it means that the seller has prepared the package and is waiting for the courier to pick it up.
Awaiting receipt or packed for collection
When this notice appears, it means that the tracking number has been created, but the shipping company doesn't have the order yet.
Accepted, acceptance, posting, received by the carrier, or admitted
This statement means that the carrier has already picked up the package in the country of origin.
Inbound in sorting center
The evocation of this notice indicates that the package has arrived at the sorting center of the shipping company in China. Here, it's packed and prepared for shipment.
Outbound in sorting center or outbound from sorting center
This signal indicates that your order has already left the sorting center of the import company and is now on its way to customs.
Export clearance success
This message appears when the package passes through Chinese customs.
It doesn't matter much, as most of the packages pass through customs in the country of origin without any problem.
Export cleared successfully
With a meaning quite similar to the previous one, this notification indicates that the order has already left Chinese customs and is on its way to the final destination country.
Hand over to airline
The package is already on its way to your geographic location, which means that in a few days it'll arrive at your country's customs, and then it'll be on its way to you.
Arrival at destination country and customs
Arrival at destination country
The following message indicates that the order has arrived in your country, but hasn't entered customs yet.
The customs clearance and verification process may take a few days depending on the volume of packages they have.
Arrival in the destination country, pending customs clearance
It indicates that the order is still in transit in customs, it hasn't moved, nor has it left, everything is exactly normal, as in the previous case.
Accepted by the logistics operator
This notification indicates that once the package has arrived at the final location, any parent carrier in your locality has the package in its hands, to then send it to a logistics center.
Arrival at the distribution center
As mentioned above, your order has been transported and has arrived at a logistics center; it's awaiting processing.
Received by line haul or received by line route
It has arrived in the destination country and your order is waiting to be shipped to your address, depending on where you are located, sometimes your country's initials will appear (or the initials of any transiting country).
Clearing customs
This is a fairly common status notification that may appear when our AliExpress package enters customs, either in the country of origin or in our own country (either any of the above or others). If everything is in order, the package will move to the next status.
Start of customs clearance
It means the same as before, your order has arrived at customs, which doesn't mean that it has been stopped. Wait for the status to be updated.
Pending customs clearance
Don't panic, this notice indicates that customs is checking the package, and if they see anything weird, they will contact you.
Arrive at a sorting center in the destination country
The order has already successfully entered customs in the destination country.
Import clearance success
If your order has already arrived in the destination country, you may see this message when it passes all customs checks and protocols. It means that your order is almost ready to be delivered and that in a few days you'll have it in your hands.
Exception package handling at the sorting center
The order has already entered the customs classification center of your country.
Held by customs in the country of destination / Held by customs
When this notice appears, you do have to worry because it's bad news. You'll probably be contacted soon to inform you how much you have to pay. If the package is through the post office, maybe they'll handle it for you and the letter carrier will charge you something when they deliver it to you.
Customs clearance completed or import clearance successful
When you see this message, don't worry! There's no need to panic, your order has cleared customs and is on its way to your home.
Customs clearance completed
At this point you have to be patient, this order status indicates that the ordered product has already passed the customs checks. It's a common status, similar to the previous one.
Import processing completed, shipment in progress to the address
It means that the package has already left customs and is on its way to your home, it'll arrive at your doorstep in a few days.
The customs clearance process has been completed
This means that the requested item has already left the customs center and is getting closer to reaching you.
Unusual messages for Customs at destination
Failure at the entrance to the sorting center
It doesn't have to mean anything bad. Give it some time or if you're really worried, contact the seller and ask them what happened.
Error in customs clearance
Don't panic either. It sounds serious, but it doesn't mean anything bad. Be patient. If this step takes too long, call or write to the AliExpress customer service center.
Import customs clearance failure or failure in the exit of the sorting center
Although the word failure or error appears, you shouldn't panic. It usually appears when there's a tracking mishap. Most packages usually appear in the process of delivery within a few days.
Fee for post office
It's common to find it in many orders from certain countries, but don't worry until a notification to actually pay appears.
The delivery process at the destination
Arrival at the delivery office
If this notification appears, it means that your order will be delivered soon, in a few days you'll have it in your hands.
In process of delivery: The letter carrier of your locality will leave the package during the day. If you're in a destination that offers "delivering", otherwise you'll have to pick up your order at the nearest postal station.
Delivery failed
The letter carrier has tried to deliver your order but hasn't succeeded. It's best to contact the post office.
Delivered
This means that the package has been delivered.
Received by the carrier for return
If the order hasn't been picked up, it'll be returned to the seller.
Other tracking statuses
As we have already mentioned, each shipping company around the world has its own order transit codes, which means that each one puts its own statuses, but we are going to put some situations of "strange statuses" that may appear on your AliExpress order.
Rfid arrival
It means that the package is in transit to the destination city.
The parcel is still in transit, no worries, we will deliver it to you as soon as possible
It means that the order is still on its way. It's a generic message.
Freight to letter carrier
Appears on 4-72 tracking when it's already at your location.
Gmtc
Usually related to arrival at the destination office.
Transit to the destination branch
Already in your country, less time until the package is delivered.
Other frequently asked questions
We're here to help you, therefore, we're always aware of all the doubts and complications that may arise at the time of any online transaction. Therefore, we try to solve all your concerns.
Having studied the most frequent concerns of our readers and users of AliExpress for a long time, we will try to answer the most frequent questions below.
The tracking number doesn't work
If the certificate of your package doesn't work, relax, there may be many reasons. It's not worth worrying, because most of the time the reasons aren't to suffer. You have the full explanation in the article my AliExpress tracking number doesn't work.
The tracking number shows no movement, should I worry?
Main article: AliExpress order not moving
From the time the seller assembles, packages, and ships the order, it can take up to 10 business days for the tracking number to be assigned, and another couple for it to actually work. Keep calm!.
Also, keep in mind that if your order is a regular shipment, it may never show any movement. In any case, if you're worried, the best thing to do is to send a message to the seller.
The tracking number indicates that the package has been delivered, but it hasn't reached you
Main article: Package "delivered" but you haven't received it
This is one of the most frequent doubts presented by most customers of the Chinese platform AliExpress. As you may have read in other blogs, our recommendation will always be that before opening any dispute or tedious "legal" process, first contact the seller. It's possible that you've made a mistake when putting the tracking number thus, it has given you another customer, or you have any other mishap.
Keep in mind that it's not in the best interest of the store you're buying from to have any bad rating, so they will surely give you some explanation or solution.
If, on the other hand, their response is to say that the code is fine, or they simply disappear from the face of the earth and don't answer, you will have to open a dispute.
To prove that the package hasn't arrived, even if it appears as "delivered", i's best to ask for a receipt from the shipping company (post office). However, many times they refuse to do this type of proof.
Another alternative is to use a site called trackitonline.ru. When you enter the tracking number, it'll show you where it has been left.
Attach this information to the dispute, and you can ensure that AliExpress closes the dispute in your favor.
The tracking shows up as "canceled". Do I have to open a dispute?
If the tracking of your order shows "canceled", the first thing you should do is to talk to the seller to check with your shipping agency and report what has happened.
You should know that this message usually appears when the order has been returned to the seller and won't reach you.
They'll probably send you the order again or refund your money by opening a dispute. Check our article about returned to sender and you will find all the necessary information.
Why do I get two tracking numbers?
Many times two tracking numbers may appear in the order detail.
Most of the time, this is due to an error by the seller or the shipping company when giving the tracking number.
If you're doubting which one is it, and as in the previous case, the best thing to do is to ask the seller.
Do you think the seller has given you a false tracking number?
Many times we may have doubts about the tracking number. For example, because the tracking has started to work before the order has been placed. You can ask the seller, it's often a mistake on their part. If the seller says that everything is fine, we can give them the benefit of the doubt, and in case the order doesn't arrive, we can open a dispute as in the previous case.
Who will deliver the order? Which is the company that manages the shipments?
If you've placed the order with the basic or economy shipping service, the delivery will be carried out by the postal company that normally delivers letters and other packages (state postal service).
If, on the other hand, you've paid for a private courier service, it'll be delivered by their couriers.
Where will the package arrive and will it be delivered to your home?
The package will arrive at the address you provided when placing the order, although in some countries this may vary. You have to put an address where you can be reached, never the address of your post office, because in that case the package will be returned to the country of origin.
If you have recently moved…
If you plan to change your address in a short period of time, it's best not to place orders on AliExpress, as neither the seller nor the post office can change the delivery address if the order has already been shipped. Keep this in mind before making your purchases.
Can I send my package to a P.O. Box?
At the moment AliExpress does not accept deliveries to private lockers or PO Boxes, it's best to put an address where you can be reached to pick up the package and sign for it if necessary.
Many people send their packages to work, where we spend most of our time and where we can be reached during post office delivery hours.
Customs clearance completed, how long does it take to get home?
Once the order has cleared customs, it's not long before you receive your order.
It all depends, although the packages are arriving faster and faster from China, the delivery in your country may vary depending on the workload of the company that delivers the orders, usually skipping states, and after several days stopped, it may appear that it's "In Delivery".
If it has been a long time, we recommend you contact the seller and the shipping company for more information.
Tracking indicates that my shipment has been stopped by customs
All orders go through customs twice: In the country of origin (to check that the contents are not illegal) and in the country of destination (to check if it complies with your country's customs regulations).
You don't need to worry, as most packages from China pass through customs if they are small, light, and not bulky.
 What to do if your AliExpress order is not moving?
Main article: My AliExpress order is not moving
You should keep in mind that there are different types of shipping, cheap shipments are not tracked and so it may be that only the status is updated while it's in China and when it has been delivered.
Sometimes tracking numbers can take a while to update and all the tracking messages can appear all at once after a few days.
I have other questions about my shipments that I can't resolve, what can I do?
AliExpress, in the customer service section, has a section where they answer frequently asked questions, you can check if you find a solution to your questions; if not, we suggest you contact the store you've purchased from or your supplier.
I have received a customs notification, what should I do?
If your package has been stopped, you'll receive a notice asking you to go to customs. They could also as you for some kind of verification of the payment you made for the package, to calculate the customs costs according to the price you paid for the order.
Even if the seller has put a lower amount, we recommend you to mention the real price of the product, otherwise, customs could make a valuation and it'll probably be above what you paid, raising the costs.
How can I avoid customs on AliExpress?
There are several tricks that can help you to reduce the chances that they stop your order, in our article, we'll summarize these:
Place small, low-cost orders: If you're going to order more than one thing from the same seller, you can separate the orders.
Choose tax-free sellers: There are sellers that already include customs fees.
Buy from national warehouses: if you order to your country from a warehouse nearby, you probably won't need to pay customs duties.
If you want to know more about customs, we recommend you to visit our main article about Customs on AliExpress.
Normally, there are many concerns that may arise when shopping online, but luckily we're here to help you!
We invite you, if you like, to visit our other informative articles, where you will clear all your doubts, so you can learn how to navigate AliExpress like an expert.