One of the benefits of shopping at Shein is to be able to track our order, knowing the company that is responsible for shipping, having the delivery time and the possibility of knowing where our purchase is, at all times.
In this link you can see the answers to the most frequently asked questions from users. Below, we will summarize these solutions and try to answer those questions that do not appear on the Shein page.
Find tracking number
Once you add the products you want to buy to your Shein cart and make the payment, it will take 1-3 days for the package to be dispatched.
Once this happens, we will be able to track the order from our shipped orders list by clicking on "track".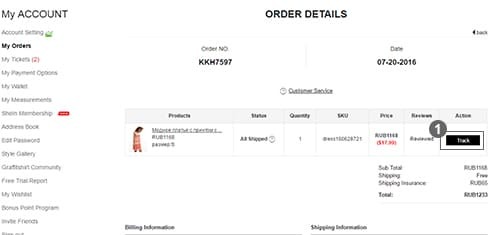 By clicking on this button, you will get information about the shipping company, tracking number, estimated delivery time and order status.
Use the tracking number to track your order
Shein's platform allows us to check the status of our order whenever we want, although we must enter the tracking number when making each inquiry.
This can be a bit tedious for anxious people who want to find out about changes in the status of their order as soon as they occur.
If you are one of those impatient people, you can download apps on your cell phone, such as Parcel or Aftership, that will send you a notification when the status of your order changes.
Tracking can sometimes also be done from the official website of the company in charge of the shipment, although if you do it from Shein's website you will find reliable and updated information.
Meaning of each order status
The status of your order will change as it moves to the next stage of the process.
Here's what each order status means from the time it starts to be processed until it reaches you.
Status of the order since it leaves its country of origin
Order statuses don't just change while it's traveling to your country, you'll also know where it is during pre-processing.
Order placed: This status indicates that Shein is starting to prepare your package.
Exit from the warehouse, left the warehouse or abandoned package in the warehouse: This status indicates that your package is leaving the Shein buildings.
The shipment has been admitted at origin: This status indicates that your package is on its way to the airport and that it is within the shipping system of the country of origin.
Pending network entry: This is the status that appears when your package leaves the country of origin, that is, the company that will handle the shipment will be waiting for the package upon arrival.
Flight departure from China or Hong Kong: This status indicates that your package has already left China or Hong Kong.
Status of the order upon arrival in the country of destination
Below we will show you the states that will appear when your order arrives in your country, where you will receive it.
In transit: This status indicates that your order is arriving in the country where you will receive it or in an intermediate country to avoid customs.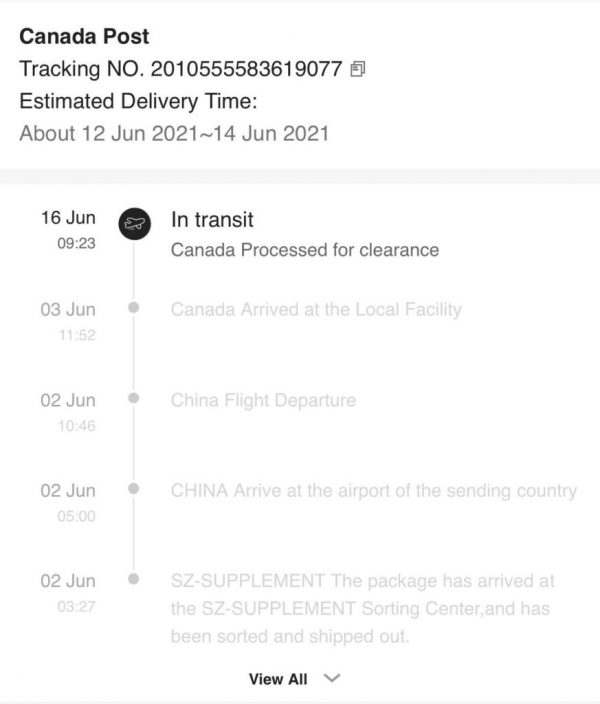 Processed for clearance: This status will appear when your package goes through customs. If you see that this status takes a long time to change, contact Shein.
Customs clearance in progress: The package is being reviewed by customs and, if no problems are found, it will continue on its way to your address.
Successful import clearance: This status indicates that the package has left customs and is on its way to the courier center.
Arrived at local facility: This indicates that your order is already in the hands of the courier company that handles the shipment.
Arrived at the local courier facilities: The delivery manager already has your order, so in a few days you will have it in your hands.
In agency: The agency in charge of transport already has your request, so you will receive it soon.
Received at hub: This means that your package is waiting to be picked up by the company that delivers the packages to the hub.
Incidence: This notice usually appears when there is a problem with the order, which is found in the parcel company. If you do not see any change in this status, we recommend contacting Shein.
Delivered to the counter: This status appears when your order has been delivered to the transport company that must deliver it to you.
Statuses of the order related to the distribution and delivery of your order
Once the order arrives and passes all the stages mentioned above, it will be time to travel to your home or the place where you decided to receive it.
In delivery: This status indicates that your order is already in the hands of the delivery person. Unless there are problems, this status usually appears on the day of delivery.
Delay en route: You should not worry about this status, it just indicates that the delivery has been delayed for some reason and will take a little longer.
Transfer to lastmile (may be accompanied by "in delivery"): This status indicates that your package has arrived at the company that delivers the orders.
Pick up at the Punto Pack agency: After a few days from the appearance of this status, you will receive an email notifying you that you can pick up your order at the delivery point.</li >
Delivery failed: This status will appear when the courier has tried to deliver the package and has not found you at home or has not found the address. Contact the delivery company to agree on another delivery day or to find out how to proceed.
Frequently asked questions
As mentioned, here you can enter the Shein FAQ section. If you have questions that don't appear on the official site, you may find them below:
The status of your order does not change
If you place an order with "economy shipping", you will not be given a tracking number, so you will not be able to check the change in the status of your order.
If you place an order with standard shipping, it may take a while for tracking statuses to update, so we recommend you not to worry if you don't see any changes. However, you can always contact Shein for peace of mind.
Your order appears as delivered, but nothing has arrived to you
First of all, contact the shipping company to make sure they haven't given you the wrong address or delivered the package to a neighbor because you weren't at home.
If the package was intended for someone else and that's why you didn't receive it, contact Shein.
Shipping companies and shipping address
There are several shipping companies in charge of delivering Shein orders. As we told you before, on the page you will be able to check the name of the company and the tracking number.
The address where the package is delivered will be the one you have indicated at the time of placing the order, or in a point pack, in case this has been your choice.
Your order is late and you want to cancel it
If your order still hasn't arrived and the estimated delivery date has long passed, you can contact Shein to request a refund. If in the middle of this process the order arrives and you decide you want to keep it, you will need to contact Shein again to make payment again.
If the order arrives and you have already decided that you do not want it, you can reject the delivery from the post office, and the package will be returned to the country of origin.
You can find more information in our article about refunds and returns at Shein.
Have you received a notification from Customs?
The fact that your order is stopped at customs does not mean that you have to pay for it, since all packages go through Spanish customs. It may have been randomly stopped, in that case you will only have to present the corresponding documentation.
If after submitting the documentation you are asked to pay, please contact Shein to find out if you will be reimbursed for the customs fees.
For more information you can read our article on customs and Shein.
Contact Shein
We have tried to provide answers to the most frequently asked questions from eager users waiting for their Shein order.
Remember that you can always contact Shein if your doubts have not been solved in this article.