If you are a frequent buyer at Shein, or you know what the store is about, you will know that it stands out for its quality/price ratio.
At Shein you can find clothes of the same quality as those offered by Zara or Mango, but for half the cost.
This, added to the extensive catalog it offers, has positioned Shein as one of the favorite stores when it comes to buying wholesale and starting a business to resell clothes.
Does Shein allow wholesale purchase?
Although Shein is a retail-oriented page, you can take advantage of the fact that it allows you to buy up to 99 garments of each product (assuming there is stock) to buy wholesale.

The garment limit also includes a differentiation by size, so you can buy 99 garments of one size and another 99 of the same product, but in another size.
Other stores, like AliExpress, give a discount when you buy clothes in bulk. This is not the case with Shein, so the only way you could get a discount in this case is by using platforms cashback, such as Letyshops, or discount coupons.
Benefits of buying wholesale at Shein
Although Shein does not offer direct benefits when buying in bulk, the excellent quality of its products and low prices make it the ideal option to start your business.
Thanks to the low cost of the garments, you will be able to make a good profit by reselling them, without having to offer an excessive price to your customers. Also, if you hire an express delivery, the products will arrive quickly at your hands.
Shein's extensive catalog allows you to specialize in any type of style or, if you wish, sell a variety of garments to target your business to a public with all tastes.
Shein works with sizes similar to European ones, so it will be easier for you to select the ones you want to work with.
Shein's great track record over the years and its excellent customer service makes it a safe platform to make purchases and, in case of a problem, we will have satisfactory attention on the other side.
Steps to buy wholesale at Shein
First of all, you must register on the Shein page. Then, add the clothes you want to buy to your basket.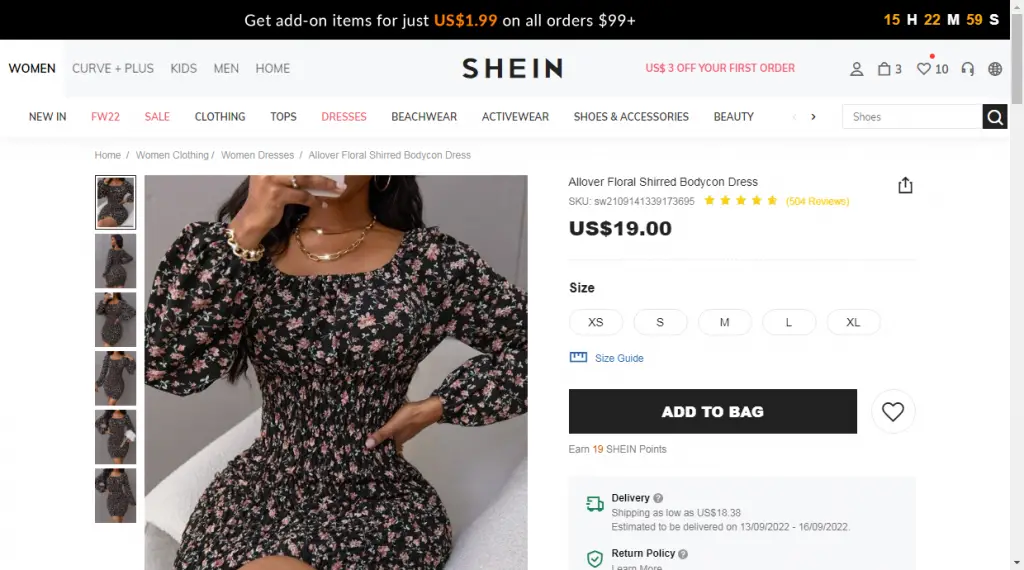 Once you have added the garments individually, with their corresponding size and color, go to the basket and modify the quantity of each product you want to buy (remember that the maximum is 99 items of each type, differentiated by size and color ).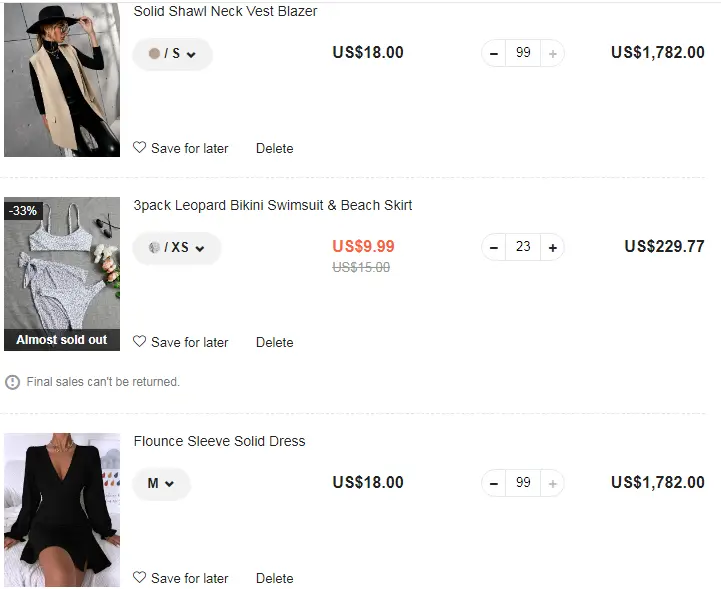 Finally, you must pay with the method you prefer, such as PayPal, card, installment payment with Klarna or Clearpay.
Keep in mind that if you decide to pay in installments, you will have a limit of €800 per order.
Is it allowed to use the Shein brand in a third party business?
If you read the terms and conditions of Shein here, you will see that it is not allowed to sell, modify or reproduce garments without authorization.
If your idea is to run a small business, with a local clientele, you probably won't have a problem, but if you are looking to create a large store and remove or modify the Shein labels, you may find yourself in trouble.
You also cannot present your business as an "Official Shein Store" as this could get you into legal trouble.
Can you buy wholesale through intermediaries?
The answer is yes, although we do not recommend it, since it is very easy to buy through the application or the website and, by giving your data to third parties, you run the risk of being scammed or losing money.
Tips for buying wholesale at Shein
Next, we will give you some tips so that you can make the most of buying clothes in quantity on Shein and boost your own business.
Pay attention to stock rotation
To avoid garment storage, most Shein items have a limited production, so you should be careful not to run out of stock of the product you want to buy (or that you have already promised to a customer).
Stock rotation can also help you make money, as they often run discounts or "flash sales" on items to prevent clothing from piling up.
Returns and refunds
In our article on returns and refunds in Shein you will find more information, but you must bear in mind that the conditions will vary according to the country .
In most countries you will be able to access a free return in the first 45 days after making the purchase, so we recommend that you check your orders carefully when they arrive.
Check the offers and discounts
Added to the low price of Shein items is the possibility of getting coupons and discounts. Taking advantage of these offers is a great option to increase the commission you earn when selling the clothes in your businesses.
In addition to buying flash sales products, you can get coupons and more discounts through the extension Shein Coupon Finder and save more money.
Customs and additional taxes
We have a special article for you to learn about Customs in Shein, but you should know that customs regulations vary by country and that Shein must adapt to these regulations.
If you place a large order, such as bulk orders, they may split it into smaller orders to avoid paying customs.
We recommend that you investigate the operation of customs in your country, since you must take into account the amount that is added to you when establishing the price of your products so as not to lose money.