One of the most frequent concerns of AliExpress consumers is to know when their orders will arrive or how long the company will take to send them. This is a great unknown for users, since, according to the rules of the company, packages can arrive with a delay of up to 2 months.
However, time has passed and AliExpress has updated and improved logistics and conditions of use, managing to minimize the delivery time of products in some sellers.
Based on these guidelines, in this article, we're going to present you the estimated time it could take for an AliExpress package to arrive and the reasons why it happens that way. Still, remember that you can find out directly on the platform when you will receive your order if you click here.
So, how long does it take for an AliExpress package to arrive?
As we mentioned before, it's impossible to know the exact time it'll take for your package to arrive, since it depends on many factors.
However, we can show you an approximate time according to the place from which the order is sent. Also, we suggest that you visit this page and access the guarantees you have when you buy in AliExpress.
In summary, if your product comes from China, it'll most likely arrive within 5 to 60 days.
Remember that this is an estimate. Therefore, your order may take more or less than this established time. Still, you should know that in the product description you will always be able to see the estimated time in which the seller will deliver the package.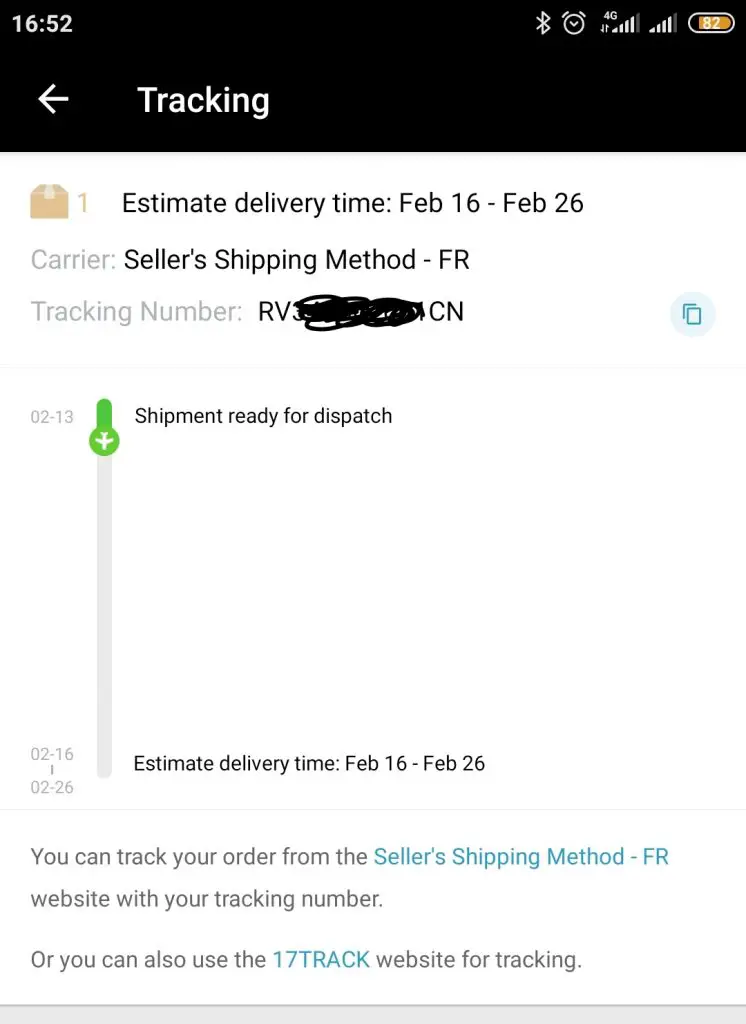 In addition, you should know that the delivery time will also depend on several factors at the same time, among them, the following ones:
The shipping method: What to choose?
It's common knowledge that on AliExpress, sellers offer various shipping methods that vary in cost and in the speed with which the order is sent. Read more about this topic in our article about AliExpress shipping methods: Which one is better?
However, an example of this is private courier companies such as FedEx, UPS, DHL, and Seur that usually deliver the orders in a short time. However, they're under the condition of paying customs charges. If you don't know what this last requirement is about, we suggest that you visit our article about customs on AliExpress.
On the contrary, local and ordinary clearance methods, register a much longer delivery time and at a lower cost.
Also, AliExpress made multiple agreements that managed to shorten waiting times. Specifically, the online shopping and sales site reached an agreement with some post offices.
However, if you still have any doubts, here's a classification of the different shipping methods offered by the platform so that you can understand the delivery time of each one:
Ordinary shipments without tracking: They take from 20 to 60 days to arrive. Among them, Cainiao Super Economy Global stands out.
Certified shipments with tracking: They have an estimated delivery time of 10 to 45 days. In this case, the best option is AliExpress Standard Shipping. We suggest that you check our article: Differences between AliExpress Standard and Premium Shipping.
Shipping by private companies: They take from 5 to 10 days to deliver your order and the one that stands out the most is AliExpress Premium Shipping. For more information, you can read our article: What is AliExpress Premium Shipping and how does it work?
The destination country
Another factor that can affect delivery time is the country from which the package is shipped. The more demand a site has in dispatching an order, the faster it can reach its destination. Thus, normally, AliExpress orders take 3 to 4 weeks to arrive, however, due to order protection, their arrival time can stretch up to 60 days.
Based on this, our recommendation is that you always ask the seller what is the estimated delivery time of your package so you can be more confident and secure when making the purchase.
Country of origin
Nowadays, more and more sellers are adding to get products that are distributed in local warehouses to further minimize the waiting time for their consumers. Thanks to this, now, there's an availability of items that have the delivery time symbol of 3, 4, 5, 6, 7, and up to 12 days. These can be done through the Cainiao Warehouse Standard Shipping option.
Remember that if you want to learn more about this shipping method offered by AliExpress you can visit our article: What is the "Cainiao Warehouse Standard Shipping" shipping method?
Time of the year
Finally, you should take into account the date and time of the year when you place your order. This can affect the delivery time of your package.
For example, at times like 11.11, Christmas, and Chinese New Year are when there are more delays with orders because the country of origin is on holiday and, therefore, there is a collapse in the warehouses. Meanwhile, at these times of the year, there's a high rate of purchases.
Thus, if you don't want your order to take longer than expected, try not to order during these holidays.
What should I do to receive my orders quickly?
If you want to receive your package in record time, generally, you'll have to choose as a shipping method an option that works with private couriers. However, you should know that this type of delivery will require a large investment because they have a high cost.
However, don't worry. We want to tell you that this is not the only way to speed up the shipping process. In fact, below, we'll present you with several alternatives that can work for you at a low cost.
Choose a domestic warehouse outside China (and closer to your country)
Unlike other online shopping and selling platforms, AliExpress has the excellent advantage of being able to choose a seller that has its own warehouse in your country or close to your home. This greatly helps to minimize the waiting time for your order.
Remember that to find these sellers and the products they offer you will have to filter the information through the search engine of the AliExpress platform.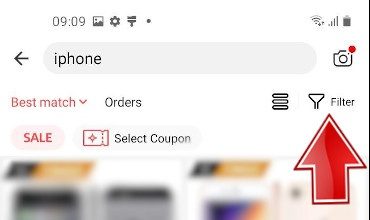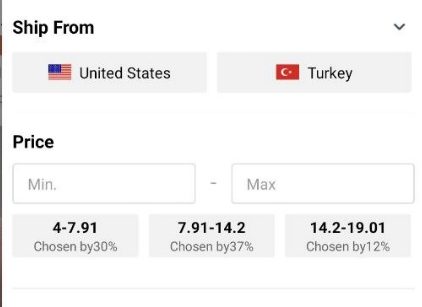 New agreements between AliExpress and courier companies
In order to improve the service and keep its users, AliExpress made over the years new agreements with postal companies in order to shorten the delivery time of orders.
It's worth mentioning that not all countries have agreements between AliExpress and the courier companies, but there's the possibility of choosing equally efficient methods such as AliExpress Standard Shipping, a method that includes tracking.
Check for the fast shipping symbol
Another factor that can speed up the delivery of your order is the fast shipping symbol. This is the feature that can be found with a time limit of 3, 4, 5, 6, 6, 7, 10, and even 12 days, regardless of the country of origin.
To get this benefit, all you have to do is use the filter in the search engine: "Fast Delivery", and you'll get all the products that are available with the method.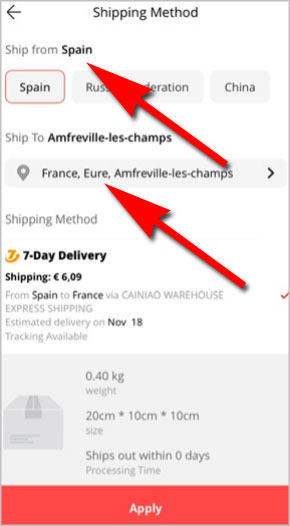 However, if you still have any doubts, we invite you to review our article: AliExpress 10-day fast delivery, and learn in detail what this option is all about.
Frequently Asked Questions on AliExpress' shipping times
Next, we will present the most frequent doubts of AliExpress consumers:
Why is the waiting time for AliExpress orders so long?
The answer to this question is simple. When ordering from China it's very normal that it takes so long to arrive, since the distance between the countries tends to be quite significant. Mainly, this is what causes delays with the delivery of orders sometimes.
However, it must be acknowledged that with AliExpresses' updates, shipments take less and less time to arrive. Besides, if you choose certified and tracked shipping methods, it's easier and faster to manage the delivery of your package.
Even so, our recommendation will always be that you take it easy. At the same time, check your options and analyze the estimated time your package could arrive according to the seller's specifications on your product.
Also, remember that in case your package does not arrive, you will always have the support of AliExpress to get your money back.
What does the word "processing" mean on AliExpress?
Once we make a purchase, the seller undertakes the preparations involved in packing our order. This step can take hours or days depending on the size of our product and/or if it has been in high demand. This time is what AliExpress calls processing.
You should know that, before you make the purchase, the web portal will inform you exactly how long it may take the seller to prepare the entire order.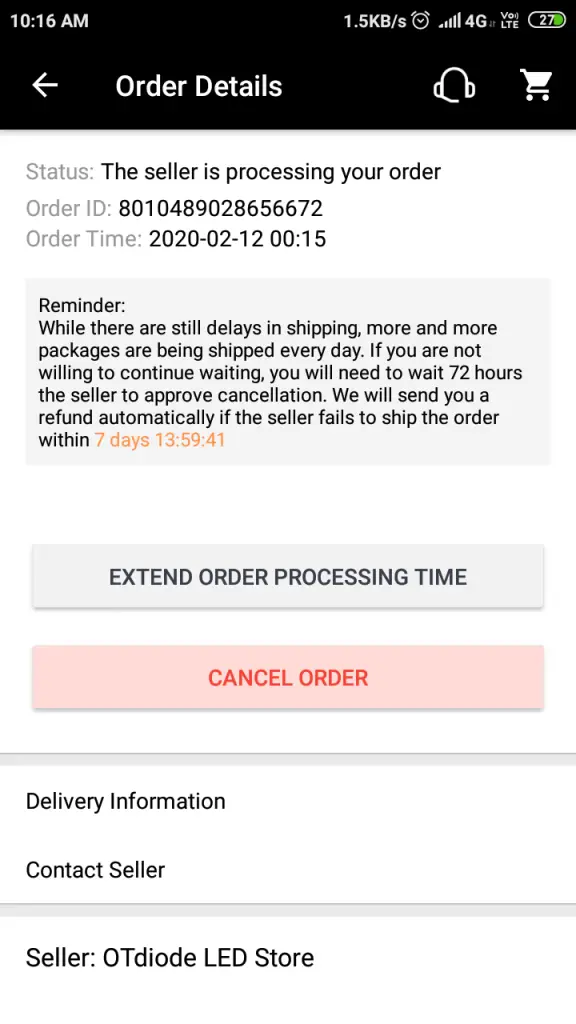 It is worth mentioning that, even if the seller puts 3, 4 or 9 days, sometimes the shipping can be done in less time in order to get your order delivered as soon as possible. On the other hand, if the seller forgets to ship your order, the sales portal will automatically refund your money through the same method you used to pay.
To learn more about the refund process and how to claim on AliExpress, you can read our article about opening claims and disputes on AliExpress to clarify all your doubts.
How can I find out where my order is?
To find out where your order is, you can check our article: How to track my AliExpress order. In it, we explain everything you need to know about order tracking and the meaning of the messages that appear there.
What does it mean when my order is stopped in transit?
Firstly, you should know that all orders go through a series of statuses that determine their progress. For this reason, if yours is at a standstill, you should contact the seller to determine the reason why your order is in this position.
Now, if you don't know how to do it, we recommend you to read our article: How to contact AliExpress sellers?
If I place several orders on the same day, will they all arrive together?
If you place several consecutive orders on the same day with different sellers, they may be shipped separately. However, if those sellers have the availability to make a combined delivery, all the orders you have placed will be united in the same package.
Remember that this last option will benefit you since a relatively large order will have higher priority and might arrive earlier.
If you want to know more about this, you can visit our article about combined deliveries on AliExpress, written especially for you.
If my order takes too long to arrive, can I cancel it?
This option is only available if the seller hasn't shipped the order yet. That is, you can cancel your order in the first minutes and hours after you have made the purchase, otherwise, it won't be denied shipment.
In case you succeed in the cancellation, you'll have to wait for the seller to accept the request. To learn more about this operation you can review our article: Learn how to change or cancel an order on AliExpress easily.
Will I receive a notice from AliExpress when my order is going to be delivered?
The answer is no. The online sales portal won't notify you at any time about the status of your order. For this reason, we recommend that you use the tracking option the website offers or external applications to check the movements of your package.
What do I do if my order is "closed"?
In this case, there may be several reasons: the seller canceled the shipment, you didn't pay when it was due or you used a welcome coupon twice. If you have any doubts, we recommend that you visit our article about cancelled orders on AliExpress, where we explain everything about it in detail.
Will my AliExpress orders arrive at my home?
Yes, they will. All orders you place will be shipped to your doorstep unless you request a pickup point. If you still have doubts, check out our article on where do AliExpress orders arrive and you'll have more information.
Also, we offer you another article to learn how to request that your order doesn't arrive at your place: What is the way to order to AliExpress pickup points?
What happens if my order arrives and nobody is at home?
Nothing will really happen. In case this is your situation, the delivery person will leave a notice for you to pick it up at the local courier office closest to your home.
If AliExpress arrives in my country, how long does it take to get here?
The online shopping and sales portal, AliExpress, handles shipments almost everywhere in the world.
If you want to know if your country is available, you can select it at the top of the web page next to the language and local currency. Also, you should check the customs regulations of your place of residence, as each place is different.