When talking about leading companies in the online shopping market, AliExpress is undoubtedly in the lead, as this Chinese company is becoming more and more popular worldwide.
More and more users prefer to buy everything they need through this platform, due to its affordable prices and the quality of its products and services. If you haven't had the opportunity to buy on AliExpress or don't know how, don't worry!
In the following article, we'll teach you each of the steps for a successful purchase.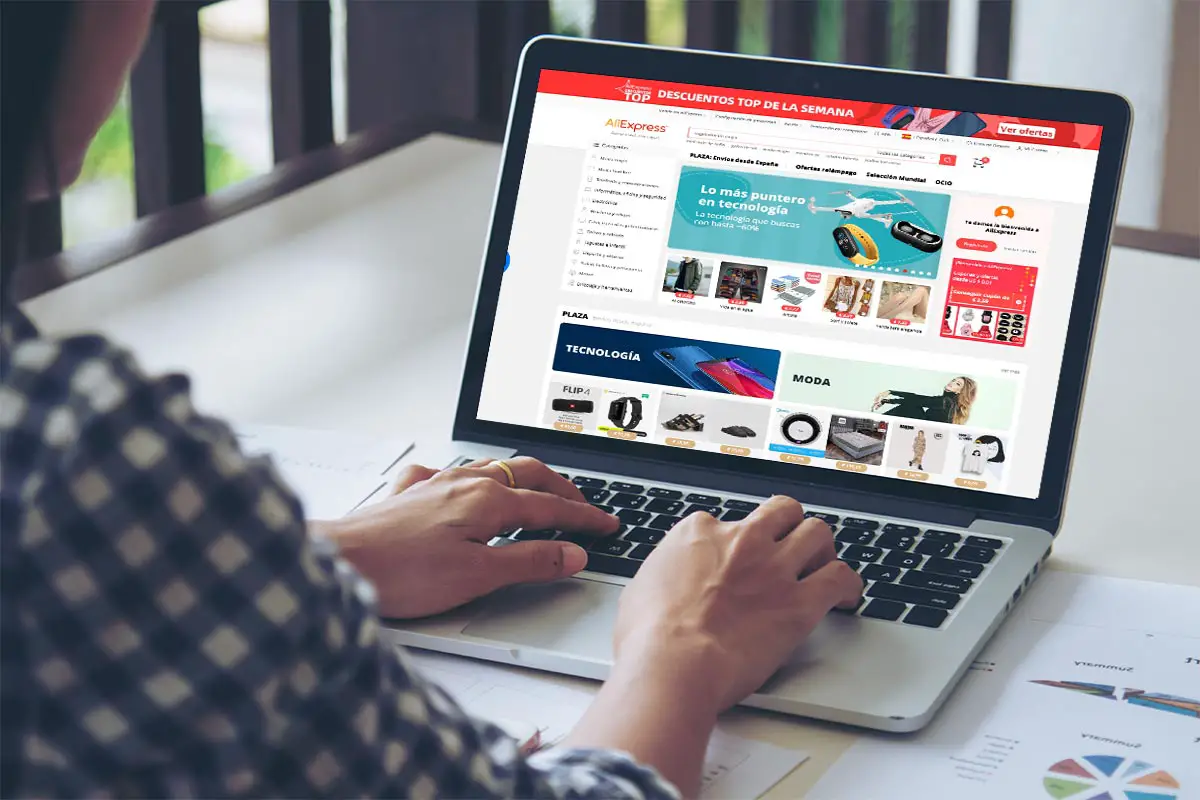 How to register?
The first step is to access the AliExpress portal (enter here) and, once inside, follow the steps below.
As you can see in the image, you will have to go to the tab that says "Account". Then you will have to click on it and click on "Register" (or log in if you are already registered).

Once inside, you'll find different options that you can use to log in to your account (through Gmail, Facebook, and Twitter, among others).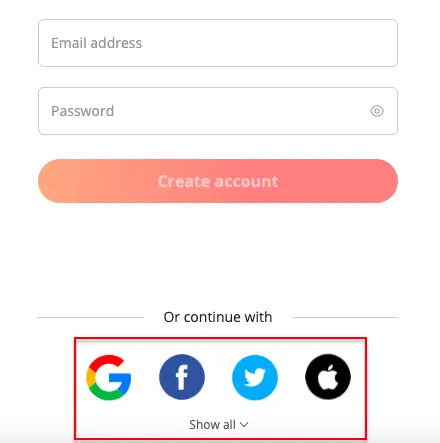 Follow the steps indicated on the web page. Then, you'll only have to verify your account and you'll automatically be redirected to the main page of the portal, from where you can start shopping.
How to buy on AliExpress?
To make your first experience more comfortable and productive, we recommend you take into account the following items:
AliExpress offers great promotions and discounts for those who have just registered and want to make their first purchase.
They also offer interesting welcome coupons. Remember, however, that these discounted prices are only available for your first purchase, so choose wisely.
1. Set your language and currency of the site
The first step is to set the country where you live, as this is where you'll receive your orders, as well as the currency used in your country.
From the website
Click here to enter, and on the top right-hand side of the screen, click on "Send to (your country)" and in "Currency" select the currency used in your country.

This will automatically translate AliExpress into the language of your choice and you'll only be shown products that can be shipped to your country, making their price appear in the currency of your choice.
In the app
Once you have downloaded the AliExpress app (on iOS or Android), you'll need to log in to your account.
In the bar at the bottom of the main screen, you'll find multiple buttons, you will have to click on where "Account" appears.
Once inside the section, you'll have to click on the flag next to the configuration or settings nut. Here, as in the previous example, you'll be able to adjust the country, currency, and language.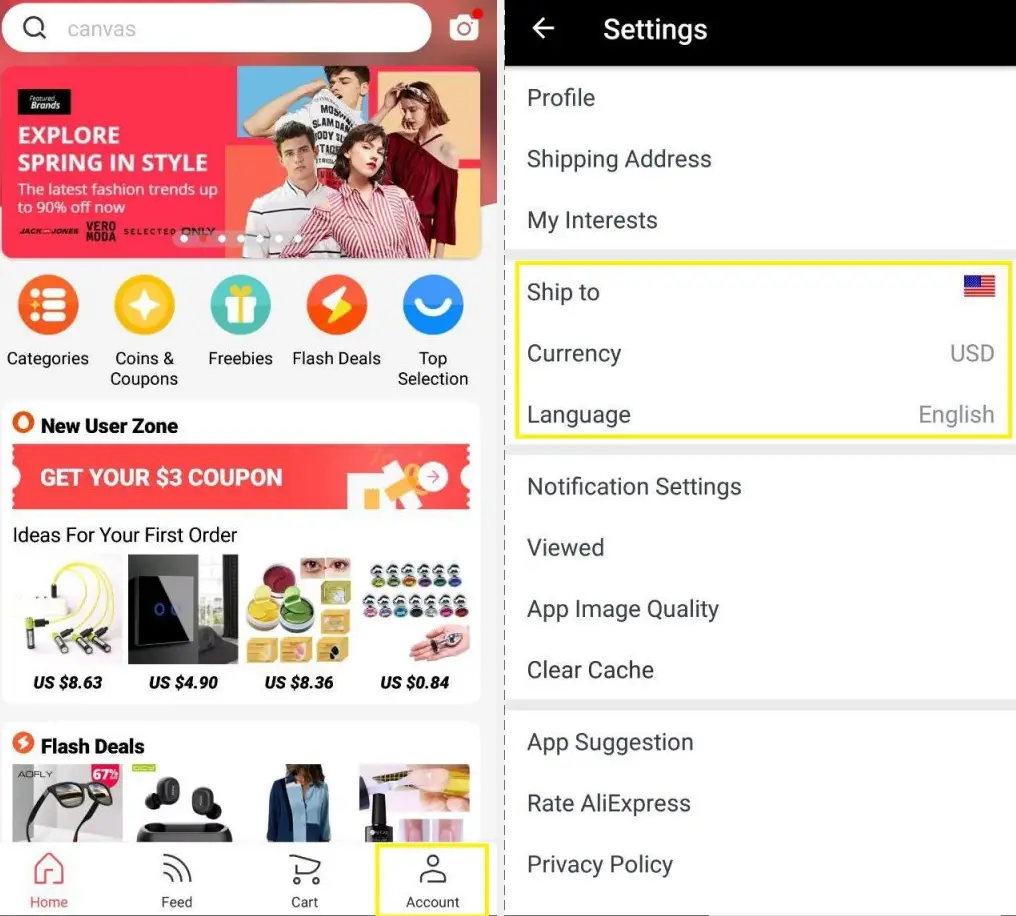 Choosing "Country" will allow you to see the products that are shipped to that country. You can select the language and currency that suits you best (although you'll be charged in Euros or Dollars depending on the currency you have selected at checkout).
2. How to enter the shipping address?
We'll leave you a shortcut, where just by clicking on this link, you'll access the correct section to place your shipping address.
Once inside, complete the required fields and finally save the changes to your delivery address, both on the web and in the app.
Note that you'll also be able to choose the default address, which is the one that will appear by default when you decide to pay for your purchases.

3. Payment methods in AliExpress
Once you've configured the shipping address, you should also add a payment method.
You can also click on this link and you'll go directly to the "Wallet" tab, where you can add a card.
AliExpress offers several payment methods, so you have many options to choose from.
Now we're going to explain the most popular payment methods. You can find more information in our analysis of AliExpress payment methods.
Credit or debit card
The most common payment method on AliExpress is either a credit or debit card.
The portal accepts Visa and Mastercard cards, as well as Maestro debit cards and American Express cards. Remember that the payment will be made in euros or dollars, depending on the currency you have selected.
In addition, your card or your bank must allow online purchases. If you find some errors at the time of payment, we recommend that you check with your bank if this option is enabled.
PayPal
Currently, AliExpress has returned to accepting PayPal as a payment method on its platform. Not all sellers accept this payment method, and those who accept it, charge you a small commission.
The positive aspect is that PayPal's buyer protection is very good, so by paying this way you'll be even more protected against possible complications.
To know all the advantages and disadvantages that PayPal offers in-depth, check out our main article about PayPal and AliExpress.
Apple Pay
If you're an Apple user and you have your cards configured in your wallet, just select the Apple Pay option and confirm which card you want to use to make the payment.
4. How to add items to the cart and checkout?
First, you'll need to log in to your account. Once inside, go to the search bar (the space that appears with a magnifying glass), enter the item you wish to purchase, and press "Enter" from your keyboard or the magnifying glass icon.

When the results of your search appear, select the one you prefer, after comparing prices, models, and brands, and click on the image you like the most.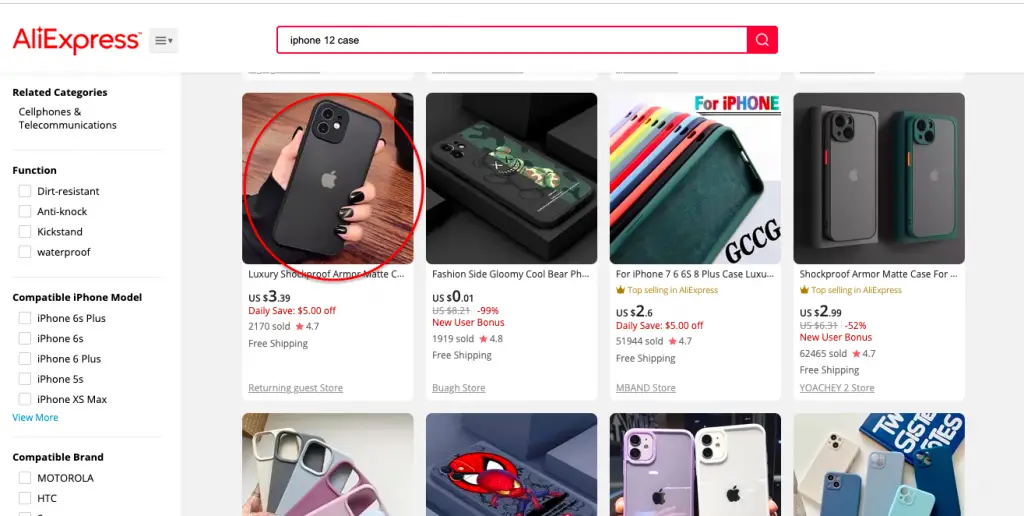 Once inside, check the product description (by scrolling down) and then click on the "Buy" button.
In case you want to buy several items at the same time, you'll have to click on "Add to cart".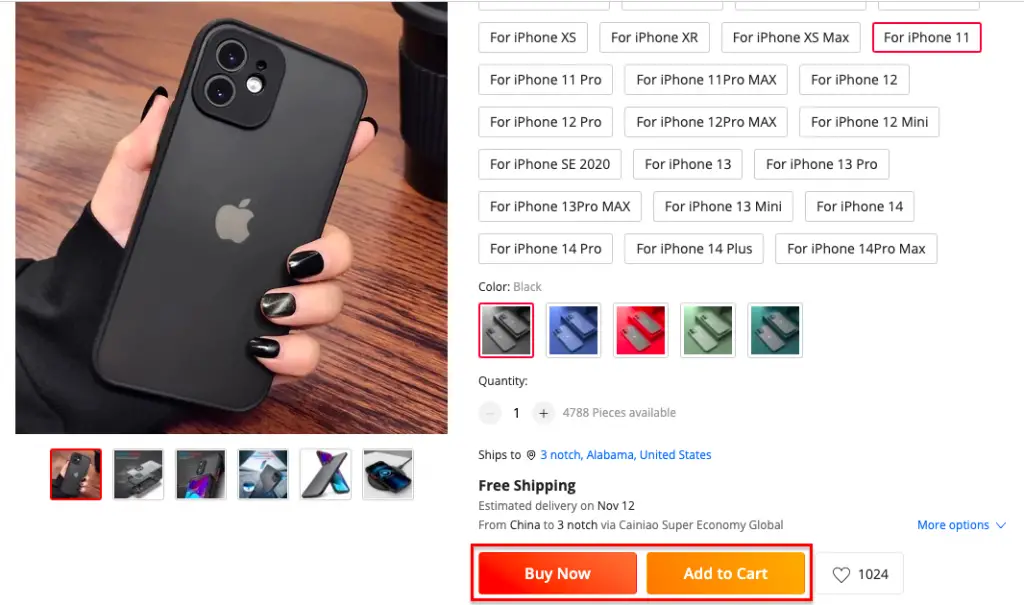 After clicking, you'll go directly to the checkout window. Fill in all the required fields with the previously registered information (address, payment method, etc.).
Check the total amount of the purchase and, if you know that you have enough funds, you can finalize the purchase by clicking on "Checkout".

What can you buy on AliExpress?
In the different sections of AliExpress, you can find practically anything: from phone chargers, clothes, shoes, accessories, jewelry, portable dryers, and blenders, to prefabricated houses.
However, for customs reasons, as you can understand, moving bulky, large, and heavy items from China can be cumbersome. For this reason, they mainly sell those products that are cheaper, simpler, and smaller in size.
How much can you buy on AliExpress without paying taxes?
In other countries of the world, customs regulations are flexible with the import of products from abroad, and AliExpress packages, although they go through customs, aren't stopped and don't pay taxes.
The issue has changed a bit as the European Union has modified and eliminated the concept of "low value" and now all orders placed outside the EU will have to pay VAT.
The positive aspect of this adjustment to the regulations is that AliExpress will handle the VAT payment for you if the order doesn't exceed €150, but you'll have to pay the corresponding tax if your purchase exceeds this amount.
For more information about the new customs and tax policies we've prepared the article "New customs regulations in the EU and AliExpress".
Is it safe to buy on AliExpress?
Yes, it is safe to buy on AliExpress. This Chinese giant is a long-established company that has expanded its reach, meaning that more and more people are using it to purchase the items they need. This evidently leads one to believe that millions of successful shopping experiences support its growth.
However, one of the biggest myths we need to demystify is the following: AliExpress isn't a store with its own sales catalog, but rather a site that offers its platform for small and medium-sized merchants from all over the world to offer their products from anywhere, to every corner of the world.
The site acts as an intermediary between the seller and the buyer, thus guaranteeing protection and security.


In the tab itself look at:
The percentage of positive reviews: don't accept less than 90%, and if it can be more than 95%, the better.
Top Brand award: it means that this store is the official store of a popular brand.
Seller ratings.
The number of followers.
Year of opening: the older the better, although there are excellent sellers who have only been on AliExpress for one year.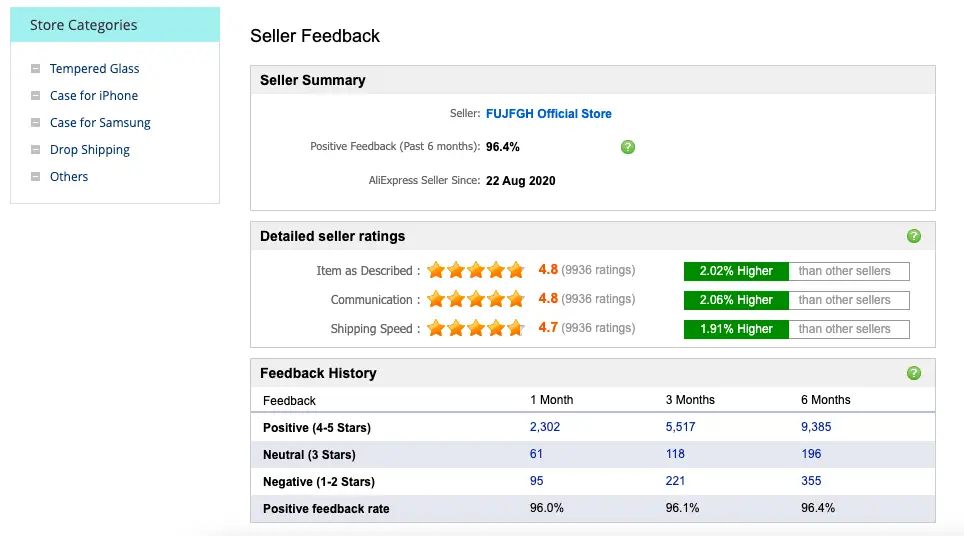 Also check the rating and approval of the product, because even if the seller is recommended, it's always good to know what previous buyers think about the product.
Locate the comments below the item description. Here you can get real product photos and additional descriptions.
The "Additional comments" are those extra ratings that users can add to the original review after having used the product for a few days.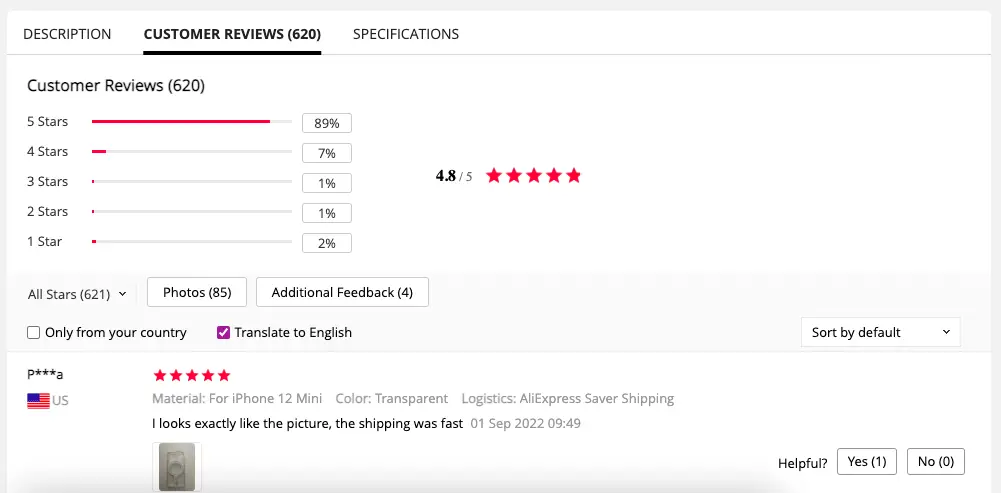 How does AliExpress shipping work?
Main article on the topic: AliExpress Shipping.
Although you can get additional information by visiting the link in our main article, we'll give you a summary of the different shipping methods offered by the Chinese shopping portal.
Shipping methods
Shipments can be of two types:
Ordinary: these are the most common when getting cheap products. They don't have a tracking number.
Certified: intended for higher-cost products, they have a tracking number so you can track them accurately and you have to sign to receive the package.
The most common shipping methods are: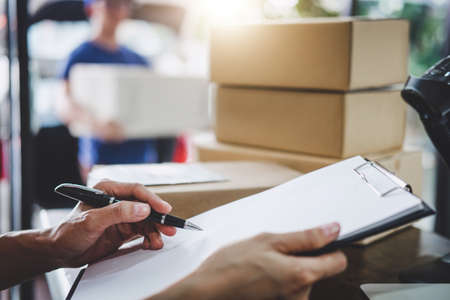 There are several ways to get exempted from paying your shipment, such as filtering your search, negotiating with the seller, and reducing the final cost with coupons. For more information, we invite you to visit our main article (previously linked), where you'll find a more detailed explanation.
We also inform you that with the combined delivery option on AliExpress you'll save some money because you can buy several products in one go and pay the shipping once. In addition, it gives priority to the order and makes it arrive sooner.
What parcels does AliExpress deliver?
If you've chosen regular or certified shipping, the post office of your country is responsible for delivering packages. Although lately AliExpress also delivers through other companies.
On the other hand, if you've chosen a delivery with a pick-up point, you'll receive an SMS notifying you that the package is ready to be picked up and go to the delivery point you have chosen.
Where does the order arrive?
Main article: Where do AliExpress orders arrive?
Unless you manage the order with the agreement to leave it at a pickup point, in all countries of the world the packages arrive at your home without any problems.
Customs
For a more detailed explanation of customs and order statuses, we invite you to read the following article.
Does AliExpress charge customs?
The Chinese site doesn't charge customs, but the tax agency of some countries may do so.
Remember that as long as you buy less than €150 you won't have problems with customs, because you'll pay the VAT directly when you buy on AliExpress. On the other hand, for products over €150, you'll have to manage the payment of VAT and customs duties depending on the type of product.
Keep in mind that each country has its own customs regulations and it's possible that in some countries all types of imports are prohibited for some products, so we recommend you to inform yourself before buying.
US Customs
When you check the whereabouts of your order, you'll probably see the following words: "US Customs", this means that the package has arrived in your country, will soon be in the process of delivery, and will arrive at your home.
Has your package been marked "US Customs" for a long time? It's probably a non-certified shipment. The cheapest shipping methods don't have tracking outside of China, which means that the status of your order will be frozen when it arrives in your country and will only be updated when it's delivered to you.
The package has been stopped at customs, what to do?
As mentioned above, all orders go through customs. When the order has actually been stopped, customs will contact you to ask for documentation. If you don't provide it and the order is returned, you can still open a dispute, although it's the buyer's responsibility to go through customs.
How to save money when buying on AliExpress?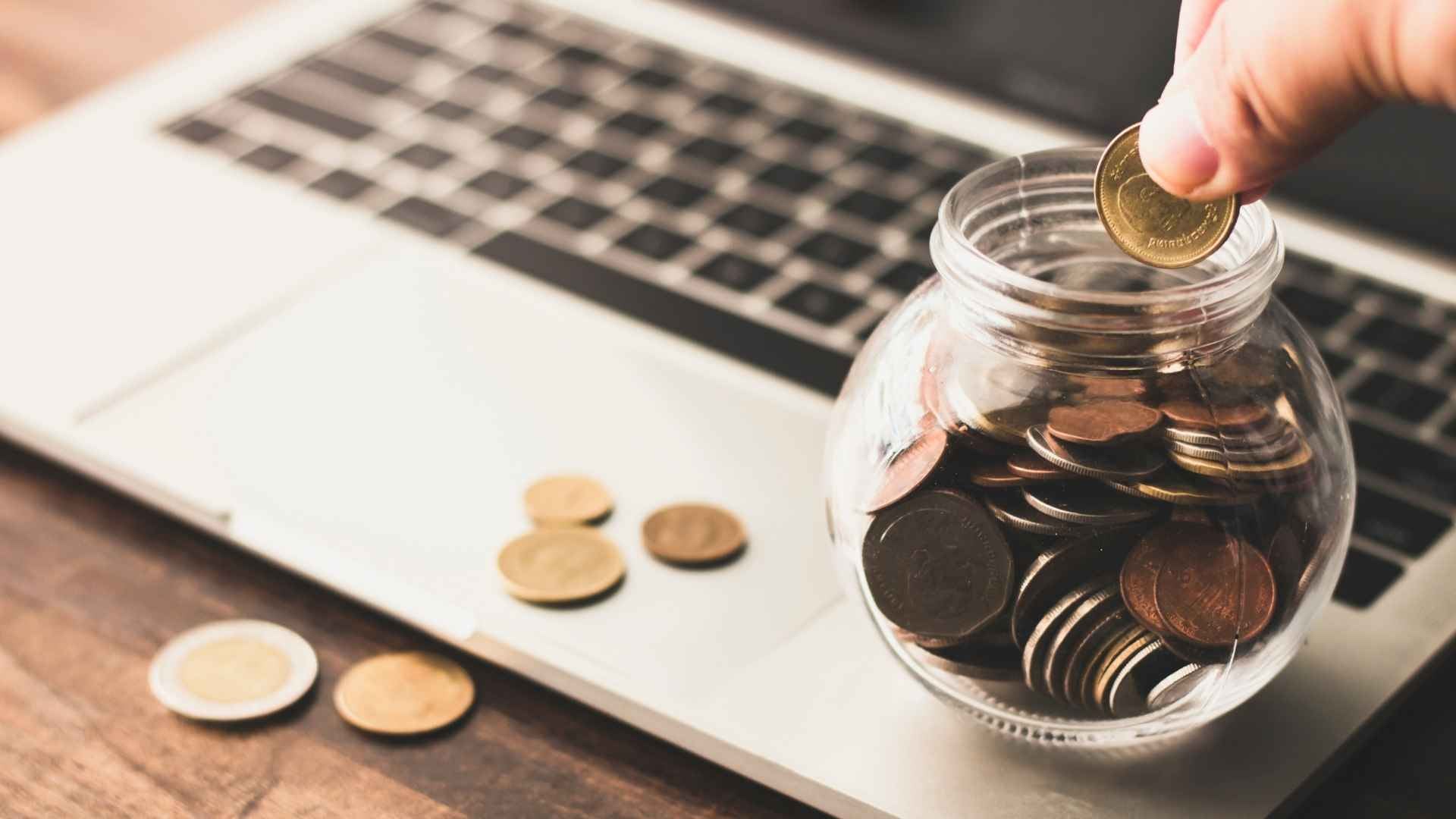 Use coupons
Main article: AliExpress discount coupons.
Coupons on AliExpress help you lower the final price of your purchase.
Did you know that there are several types of coupons? Find out more in the main article, where you have the full explanation, but here is a summary:
From the Web
Coupons and promotional codes are displayed in the product catalog. You can see them all by clicking on "Get coupons".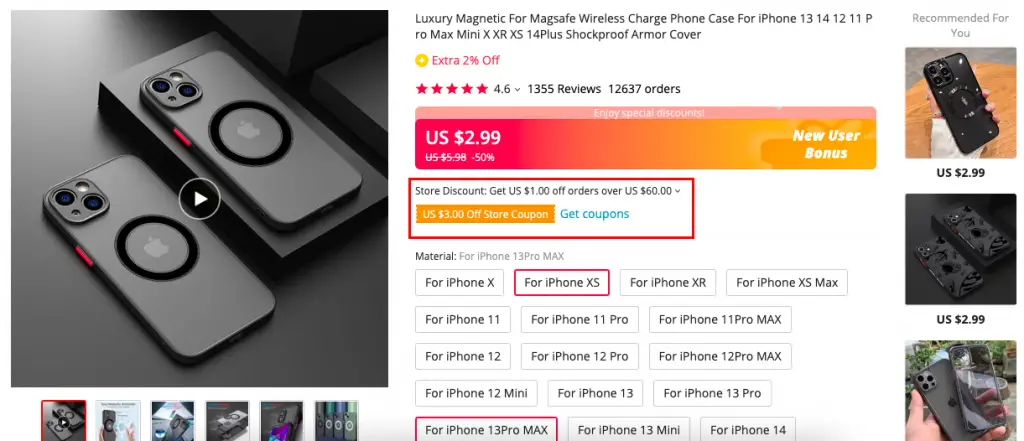 From the app
In the shopping portal application, you'll get them in the same place and you'll be able to use them when you have to pay the total amount of the purchase.
Once inside the "Order Summary" section, you'll be able to apply the coupons you have selected.
You can see all the coupons of the day by clicking here.
Play in the app
An easy way to earn coupons and discounts on AliExpress is by playing their fun games and completing the missions they propose.
There are a few simple games on the AliExpress app. If you complete missions in these games you can earn coins that you can then redeem for discount coupons or directly for items.
This method is only available from the app.

Returning a product that does not have a "free return" option
Have you purchased a product without a free return and still want to return it?
Depending on the case, you'll have to follow the steps below:
I want to return a product because it's defective
Forget about the return, what you have to do is to open a dispute and request a full refund here.
The product is in good condition, but you don't want it anymore
You'll have to keep in mind several factors:
Is the product too cheap? It's likely to cost you more to ship it to China than the product itself.
Is the item expensive? Here the process gets a little more complicated. For more information we recommend you to read our article on how to make returns to China.
Did you make a mistake in any detail of the order?
Main article: Canceling orders on AliExpress.
If you made a mistake in the size, color, or any other detail of the order, you'll have to cancel the order and redo it. However, our advice is to contact the seller first and explain the problem. Some sellers can make changes without the need to cancel the order.
I ordered to the wrong address
Depending on how much time has passed since you placed the order, you'll have to do one thing or another. You have the full explanation in the article: Change delivery address on AliExpress.